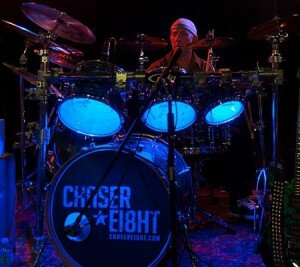 Guest post by Pete Giannini from Chaser Eight.
I've been asked to write about the fear I had to overcome during, and till this day, in my sobriety.
What puts that knot in your stomach? What makes you extremely uncomfortable? What you wish you could just avoid?
First, some background 
From a happy family man with a thriving business and beautiful home to an all-out crack head with almost no reason to care or live? Yep, that's me a few years ago. Almost no reason whatsoever. 
Never did I think this is how my life would go. Years back, things were great. I had always been a blue-collar guy and worked hard for what I had and provided well for my family. So what brought me to lose it all? More important, what brought me back?
Soon after buying our home, I had been laid off from my job of thirteen years and from there I had used my savings to open a small business. Things seemed to be working out pretty well.

Recreational user
Without a doubt, I had always dabbled in the "extra curricular activities" but until I had made the mistake of thinking I could smoke crack recreationally, it was the beginning of the end. 
It started as they all do, once a week or so, but it had progressed very quickly. My run with crack had lasted about a year and a half and from two to three hundred a week to roughly two to three thousand a week.
It was obvious that my business was there to support my addiction. I had given up paying bills for my shop and my home. Suffering in my own head with an addiction I didn't want but was afraid to stop at the same time. That may not make sense but its how it felt. 
Resisting sobriety
Why can't I get high and still have a normal life? Standing by, watching my family suffer and my wife struggle and beg me to stop and get help tore me up inside. The fear of cleaning up the damage of what I've done and realizing it's over was probably a large part of why I didn't want to stop.
The reality of what I had done was going to be very painful. It always seemed to be easier to avoid all of it and just get high.
Without question, I had done some damage to my family and friends. I'd have to say the last few months of using I don't think I really wanted to, but it seemed too late and I had thought that this was going to be how I was, forever. 
Wanting so badly to be who I once was, yet at the same time fearing what I would have to give up to be me again.

Until, that fateful day
It had all come to a head. Something no husband ever thinks he would do. I had brought my wife in for what should have been a fairly routine surgery. I had promised to be there when she awoke, but I had failed.
My two boys and my wife calling and calling leaving message after message, "Where are you? Why aren't you here?" Even now, writing about it tears me up inside. I still remember while I was getting high and my phone was going crazy I had thought the only way this will ever stop is if I'm no longer around.
I wanted to face nothing and no one I just wanted out.
Thankfully, something clicked. It happened. I don't know how or why but I was sick of it. What did I do to my family? What kind of man am I? If I wasn't going to make the change for me then I'll do it for the people that love me. 
It's easy to say you have to change for you and yes its true; but sometimes you might have to use something more important or bigger than yourself and that's what I did. 
By no means did I want to still use but stopping for me initially didn't seem in my best interest.
For the most part I truly thought I was just too far-gone and my thoughts were not at all "normal". I knew if I had put all I could into my family it was a start.
The fear of all the changes I would have to make was difficult. No question that putting my life and well being into the hand of others whether it was family, friends, or professionals, was a terrifying thought and took some serious adjustment. 
First year of sobriety
Many things during my first year of getting sober seemed to be triggers for fear: Where I was; whom I ran into; even behaviors of my own that I would associate with using!
Being so uncomfortable in so many situations, and sometimes definitely being so uncomfortable even in my own skin, you can't help but think staying sober is just too difficult.
Changing your behavior is very difficult but not impossible! Amongst so many other things, I changed like people I associated with, I changed the places I would go, and I focused on improving my absolute disaster of a financial situation. It was the everyday things that could really eat me up and get in my head easily! It was mind wrecking! 
Keeping a constant awareness up-front with yourself, at least for me, was key.
What I mean is I had to know I could slip at any time if I let my guard down. You've seen it. The little plastic baggie as you walk down the street, the guy in the bodega buying the same paraphernalia you used to buy.
Talk about uncomfortable! It's when we see that and start to miss it we've gone too far. 
When I would see those situations, yes it's tough, but I would try to almost feel bad for that person and think to myself I hope he gets help.
Willing to do what it takes
At the same time, I was incredibly grateful that it wasn't me anymore. I never was one for talking, or for showing emotions, but I'm a firm believer that getting my emotions out by talking was one of the biggest things that helped me through.
Whether it was in group counseling, one-on-one sessions, or to my wife or friends, making others aware of what's bothering you is a big outlet for your fears and keeps you open and honest with yourself and those who truly care about you. 
The more you talk about it the better off you'll be! 
I guess I'm lucky to have an incredible wife, very dear friends and great counselors to talk to. It may sound like overkill but discussing anything that gets to you will do its part in your sobriety.
Clearly there are the obvious fears: being in a neighborhood you shouldn't be in, going to visit your "friend" or whatever it is you know enough not to do. If those are the choices you're going to make than your sobriety will not be. 
Again the obvious situations that you can avoid, avoid them. The ones that come from what seems to be thin air. 
Do what you can to remove yourself, stay calm, remember why you want to stay clean and whether you have to call some one right then and there to help you through it: then that's what you do.
It takes a weak mind to give in and give up; and if you've taken the five minutes to read this blog you can take five to call some one next time you're in a jam.  
Put in the effort to your sobriety, accept your fears and find the solutions that work for you. Till this day, I'm not comfortable in every situation, around every person, or happy about everyplace I go, but even if I'm there alone toughing it out I know someone is always a phone call away. 
Just an example and at the same time my closing thoughts. I can't count how many times I would call my wife from wherever I was because I was so out of sorts and she would stay on the phone with me until I pulled in the driveway. Whether it was five minuets or thirty she was there. Always. 
That's what I needed; maybe it would help you as well. 
Be kind, be patient and live well.
Pete Giannini @chasereight is the drummer for original, female-fronted rock group Chaser Eight. He is a recovering drug addict and struggles everyday with staying sober and keeping his mind on positive thoughts. Living where the band is based in West Haven, CT, Pete has been sober for over four years and with Chaser Eight he has just completed his second studio album "At The 426." To find out more about Pete and Chaser Eight click here.