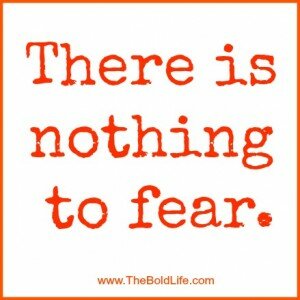 I want to help you be brave and bold.
I want to help you overcome fear. 

I want you to know that you are lovable and loved. 

I want you to claim your abundance and step into your magnificence and glory. 
I want you to believe in yourself, your goodness and your worth.

I want to help you overcome your fear and be courageous and bold!

Therefore, I've chosen and gathered 15 of my top blog posts on overcoming fear. Read them and take action. Make 2014 the year you'll soar! 

1. 105 Action Steps to Make You Bold and Successful
We cling to the negative media, childhood stories and traumatic experiences like Linus, from the cartoon strip, Peanuts, clings to his security blanket. It's our responsibility to acknowledge, face, and dissolve our fear.
2. How to Create a Fearless Future
Fear is future orientation. It's imagining what could go wrong but hasn't gone wrong yet. Fear is running a mental movie of the worst case scenario repeatedly in your mind
3. Every Bold Act Counts: 17 Tips to Get Your Courage On
You don't need to do epic things to be bold. You don't have to live a life of grand adventure, travel around the world or learn five languages. Those things are wonderful and work for some people. 
4.  Be Bold and Courageous: Let Go & Allow Life to Unfold
It's no secret that the future can't be known. No matter how much time we spend trying to predict, shape or direct it; there will always be embarrassing moments, difficult times, unexpected challenges and unseen failures.
5. Love Versus Fear: A Moment By Moment Choice
Anger, guilt, shame, inadequacy, hurt, jealousy, greed and control are all fear based. Emotions like happiness, peace, joy, compassion and generosity come from a place of love…
6. 10 Powerful Tips to Change Your Energy. Spiral Upward and Soar
We all experience days when nothing seems to stop our downward spiral. A couple of weeks ago, I found myself overwhelmed and overreacting to the technical difficulties I was experiencing online…
If you're anything like me you have some great ideas that you're afraid to act on. You probably  have fear around taking a risk and putting yourself out there.
8. 11 Must Have Tips for Perseverance and Success
Perseverance is not a personality trait. It's a choice to persist, dig deep and take action when it feels like the world is working against you. It's the willingness to overcome exhaustion, resistance and unpleasant circumstances. 
Fears are educated into us, and can, if we wish, be educated out. ~  Karl Menninger
10. 20 More Bold Acts that Count
I want you to begin to notice just how brave you are. Become aware of the everyday courageous acts that you participate in but don't give yourself credit for.
11. Crack Your Comfort Zone: 9 Steps for a Bold Life
Too often, we hold back and play it safe in order to avoid looking silly, being hurt, becoming successful, feeling embarrassed and facing rejection or possible failure.
12. How to Be Brave: 20 More Bold Acts that Count
When you become aware of how many times you overcome small fears it leads to moving through bigger fears. Eventually you'll not only see yourself as a strong and brave person, you'll grow beyond what you once thought was impossible.
13. 15 Bold and Courageous Acts to Set Yourself Free
We are inventors. We create everything in our lives: our day, our plans, our free time, our thoughts, our mood, our daily lives.
14. Call to Courage Video: What If I Do Succeed?
We have a way of taking our fears and blowing them out of proportion. We often think and expect the worst. We stop ourselves with negative questions. What if things don't work out? What if I don't get the job? What if I fail? What if the answer is no? 
15. Passing Judgment: Just Like Me!
When I choose to change what I don't like about myself, it's easier to see the bright, the positive and the loving sides of the people close to me.

Interested in joining The Bold & Courageous Mastermind Inner Circle? I just added two new bonuses for anyone who signs up before 12 pm EST on December 31st! A one-on-one coaching session + a FREE bonus month! Let 's do the impossible in 2014! Join today!

Bold & Courageous Mastermind Testimonial…



Tess Marshall's Mastermind course opens your heart, mind, and soul. Tess is a cheerleader and visionary, walking the path and lighting the way for all who travel with her. She establishes trust and supportive connections among all in the group, and reaches out to all individuals, urging honest introspection to help them define and articulate their ultimate desires in creating the lives they truly want. 
Tess illuminates the extraordinary that is present in the ordinary moments of our lives, motivating us to appreciate the wonder and grace of daily life, and then empowers us to live the unlimited potentials of it. ~Darlene Charles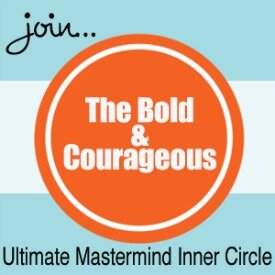 Please help me share this on social media below.
The world needs more bold and courageous people!