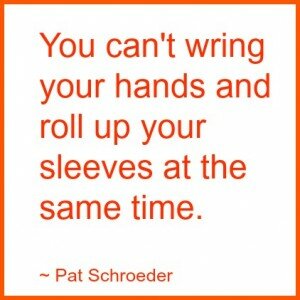 You might not think of yourself as a bold person but you are. I'll bet you could reflect on your life and come up with numerous bold moments and actions.
You don't need to do epic things to be bold. You don't have to live a life of grand adventure, travel around the world or learn five languages. Those things are wonderful and work for some people.
Every bold act counts:
When you stand up for something you believe in.



When you apologize to you have hurt.

When you create boundaries and empower yourself.





When you walk away from gossip and negativity.
You get the picture. I want you to begin to see yourself as a bold person. When you're afraid, react with courage and confidence. You know how; you have done it a million times. It's time to own it.
Give yourself credit for getting this far in life. Honor and celebrate who you are and what you have done so far. I'm sure you have gotten through some difficult things. I'm sure you have done wonderful things for others. It's all bold!
Use the following tips to continue to grow your courage and confidence.
1. Be a promise-keeper. Write down what you promise others. Follow through.
2. You are responsible for everything that's right and wrong in your world. If you don't like it, change it.
3. Recognize your projections. Your problems are never about someone else. If you spot it, you got it.
4. Motivate yourself. I have been feeling low lately. I decided to change things up and run a ½ marathon. I paid my entrance fee. I'm committed.
5. Hire a coach. Life is short. Get the help you need, move forward and do great things.
6. Change the negative stories you tell yourself. Let the past go. Let the fear go. Create a new story. Make it amazing and beautiful.
7. Laugh at your fear. Tell fear you'll get back to it next Tuesday. Go do something worthwhile.
8. Don't take things personally. What other people do is about them. How you react is about you.
9. Make a choice to be a loving and kind person today. Check in with yourself to see how you're doing. Make deliberate, loving choices.
10. Drop the drama. Rethink your problems. Most of our problems are only minor inconveniences.
11. Have the difficult conversations, face-to-face. Leave texting for the less serious issues. Take the high road.
12. Have the guts to apologize. When you're wrong, admit it. Let go of the need to be right.
13. Be a generous person. Begin now, especially if you think you don't have enough.
14. Shift your perception about failure. It's not a bad thing. Learn from what went wrong and regroup. Keep trying. Eventually you will succeed.
15. Always go the extra mile. It's a good and honest way to stand out from the crowd.
16. Uplift others when they are down. Be compassionate. Take a walk in somebody else's shoes.
17. Tell others how you feel. Say "I love you" and "I appreciate you," often.
Please send love and prayers to my grandson. He is having spinal surgery today. Thanks in advance!
Share your comments below.