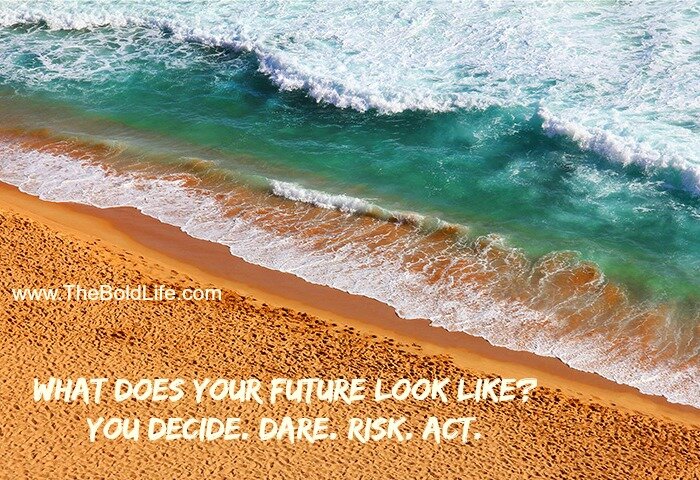 For the past eight years, since moving from Michigan to Arizona, I've had the opportunity to create, write for Elitewritings.com and coach amazing, brave readers, clients and friends from all over the world.
I've been thinking about the direction I want to go in, both on- and offline, for months now. That direction might surprise you. It certainly surprised me! But once you know something – really know and feel something – there's no turning back.
I've decided to make a serious change. It's time to close my business and The Bold Life.
There are many reasons for my decision, but the reasons aren't as important as the way that I feel now that I've made the choice. I feel empowered. I feel excited about what's next!
It's time for a change. It's time for something new.
Major life decisions are not easy ones to make. It takes courage and bold action to change one's life.
Bold readers like you inspire me to step into my most authentic self and grow outside of my comfort zone. Know that you have taught me so much. Each of you is precious to me.
It has been my pleasure and an honor to share my expertise, experiences and wisdom.
Of the millions of blogs to read, thank you for choosing mine. Of the millions of coaches to hire, thank you for hiring me. Of the millions of e-courses to purchase, thank you for buying mine.
I feel both blessed and eternally grateful. Helping each of you has easily been the richest part of my job. Know that I care. Know that you are loved!
So now what?
What will I do with the rest of my life?
I plan to watch more sunrises and sunsets. The mountains are calling me. I want to hike and garden again.
I want to paint, learn Spanish and take a video and photography class. I want to meditate more and read non-business books!
I want to do these things for pure pleasure.
I want to really listen to family and friends when they call. I want more offline friends. I want more face-to-face connections. I want to be more mindful.
I want to go to lunch, laugh and be silly. I forgot what it's like to be carefree!
My life and its circumstances are 100% my responsibility, so I'm choosing to do what feels right to me. I feel empowered and free.
Is it scary? Not even.
There are infinite possibilities, opportunities and blessings waiting for me. I am worthy and deserving. I will continue to flourish!
Megan Tietz says, "Everything good and valuable and important that you learned from blogging can be put into practice in a dazzling number of ways outside of the medium." Sounds exciting, eh?
I expect that my mind-boggling new life will unfold and magic will be bestowed upon me. The rest of my life will be the best of my life.
I'll be guided. I'll make it so.
As for you …
I'll miss you, and will cherish the exchanges we've had throughout the years. I trust that each of you will continue making bold choices that honor your inner calling!
I know you'll use what you've learned here to create moments you're proud of!
The content of The Bold Life site will be available and remain online. You can continue to follow me on Facebook.
____________________________________________________________________
My e-courses are available at over 70% off! You don't have to spend a ton of money to get beyond your fear. Grab one and begin now!
My best work is my course, 30 Days of Bold: Feeling Excited And Ready. Check it out. Today is the best time to begin something new!
____________________________________________________________________

Your presence here has been a joy. You will always have a place in my heart!
Love always,
xo Tess
Please help me share my news on social media. Thanks in advance!