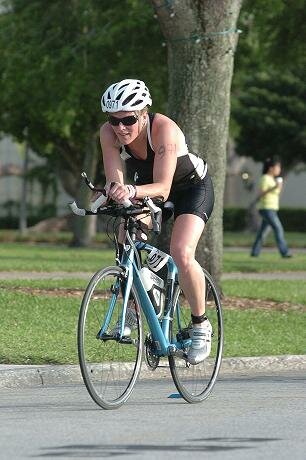 This is a true story taken from my book, "Flying By the Seat of My Soul." 
The Guts
My daughter Kristy was born without most of her right hand, including her fingers. Throughout her life Kristy was determined to be like other kids. In order to be accepted she needed to do what the others did. 
When her sisters began playing sports, she wanted to play as well. She played softball, soccer and basketball.There were times her stub would be cracked and bleeding. She played anyway.
Hubs put up a basketball hoop and paved our driveway. He spent hours challenging her to be better and play harder. She spent her free time endlessly shooting hoops and going to summer camps. She constantly challenged guys to play one on one with her. She would go to the park and find a way to get in the games there.
She never gave up. We couldn't either.
The Dream
Kristy graduated from high school in the top ten percent of her class. She was also voted "female athlete of the year." Her dream was to play sports at a college level, and she chose the University of Chicago.
We didn't know the cost of the tuition at the University of Chicago. We never checked it out. Kristy wanted to go there because it was a Division III school, and she felt she would have a better chance to play. It's also one of the best schools in the country.
We sent a video of Kristy playing to the women's basketball coach at U of C. A few months later, she called us for an appointment. Sitting in her office, I picked up a brochure that stated tuition was twenty-nine thousand a year (This was in 1994). I passed the brochure to Kristy and Hubs, and at the same time mouthed the price behind the coaches back.
We were dumbfounded, "clueless," as my kids would put it. Often times I get so excited about life that I just forge ahead without gathering all the facts. I never even inquired about the cost of tuition there. Therefore, we never let the cost prevent Kristy from applying.
The Sign
As we stood in the coach's office, she told us they were reviewing Kristy's case in the financial aid department as we spoke. She told us to come back in four hours for their decision.
We walked around the campus silently. What else could we say? "Kristy, you can't go here. We can't afford it." 
I asked for a sign that we were doing the right thing, that this was the right school for Kristy. I needed to know that we were on the right path. 
As we strolled the campus, I continued to pray for a sign. Our belief in Kristy kept us going; we were also inspired by her. Her dream was to play ball at a college level. We were not about to give up now.
The Fun
One of the fun things about being so young and raising four daughters so close in age was that we had a lot of the same interests. We liked the same activities, sports, movies and music. Even though I was their mom, I could relate well on other levels.
For example, Kristy and I were both runners, and we listened to the same music when we ran. We learned to roller blade and entered races together. The year she graduated from high school, a group of musicians called "Ace of Base" were popular. 
As we walked back to the coach's office, a red convertable with its sunroof open and radio playing passed by us. The song that came to my ears was "I saw a sign" by Ace of Base. At that moment, as crazy as it might seem, I knew we were in the right place!
The Miracle
I thought of it as synchronicity. In a matter of minutes, the coach informed us that Kristy would receive a grant that would cover three quarters of her tuition. We looked at the situation as a miracle.
When you worry about expenses or about how unfair life is and doubt what is possible, you become stuck. Life becomes limited. Victimhood limits your vision of what life could be. 
Abundance is a state of mind. Prosperity is a choice.
We wanted the best for our children and weren't willing to settle for anything less. I was determined they would have the education I missed out on at their age. 
The Determination
During her junior year, Kristy had three different part time jobs to help pay for her living expenses. She played soccer and basketball for two years. She loved the excitement of traveling every week with her teammates to other cities. This opened up a new world for Kristy. It not only strengthened her faith, it taught her that when a mountain seems too high, the only choice is to scale it and keep the faith!
Check out what Jane posted at Teeny Tiny Pieces after reading this post and Mary posts my story on GoodLifeZen. Thanks wonderful readers for contributing to my success. It's because of all of you that I'm doing so well!
What are  your obstacles and challenges?
How do you overcome them?
Enjoy the song and let me know the scoop in the comment box below.