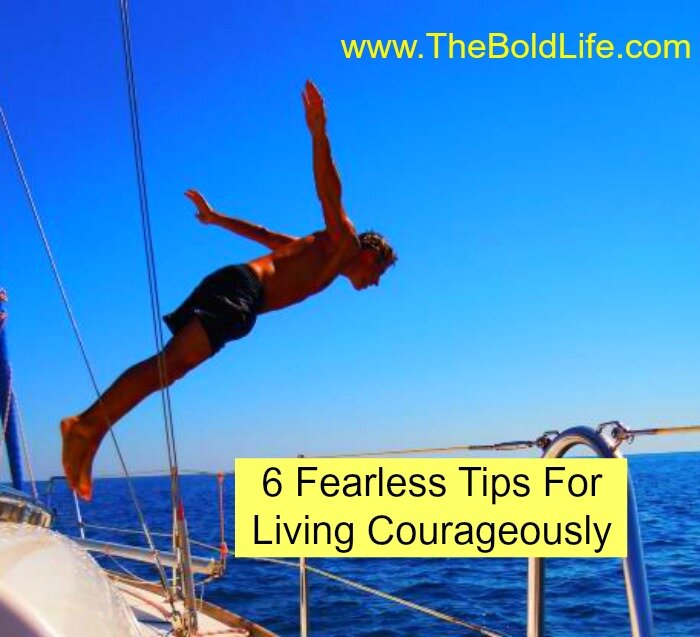 The No. 1 reason people don't trust in themselves, sing their hearts out, speak up, use their talents or do what they love is … drum roll please… FEAR!
Fearlessness is a mind-set. To be fearless means you have faith in yourself, faith in the moment and faith in what you're about to do. You know deep in your heart that you are exactly where you need to be at this moment.
You allow nothing to stop you.
I recently did my first webinar for members of the Unstoppable Courage Club. I've wanted to do one for a couple of years but always talked myself out of it.
It's crazy how I can allow fear to stop me. After all, living a fearless life is what I preach and teach, right?!
Don't ever forget that everyone is afraid, including me. Everyone has to overcome performance anxiety.
The only way to get over your fear is to get through it. And that's exactly what I did!
There is no difference between you and me. You can develop habits that will help you become fearless, regardless of what task you're facing.
Below are 6 habits that will allow you to courageously share your gifts and talents with the world, whether you're performing in a classroom or onstage; whether you have 10 or 10,000 in your audience.
What's important is that you do your best and go beyond what you've ever done before.
Little things make big things happen. ~ John Wooden
Set your standards high.
Replace your anxiety with a positive and confident attitude. I focused on putting together powerful stories for my first webinar.
My PowerPoint slides were visually moving.
It's vital that you focus on your action, not on your fear. Everyone fears being laughed at, criticized, embarrassed or looking stupid. Quiet your inner critics. The worst ones are in your head!
Put your energy into the task at hand. Use your fear to motivate you to practice, study or research.
You learn to speak by speaking, to study by studying, to run by running, to work by working; in just the same way, you learn to love by loving. ~ Anatole France
Practice like it's your big day.
I practiced over and over again. I pictured the club members watching me.
I didn't want to let them down. You'll resist doing this. That's allowed. Do it anyway.
Do your best each time you run through your routine. It will set you up for your big moment. Work hard to get it right. Dedicate yourself to knowing your material. Master every nuance. Go over it again and again.
The work you put into preparing will determine your level of success.
I am the greatest; I said that even before I knew I was. ~ Muhammad Ali
Imagine your own success.
Forget what everyone else is doing. You only need to choose to see yourself as the best. Own your greatness. Believe in your message.
Believe in your gifts and talents. Keep your focus on coming from your heart not on sizing up the competition.
Focus on touching the hearts of the audience member, not on what is going through their minds.
The audience is on your side.
People want to see you succeed. Nobody is waiting for you to fail. When you make a mistake, don't stop and don't mention it.
Lose yourself in the beauty of the opportunity you have to influence others and change lives.
If your message is good, that's what your audience will remember. When you do the work, you can move through anything with effortless joy. This includes your mistakes!
Enthusiasm is the electricity of life. How do you get it? You act enthusiastic until you make it a habit. ~ Gordon Parks
Express enthusiasm.
Forget about yourself. Keep your ego out of it. Be true to your message. Stay in the moment. Give them your best stuff. Bring your audience in with your best stories. Lose yourself in the joy of doing what you love.
You are imperfect, permanently and inevitably flawed. And you are beautiful. ~ Amy Bloom
Hunt for the positive.
When you finish your performance, go over what you did right and what went right. Give yourself credit. Dish out some self-love. Revel in the feeling of success.
Later you can reflect on how you can improve and make the next performance even better.
The sky is not the limit. Reach beyond what you think you're capable of. Don't settle for the status quo.
Your goal is to be memorable and exceptional. The goal is to motivate and inspire others. You have an opportunity to shift the way others perceive life. That's big!
Please help me share wisdom on social media! I appreciate your help.