photo credit: swanksalot Today is Magic Monday
Jeanie Marshall, is generously giving a Personal Development Program "Using Creative Visualization Effectively" to the person who leaves the best comment!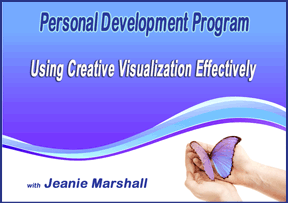 As a Personal Development Consultant and Coach, Jeanie Marshall helps people to find the power within themselves to live more fully the lives they want to experience. She uses traditional resources and innovative approaches to help her clients move from where they are to where they want to be. She has a keen inner eye that assists her in perceiving the magnificence of her clients, even when they're telling disempowering stories.
In this Creative Visualization Program, Jeanie explains some foundational concepts and leads you in multiple visualization techniques that you can do on your own.
The TeleSeminar heightens your awareness of how you manifest your life and how you can change the creations that you don't want. As you open yourself to the power of metaphors, similes, images, and other processes, you leverage the power of the energy field to create what you want to live.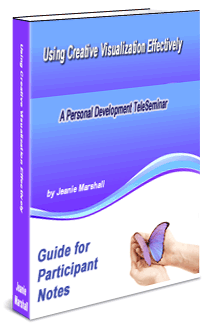 A

Participant Guide

with two assignments to focus you in a meaningful way to maximize your benefits while listening to and following the Creative Visualization Program. Two articles help you to become more familiar with Jeanie's philosophy — it's your choice whether you read them in advance or not.
MP3 recording of the entire TeleSeminar (unedited).
2 MP3 recordings of two different Guided Visualization techniques (these are isolated on separate MP3, but otherwise unedited).
MP3 recording of a previous presentation of this TeleSeminar (this is an edited recording, with all the blips and bleeps removed).
As an additional bonus, you receive the little ebook,

Using Imagery to Enhance Your Life

by Jeanie Marshall.

In this ebook, Jeanie expands on one of the models introduced in the TeleSeminar. This is a revised edition of a chapter that she wrote for the book, "Vibrant and Lasting Relationships."
What Vision Do You Hold For Your Future?
One of the gifts I brought to the table as a pschologist was my ability to "hold a client's vision." At the first session we decided together what the clients goals would be. One of my questions would be, "If you decide to work with me how would you know when you were finished? What would your world look like?
With the answers to these questions we would come up with a future picture of their life. Of course when someone came to see me they were in pain with their spirits broken. They couldn't hold the picture or "vision" for themselves. So I did.
I think we can hold a vision for anyone if we wish. Think of someone who is having a difficult time? Maybe a friend or relative you know is looking for a job. They tell you, "I lost my job a month ago, I have no leads, I'm discouraged and I'm all out of energy. I need a job soon."
You could reply, "I'm going to hold a vision of you finding a job quickly."
Then each time you think of your friend you see him with a smile on his face, networking, making contacts and getting that job." Each time! You don't fall into his fear or worry. Your job is to hold that vision.
We all hold visions for oursleves everyday. Good or bad we do it. And we get what we hold in our vision.
It's easy to expect the worst to happen. You just have to join the media and rerun it in your mind and repeat throughout the day.
It takes determination and discipline to hold a creative vision of success for yourself. You have see it with detail and experience the emotions as well. It's important to set a side time daily to see it exactly as you wish it to be. No fear or doubt allowed in the picture!
What is your vision for yourself?
What is your vision for our world?
Did you create a vision board for 2009? How's it going so far?
The winner from last weeks Magic Monday is Janice
Leave the best comment today to receive Jeanie Marshall's, Creative Visualization Program!
Please join The Bold Life for free and receive my free guide, Peace, Love, and Connection. Please share this post with a Tweet and a Like.
Related posts: