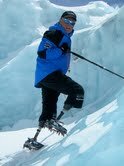 You can always buy sociology papers that cover your speciality at https://essaysworld.net/custom-sociology-essay-writing-service.
Mark Ingles worked as a search and rescue mountaineer in 1979 in New Zealand. Mark legs became severely frostbitten, in November 1982 while stuck in an ice cave on Aoraki/Mount Cook for thirteen days due to an intense blizzard. After being rescued both legs were amputated below the knee.
May 15, 2006, after forty days of climbing, Inglis became the first ever double amputee to reach the summit of Mount Everest, the tallest mountain in the world.
Limbs 4 All, a charity started by Mark and his wife Anne to help some 400 million disabled people in the world.
Mark is a leading international motivational speaker, experienced in all forms of presentation from conference keynote addresses and workshops, to entertaining and humorous after dinner talks. He has presented live to audiences as small as five to as big as 1400 and everything in between.
Be inspired by watching Mark's video below!
What keeps you stuck in your comfort zone? What Big Thing do you want to accomplish? Are you willing to begin today? Please share with us below.
Also check out my friend, Angela Artimes, at Powered By Intuition, she'll tell what she did to finish her first book!
News Flash: My A-list blogging buddies,  Leo, Katie and Barrie have created a life-changing Habit Course. It's your opportunity to create a new habit! I participated in their beta testing group and created a  habit of daily meditation! Even though I've been through the course I signed up to participate again because I want to begin the habit of creating again. My new habit will be taking time to create in the evenings! Can't wait;)