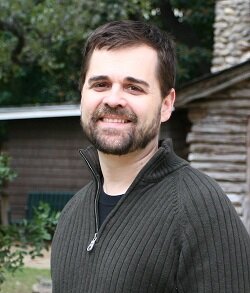 Everyone needs to make connections. Today's interview is with my friend Karl Staib of Domino Connection.
Hello Karl, introduce yourself to our readers. What does a perfect day look like to you?
I have been helping people find connections and earn their trust since 2010. A perfect day would be Yoga and meditation, write in the later morning, work with top notch clients in the early afternoon, take my son and dog to the park in later afternoon, cook lentils and homemade pasta in the evening, then relax with my wife and watch a comedy like Anchorman at night, then read Game of Thrones before I nod off to sleep.
It's easier than ever to make connections with today's technology, yet so many people fail to reach out. Can you comment on this?
Fear can be a driving motivator or depressor. How we look at this fear and appreciate it for what it's trying to teach us can make all the difference.
Many people who are afraid of reaching out are afraid of rejection. This is a natural part of building relationships. Connection is a part of our social DNA.
People who are afraid need to work on appreciating this part of their life. If you take the time to think about it, it's how we learn to be a better person in our society. When we get rejected we learn from this rejection and improve our approach.
The people who are afraid to connect are allowing the potential of future pain dictate their actions. If they can shift this mindset to one of learning and curiosity they can eventually see each rejection as a growth opportunity that will make them a better person.
It's a longer curve, but one that pays off much more in the future.
What do you want our readers to know about the fear of rejection?
I've been rejected over 1,000 times by other bloggers, companies, etc. The list will only grow. I've also connected with over 1,000 people as well.
If you never reach out to people you won't have some of the most amazing friendships that help you become a better person. I couldn't let myself live a life that held me back from building connections with people I could help.
Why are relationships and connections more important than ever?
When is the last time you Googled your name? What came up? When people are looking to hire you for a job or a position they will want to see who you are and what you've accomplished.
If you aren't helping tell this story you aren't creating the type of connections that can help you increase your ability to help as many people as possible.
How does lack of connection affect both our personal and business relationships?
80% of new work comes from referrals. People who find new clients or new careers are able to do this because of the connections that they've made.
If we aren't making new connections from our superpowers (passions, focus, and strengths) then we are missing out on new opportunities.
You can earn more money, feel happier and make a bigger impact in the world because of the connections you've made.
The key is making connecting a habit that becomes a part of your weekly routine. If you add just one new connection a week, that's 52 extra connections that you can help.
What is the best method to build reciprocal and trusting relationships?
Trust is based on consistency. When people see you are passionate, focused and good at what you do they will want to stay in contact with you. This means showing up every single day at home, work, online, conferences, etc.
On of our most basic survival instinct is connection yet we fear it. How does one overcome the fear of reaching out and connecting more often and at a deeper level?
By understanding your "why" you will have a foundation to start a connection. It's easier to take action when you know why you want to take action.
If you are resisting action then there is a mental barrier that either must be accepted, so you can do something else or face it and take action to lesson it's grip on you.
When I work with business clients we start with who they are and where they want to go. When I understand what makes you tick then it's easy to convince you to take action.
How can we use our connections to help with our career or business?
Start by asking how you can help your friends improve their lives. I regularly do sales page and landing page reviews for free because it helps them, me and my audience. It's this expertise that I can leverage to build more connections and grow my business.
Check out Karl Staib of Domino Connection and his free 30 Day Connection Challenge guide with the Top 7 Customer Conversion Tips e-course to Increase Your Leads and Sales. You'll learn how to find your ideal customers, improve your landing page conversion and what you need to measure so you can convert visitors into buyers.

Karl's ideas also work well for career oriented people too who try to leverage LinkedIn and Twitter to build new connections.
Help Karl and I connect with others by sharing this post on Facebook and Twitter. Thanks in advance!