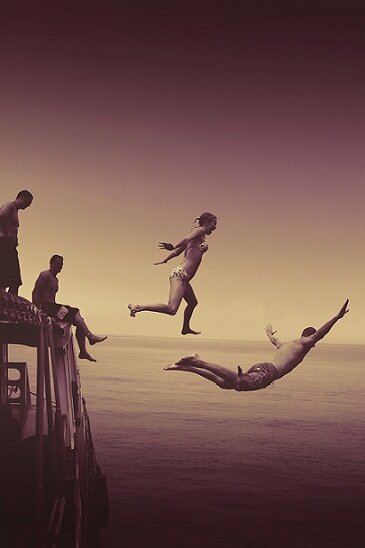 Guest Post by Joanna Warwick of Grown Up Kids Only
You have your big dreams…
You know where your want to get to, you know what you want to be doing and you're ready to take some bold leaps to change your life.
You've read lots about how to do it, you feel inspired and the time has come.
Then you go to take action and …you bottle it!
You're cross and frustrated and can't stop berating yourself for feeling afraid, for being inadequate, for being such a failure!
Firstly let me assure you, you are not alone in these feelings.
I know, I've been there and honestly still occasionally it happens, because I always want to grow and be bigger and bolder in my life.
Secondly what if I told you there is a natural explanation as to why you feel this way and it has nothing to do with being flawed.
My most recent experience of feeling this way inspired me to write this post.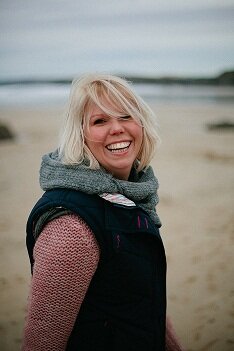 I am a surfer. I live by the sea and I would say I'm pretty in love with everything to do with the water and never happier than when I am in it.
Except recently for 6 months I wasn't able to surf due to injury. I had hurt my neck and back and I needed to take some time out to get my skeletal structure back in place where it's meant to be. So ultimately I could once again be strong and healthy.
It took help from others and so a quick note of recognition is necessary to my chiropractor and masseuse who are both truly wonderful healers in helping me back to health.
A month or so ago I was signed off to surf again, but instead of rushing back into the water, I held off. I made up excuses to myself to delay the inevitable, because I was scared; scared that I would get hurt again and that I wasn't strong enough.
Eventually I got back in, I chose a day when the surf was small and clean so I could take it gently and gradually build up my confidence again. I was surprised to realize that my fitness was better than I expected and with a few surfs I was bouncing back.
After a couple of weeks I was invited by some friends to a different beach with heavy surf. Going for a party-surf, as it's coined, is fun; as it always is to play with like minded people. I so wanted to join in and be a part of it.
It wasn't great weather though and the surf was big, messy and windy. As we stood on the cliff looking down all I could feel was my stomach sloshing around like crazy with fear. They were all still going in and I didn't want to be left behind. So I shared how I felt, then ignored it and carried on getting ready.
I would not be beaten by fear!
As we began paddling out my mates were looking out for me, but I told them to go on without me (I'm fine, I can do this alone!) Of course the good old universe knew better and soon another mate was also struggling to paddle out next to me.
So together we stopped, reassessed and headed further up the beach to a rip, which would suck us out back like an elevator. Neck and neck, she and I got closer to the others, the waves parted and the way ahead was clear. With that my fear shot up a notch and I bottled it!
I splashed around a bit in fury for being so silly. Thoroughly beating myself up for being weak!
However later on, having heard my mates shared experiences they all informed me that it had been tough, one even said it had been the worse surf she had in years and with a little bit of reflection, it all became clear and I was reminded once more.
My instinct had been right. I wasn't wrong. I had been right to feel fear.
I had been in contact and surrounded by the chaotic energy of the wind, rain and sea and my instinct told me it was not safe.
We live a world that is so geared up to pushing ahead, achieving, being busy as though life is a race to keep up with other people that we often ignore and forget not only our inner wisdom, but our animal instinct.
It's simple; fear is there to alert us to DANGER…
And there are two behaviors which contribute and increase fear.
Isolation
When we isolate ourselves and try to BE STRONG and do it all alone, we will get scared. It's in our evolutionary makeup, to be part of a pack, just like all other mammals to keep safe from danger.
Isolation equals exposure to danger.
On that day I tried to isolate myself, I didn't want to be a nuisance. I was able to step out of that by sharing my fear and not trying to hide my feelings, however I didn't allow myself to be supported by those around me, as we paddled out.
When we do allow ourselves to be seen and supported by people we trust we always achieve more and overcome our fears.
Rushing
When we rush to move forward or make changes, out of sync with how we really feel deep down, fear will leap up. As children many of us were taught to hurry up, keep up and please others and therefore not listen to our intuition that says what is right for us as individuals.
To feel secure in who we are and what we do it is essential to understand our own individual natural pace and move in harmony with it.
There is no shame taking your time to work things out.
A bold life is not based on always taking big bold steps, it about taking brave small steps, always moving forward and building the confidence to do bigger and bolder things
Ignoring Animal Instinct
As I experienced in the surf that day my body knew best. For fear of missing out I tried to push myself, too much, too soon and ignore what my body was telling me.
On an instinctual level I knew that physically I wasn't fully ready for heavy surf, I would be out of my depth and unsafe.
My friends are all extremely fit and experienced surfers and even though I have surfed for 9 years, I had not surfed for 6 months. I had taken a step back and I needed to acknowledge the level I was at now. To give myself a break and have a bit of patience and recognize it was OK to listen.
What would I have missed out on?
I didn't fail by stopping. I just wasn't quite ready for the next level.
By acknowledging my vulnerabilities, I could give myself what I truly needed to move forward and be ready; a little more time and practice.
The same goes for you, in wherever you're getting stuck in your life.
So before you beat yourself up for failing or being inadequate, you need to check out that just because your head says you're ready, you might not actually be ready in your body or soul and that should not be ignored and maybe you need to take a step back to re-check, so that you can move forward when it's the right time.
Or perhaps where you think you want to be boldly leaping too isn't actually right for you and that your instinct is telling you this and you have not been listening.
Danger comes in many forms and your instinct will always tell you even if your eyes or desires see something different.
When the time comes and you are ready to try again aim to take smaller consistent steps instead of big leaps and I promise you will feel totally confident in your choices and exhilarated by your actions.
Remember; small steps are the building blocks to bold changes.
Jo Warwick is a writer, energetic healer and an accredited counselor specializing in human development based in the UK. Her blog 'Grown-Up Kids Only' is dedicated to new style of adulthood. It's about embracing freedom, confidence, inner-strength, courage, love, commitment to personal values and above all having fun and adventures; because fun is NOT exclusive to childhood. For your free copy of Seven Simple Steps for Overcoming Fear in Everyday life http://grownupkidsonly.com/sevensteps

Please share you comments below.