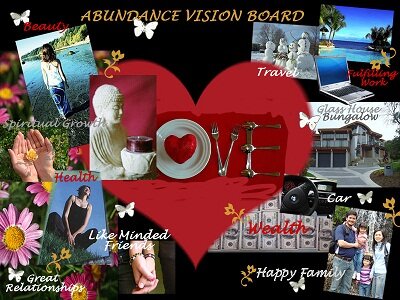 This is a guest post from my good friend Evelyn Lim.
If the idea of going for your dreams sounds discomforting to you, and if you find yourself breaking out in a sweat, turning ashen white or if simply want to run away from the feeling of discomfort altogether, you are not alone.   
If you have the desire to go for your dreams but face difficulties because of fear, consider making a vision board. If you are hoping to be a world-class speaker, a best-selling author or simply want to speak up for your values a vision board can be an excellent tool to help you overcome your fear and to bring your dreams forward. 
A Personal Experience

Making a vision board has helped me address my initial resistances with "stepping up." There was a time when I was working on the vision of a more empowering picture of my future self.

While I was pasting some pictures onto my board to reflect this vision, I was mentally visualizing myself confidently standing on a platform and giving powerful presentations when all of a sudden, my fingers froze.   Even though I tried hard, my fingers simply refused to budge. 
I was forced to take a break since I was not able to proceed with pasting the remaining pictures onto my board.  I sat back to analyze what was holding me back.  It dawned on me that the thought of playing it big scared me.  I did not welcome the idea that stepping up could mean more responsibility and the possibility of having to do more work.  For a while, it felt "safe" to play small.
I began to weigh the pros and cons on whether or not to pursue my vision.  My internal debate went on for some time.  Finally, I decided that going forward appealed more to me.

I made the conscious decision that despite feeling the fear, I would move forward anyway.  

Tired of feeling stuck, I did some emotional release work and eventually, I completed my vision board.  
Transforming Fear

I know. It sounds scary.  There is the fear of rocking the boat.  There is the projected fear of rejection by others because they may not accept the new "you".  There is the fear that you may fail to attain your vision.  The consequence of failure may be public shaming that you can vividly imagine.  
As you know, fears are mostly psychological.  They are, therefore, not real.  You can choose to focus on the fear or you can choose to focus on a picture of success. 

If you choose to focus on the fear, you are more likely to fail. You will find it hard to move confidently in the direction of your dreams.  Buddha once said, "What you think, you become."  On the other hand, if you choose to focus on positive thoughts, you are more likely to be successful. 
Participants in my vision board workshops often express the need to "step up" in order to go for their dreams. The energy they hope to align with includes "boldness" or "courage.  The participants choose pictures for their vision boards that will remind them to have courage.  You can do the same too. 

Steps to Making Your Vision Work For You
1. Make a vision board for your future self.
2. On your board, include a picture that will help you align with courage or boldness.  Ideas for such a picture include the image of a powerful tiger, a lion or a confident-looking role model. Whatever this image is, you must be able to make a connection with it.  
3. Complete your vision board.
4. Next, visualize yourself stepping into the picture of this image.
5. Visualize yourself as if you are this picture…powerful, energized and confident.  Connect with the strong emotions of "being" this future self.  Use your senses as much as possible. 
6. Increase the brightness of your mental picture and intensify your emotions. 
7. Seal the energy by creating an anchor, with the tip of your thumb touching your first or second finger firmly.
8. End your visualization.
Anytime when you feel a little nervous, "fire" off your anchor by making the same sign: tip of your thumb firmly touching your first or second finger.
Inspirational Quote to Remind Yourself

"Our deepest fear is not that we are inadequate. Our deepest fear is that we are powerful beyond measure. It is our light, not our darkness that most frightens us. We ask ourselves, Who am I to be brilliant, gorgeous, talented, fabulous? Actually, who are you not to be? You are a child of God. Your playing small does not serve the world. There is nothing enlightened about shrinking so that other people won't feel insecure around you. We are all meant to shine, as children do. We were born to make manifest the glory of God that is within us. It's not just in some of us; it's in everyone. And as we let our own light shine, we unconsciously give other people permission to do the same. As we are liberated from our own fear, our presence automatically liberates others."
- Marianne Williamson, a Return To Love: Reflections on the Principles of A Course in Miracles
All the best!
About the Author

Evelyn Lim is dedicated to the vision of inspiring heart-centered living.  She helps others gain inner power through loving themselves and loving their lives.  A life coach, energy therapist and intuitive consultant, she assists her clients with shifting into higher vibrational states internally for a more positive outer experience of abundance. 
Evelyn Lim is the creator of The Life Vision Mastery Program, an online course that teaches on creating heart-centered visions.  To obtain a free Vision Board Guide and a MP3 audio that will help you activate abundance, please click over here.