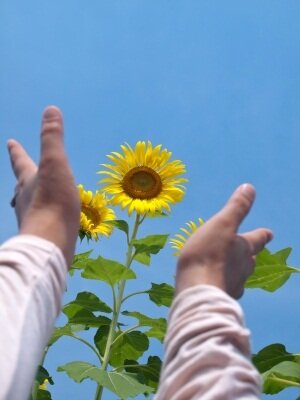 We're all afraid. We're wired that way. It's part of being human.
When you get that…really get that, everything changes.
It appears that we are afraid for different reasons. We doubt ourselves. We doubt others. We don't trust ourselves. We don't trust others. We don't love ourselves. We don't love others.
We are all afraid for the same reasons.
We all have three fears or three irrational beliefs.
I am not enough. I don't do enough. I don't have enough.
These three irrational beliefs mess with your mind. They mess with your ability to live in the present moment. They make you do crazy things. They rob you of your sleep. They turn friends into competitors. They destroy your self-esteem. They drive your addictions.
Begin today to challenge these beliefs and move beyond your fear.
I am not enough. I am enough.
I don't do enough. I do enough.
I don't have enough. I have enough.
Write your new beliefs on an index card. Carry it with you or put it on your bathroom mirror. Write them on the top of your to-do-list. Everyday. Your other tasks will look and feel easy once you ground yourself in your new beliefs.
If I were to get a tattoo it would be these three lines.
Once you belief that you are enough, that you have enough, and that you do enough…you begin to believe it about others. You begin to sleep at night. You serve others without thoughts of what you can get in return. You smile more. Your fear fades and your days begin to flow.
Grounded in your new thoughts the following steps become easy to do:
Share your stuff. Do it in small and big ways. Help. Serve. Surprise others. Yesterday, my husband went into the gas station for a few minutes as I waited in the car.
I noticed a man standing on the sidewalk. He was old, worn, and was missing an arm. His other arm didn't look very good either. Diabetes I think. I phoned my husband and asked him to pick up a bottled water and a sandwich. I asked him to give it to the guy on the sidewalk when he came out. The man smiled, accepted it, and walked away. It's that simple. Are you willing to share your time, talent, wisdom, or money today? Giving is personal, give in your own way. (I have enough).
Shrink your fear. Look your fear in the eye. Tell it to back down. You have work to do, people to see, and connections to make. Tell your fear who you really are (I am enough).
Live it now. What does success feel like? Get into the feeling. What does success smell like? Wear the perfume. What does success look like? Dress the part. Go where successful people go and do what successful people do. (I am enough).
It's your choice. We make hundreds of choices every day. Become aware of the choices you make and the consequences of your choices. Choose to get up an hour early. Choose to use your gifts and talents. Choose to go the extra mile. Choose to ask for help. Choose to leave your mark on the world. Choose to rise one more time than you fall. Choose to move beyond your fear. (I am enough).
Talk it up a notch. Use encouraging words. Create affirmations as reminders. Post them everywhere. Read them. Memorize them. Louise Hay is 85 years old and she continues to do use affirmations. That's how she built her empire. Never underestimate the power of positive self-talk. (I am enough).
Unprocrastinate. Do what you need to do today. Act like you're the capable. Don't hesitate, delay, or isolate. Apologize, take the high road, and accept responsibility for all that you do and all that you don't do. Life is messy. So what! Learn from your mistakes and move on.
Choose to feel safe. So what if it doesn't work out. So what if you have to begin again. So what if you are afraid. Sometimes life will demand that you crawl one more inch and sometimes life will allow you to soar. Continue to move. Enjoy it all. Nothing is as serious as we make it out to be. (I have enough).
Knock down the doors. When things go wrong, get back up. When doors don't open, kick them down. When there's a detour, climb a fence. When somebody tells you, "no," ask again. Keep going back and keep moving forward until you get what you want. Each "no" is a step closer to a "yes." (I am enough).
Stand out. Tell the truth. Keep your promises. Make others aware of your strengths. Be persistent. Be yourself. Listen to your heart. Follow your dreams with integrity and love. It's a powerful combination. (I am enough).
Take a break. Untether. Everyday! Shut off your electronics. Retreat. Regroup. Relax. Clear your mind. Let go. Surrender. (I have enough).
We don't know what tomorrow will bring. Or the next minute for that matter! Color your life bold. Do it your way. Make a change. You are responsible for the quantity and the quality of your life. Create and live your grand adventure today!
Please leave your thoughts below.