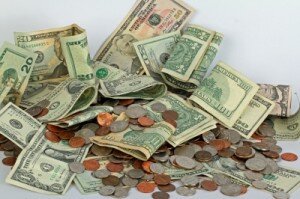 What you fear, others fear as well. Everyone has money fears. The biggest fear of all is that we will never have enough money.
You may fear that you can't make your rent payment or that you won't have enough to buy groceries. You may fear losing your job or you may fear never finding a job. You may fear that you'll never get out of debt and you may fear that you'll never be able to live your dreams.
It's important to work on the money issues that you can control. Begin by focusing on the financial areas that are appropriate for you at this time. You can get rich slowly.
Begin where you are.
Ask yourself two questions:
What matters today?
What can I do with the time, energy, and opportunities I have now?
One thing you can do now is to learn how to make choices that are in your best interest.
If you're unemployed, let go of planning for retirement. If you are a student, you don't need to worry about long-term care insurance. If you are in a crisis, you aren't in a position to help your adult children until your own crisis is over.
Read on if you willing to commit to investing the time, energy, and discipline required to create financial security?
Take responsibility. Begin by working with the money that you do have. Refuse to self sabotage by wasting your money on frivolous and unnecessary items. Avoid excess. Stop chronic overspending. Eliminate waste.
Educate yourself about money. Become your own financial advisor. Have faith in your ability to understand and comprehend all things money. Education shrinks fear.
Make conscious decisions about your personal finance. Put your money choices on paper by creating a budget. Sticking to your budget is like giving yourself a raise.
Find ways to earn more money. If possible, work overtime. Use your talents, skills, and gifts to create extra income and increase your savings.
Change the way you think about money. Address your fears. Your self worth doesn't come from your net worth. Cognitive therapy can help you retrain your brain to perceive your money fears differently.
Create a savings plan. What is your future plan? How much do you want to save this year? Where do you see yourself in three years? A plan will help calm your fears.
Learn about health, disability, and long term care insurance.
Live below your means, adopt a lifestyle of simplicity. Wait 24 hours before you make an unplanned purchase. Pay your bills on time.
Talk about money and finances with friends that you trust. Share your concerns, thoughts, and questions. You can learn a lot through conversation.
Learn how to negotiate. Practice asking for a raise, increased benefits, or flex time with a friend or couch.
Create a spiritual practice. Have compassion for yourself and others. Spend time in meditation. Keep a gratitude journal. Focus on what you have.
Forgive yourself. I don't know anyone who hasn't made mistakes. When we know better, we do better. Learn from your past. It's never too late to begin again. Never.
Please share your thoughts below.