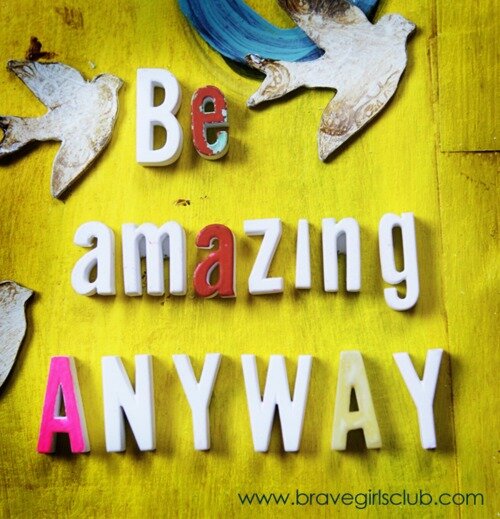 Fear can feel heavy. It can be convincing, conniving, and gripping. It'll lock you in a mental prison. Fear can feel light. It can be nagging, boring or weightless like a shadow you can't escape.
Fear is part of life.
Don't allow fear to keep you from traveling to new places or meeting new people. Don't all fear to steal your possible connections, opportunities, and happiness. You either give your fear your life energy or you don't. You decide.
Tips for the next time you're in a scary place:
Create an in spite of attitude. In spite of my fear, I will take my first step or make the first move. In spite of my fear I will create a plan, ask for support, and begin.
Invest in yourself. Create a $100 Startup. Get Danielle LaPorte's, FIRE Starter Sessions. Enter Leo Babauta's Sea Change program. Get my course "Take Your Fear and Shove It!" Don't sit there, do something!
Bet on your success. You can only plan and prepare for a limited amount of time. Take action today. Don't convince yourself that you'll fail before you even begin. Bet on yourself. Own your talent and strength. Dig deep for courage and get started. Today!
Praise your efforts. Encourage yourself. Take breaks. Breathe. Create positive self-talk. Rock your talent. Strut your stuff.
Dedicate yourself to deep stillness. Sit in a quiet place and breathe through your fear. Learn to develop a quiet strength within. Live in the present moment. Stay out of fear-induced pain of the past and uncertainty of the future.
Write yourself a permission slip. Allow yourself to dare, to risk, and to fail shamelessly. Write another one to get back up and try again. Repeat.
Create distance from your fear. You are not your fear. Talk to your fear. Ask fear, "What message do you have for me today?" Decide if there is any validity to the message and take any necessary action. Next, inform it that you'll be taking care of yourself today.
Thank your fear and put it in an imaginary box, lock it, and throw away the key.
If you haven't already, grab your copy of "Take Your Fear and Shove It." I've extended the discount. I want to help you succeed. Bet on me. Bet on yourself!Click here.
Image: Brave Girls Club
Let us know how you'll move beyond your fear today! Please share below.
Are you ready to commit to your dreams?

You can go beyond what you think is possible! The time is now to increase your confidence and blaze a new trail. If you are ready to do great things then book your free 20-minute consult with me and let's talk about your personal plan for greatness! Click on my coaching page.