My friend Angela Artemis from "Powered By Intuition" has lovingly awarded me a "Beautiful Blogger" award. You can see the other amazing bloggers who received this award here: The Day Beauty Came to Visit.
Angela is a clarivoyant and medium and also a financial salesperson with 25 years of experience. Angela states, "As an astrologer I've been casting charts since I was a teen – back before we had computer programs to calculate everything for you." How's that for experience?
Angela is a freelance writer interested in expanding consciousness, developing intuition and creating our reality. Her goal is to share information that opens minds.
One thing I know about my intuition is, it has never failed me. It will always lead me in the right direction to my "truth." When I don't listen I can immediately feel it in my gut. I'll also "know" the second I made the wrong decision.
If you want to expand your mind and claim your dreams contact Angela. She has been a wonderful, giving and very giving supportive friend. I'm grateful.
If you're missing someone who's made a transition book a telephone reading and reconnect to their love for you – which never dies. Click here.
The Beautiful Blogger Award requires you to tell reader 7 things about yourself.
1. I have guts and faith. It's been a good combination for me.
2. My children and grandchildren keep me hip. I didn't learn to text until they stopped answering my calls and listening to my voice messages.
3. I refuse to give up! If there is a way to do something, I will accomplish it.
4. I hated rap music until Byron Katie taught me not to judge it. I dropped my story about it and now enjoy listening to several rappers.
5. I love everyone. I see the world surrounded by red hearts before going to sleep and whisper blessings of peace and love for all.
6. I'm not afraid to tell on myself. I can be demanding and controlling. The good news is I love to catch myself and will do anything to gain back my inner peace.
7. I have a loud laugh and a loud voice. A therapist once told me it's my ADHD. I think he was right but the other part is I was No. 6 of 10 children. I wanted to be heard. Still do!
8. I'd take a bullet for a family member or friend. They mean the world to me. (I also love to break rules so I added an extra)
The drum roll please…I'll now bestow the Beautiful Blogger award on five fabulous ladies:
Lori Franklin of Jane Be Nimble – Lori is a "writer, scientist, graphic designer/artist, athletics coach, nutritionist, blogger, tree hugger, do-gooder, and unapologetic bleeding heart in service to others." (In my opinion there's nothing she hasn't experienced or accomplished). I met Lori after she extended an invitation to sit on her virtual front porch and chat. The first thing you'll notice when you visit her blog is her humor and love of life. She's fun, funny and has made a big difference in my mine.
Sandra Lee of Always Well Within – Sandra writes about "a unique blend of personal development, health and wellness, ecology, and simple wisdom to help you realize your best self and be part of creating a better world." Her articles are packed with research and challenge inviting us to live our best lives.
I believe she is an advanced soul that challenges the heck out of me. I keep going back for more because she allows me to go at my own pace;)
Andrea DeBell of Brite-talk- Andrea's tag states, "Life served sunny side up." I'll take some of that! Brite-talk is a self-empowerment blog, a place for sharing how to live a happy, positive, passionate, peaceful life.
Andrea is an author, happiness expert, bliss consultant, blogger enthusiast, spiritual geek, personal growth fanatic, and lover of all things bright. And that's what you find on her blog! I met Andrea recently and we immediately formed a bond through laughter! She's a lot of fun!
Caroline Manrique of Whimsy Whispers – Caroline is a photographer whose work is unforgettable. Caroline is responsible for my header. I flew to California to do a photo shoot with her. She's so good I'm bringing my granddaughter to her for senior pictures. Caroline is one of the most sincere and authentic bloggers I know. In her own words, "This blog is based on my whimsical and ever changing nature. Yes, I like change! I love to create, experiment and play. I am finally getting to know myself…and I am opening new doors creatively and spiritually. You could say that I am a soul explorer!"
Courtney Carver of Be More With Less - Courtney's blog is about "simplifying your life and really living. Here, you can learn how to create a life with more savings and no debt, more health and less stress, and more you with less obligation.I had the opportunity to meet Courtney in person and can't figure out which is bigger her heart or her smile!
Each of these ladies have touched my live in some way. Check out their awesome blogs and know the world is in a better place because they are in it!
Also check out a wonderful post on female energy, girl power and womentum at Katie Tallo's blog Momentum Gathering.
Please join The Bold Life for free and receive my free guide, Peace, Love, and Connection. Please share this post with a Tweet and a Like.
Related Posts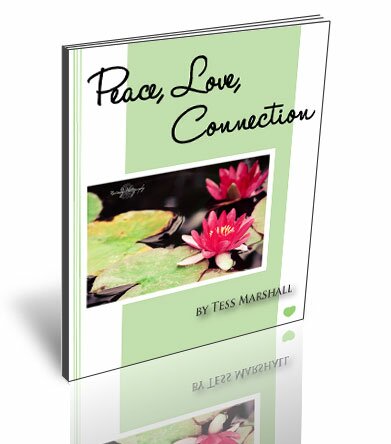 Sign Up & Receive Instant Access to
Your FREE Gift:
Peace, Love, & Connection

Learn how to successfully cultivate these three qualities in your life.
The flow of inspirational gems will spark tenderness and joy within your mind, heart, and soul.
You'll also receive fantastic tips, discounts, blog posts, give-always & more!