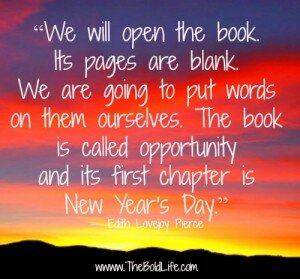 2. I wish that in your new year you fail and fail often. If you fail, it means you're taking action, attempting new things, pushing limits, making your dreams a reality and serving the world. You're doing unconventional things, going places you haven't been, taking wild risks, you're dancing.
Whatever fear you're facing. Embrace it. Fail. Fail small. Fail big. Fail like crazy. Fail in friendship, in family and in love and in life. 
Fail at things that nobody else has dared to try. Don't be bothered by doubt, obstacles, comparisons or imperfection. Don't matter what your fear is. Move through it. Fail now. Fail throughout the New Year. Fail forever more. That's my desire for you, for me and for everyone. Happy new year! ~ Tess Marshall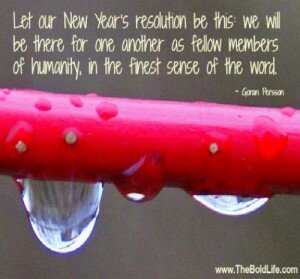 4. Life can only be understood backwards; but it must be lived forwards. ~ Soren Kierkegaard
5. We spend January 1st walking through our lives, room by room, drawing up a list of work to be done, cracks to be patched. Maybe this year, to balance the list, we ought to walk through the rooms of our lives…not looking for flaws, but for potential. ~ Ellen Goodman
6. For last year's words belong to last year's language. And next year's words await another voice. And to make an end is to make a beginning. ~ T.S. Eliot 
7. The object of a new year is not that we should have a new year, but rather that we should have a new soul. ~ G.K. Chesterton
8. A bridge of silver wings stretches from the dead ashes of an unforgiving nightmare to the jeweled vision of a life starting anew. ~ Aberjhani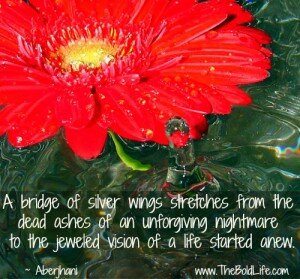 10. Many things are thrown our way in this game of life. It's how you deal with them that shows your true character. I want all of you to feel the hope, love & passion I feel for the upcoming year & the rest of my life. I want ALL of you to not only go for your dreams, but have a damn ass good time doing it! ~ May Water
11. For a New Year to bring you something new, make a move, like a butterfly tearing its cocoon! Make a move! ~ Unknown
12. This is the new year. Time for a bold new you. You can pass through another year, living in the same rut. Or you can embrace your fear, take bold action and make 2014 miraculous. Choose wisely. Your life depends on it. ~ Tess Marshall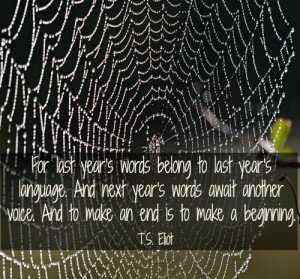 14. I think in terms of the day's resolutions, not the year's.  ~ Henry Moore
15. Approach the New Year with resolve to find the opportunities hidden in each new day.  ~ Michael Josephson
16. This bright new year is given me 
To live each day with zest
To daily grow and try to be
My highest and my best! ~ William Arthur Ward
17. One resolution I have made, and try always to keep, is this: To rise above the little things. ~ John Burroughs
18. The Old Year has gone. Let the dead past bury its own dead. The New Year has taken possession of the clock of time. All hail the duties and possibilities of the coming twelve months! ~ Edward Payson Powell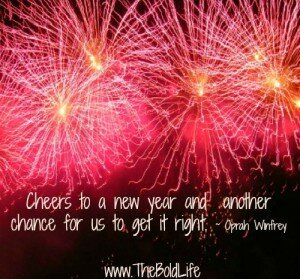 20. New Year's Day: Now is the accepted time to make your regular annual good resolutions. Next week you can begin paving hell with them as usual. ~ Mark Twain
21. May Light always surround you; Hope kindle and rebound you.
May your Hurts turn to Healing; Your Heart embrace Feeling.
May Wounds become Wisdom; Every Kindness a Prism.
May Laughter infect you; Your Passion resurrect you.
May Goodness inspire your Deepest Desires.
Through all that you Reach For, May your arms Never Tire. ~ D. Simone 
What is your vision for 2014? What is your intention? Help me spread the joy on Facebook and Twitter.
If you want support and clarity in the New Year the special prices for The Bold & Courageous Mastermind Inner Circle are good through December 31. Make your life easier. Join now!