Tweet
The following are thoughts and quotes on fear from some of my favorite authors, writers, and bloggers.
Fear often has us feeling very alone. If we have experienced trauma in our life, this sense of vulnerability multiplies to a panic. Some of us isolate ourselves, which only makes the situation worse.  Others feel an intense need to be around someone who loves them and cares.  This feels like a protection against what might harm them and helps them feel not quite so alone.  
1. I always side on connection being the best counter to anxiety.  Staying home, alone, stationary is the worst thing you can do.  Being around people, feeling connected to them and to the world around you, fortifies you with a sense of purpose and belonging.  This counters fear as it goes against what the trauma made you feel like: unworthy and useless.  ~ Jodi Lobozzo Laman, Heal Now and Forever  
2. Love instead of fearing. When you hold onto the past, it often has to do with fear: fear you messed up your chance at happiness, or fear you'll never know such happiness again. Focus on what you love and you'll create happiness instead of worrying about it.  ~Lori Deschene, Tiny Buddha
3. The next time you feel yourself hesitating to go after your goals because you fear failing, ask yourself the following two questions: What can I do to increase my probabilities of succeeding? What can I do to lower the cost of failing? Once you've done what you can to increase your probability of succeeding and to lower the cost of failing, go for it.  It's better to try and fail than it is to never try at all. ~ Marelisa, Abundance-blog.Marelisa-Online
4. At some point, we need to let go of our worries. We need to give our kids the gift of being responsible for themselves. In the end, this gift will lift the burden of responsibility off our shoulders. It will help our children to be more confident, and responsible regarding their own life choices. Fear and worry can encompass our lives. It can stop us cold. No matter what our circumstances we can live our best lives without fear dictating our every waking breath. ~ Cathy Taughinbaugh, Treatment Talk
5. I am lucky to not have much fear in my life. If I am fearful it's usually something financial or about my children.  When I feel fear, it causes me to have anxiety and I can feel it in my stomach.  I wake up in the middle of the night worrying.  The middle of the night is always a time when everything in life seems worse.  I try to relax, breathe and remind myself that everything is happening the way it's supposed to.  Everything happens for a reason.  This helps me tremendously!! ~ Betsy Henri, Zen Mama
6. Many people worry about the economy and believe they will either earn or lose money due to the economic situation at present. However, the economy is always moving up and down. So, it doesn't matter what is happening out there, or what others do to change the economy. No matter what is happening "out there" in the world, it only matters what you believe about yourself. ~ Louise Hay, Heal Your Liife
7. Fear is a word that should be reserved for life threatening situations. I would  like to replace the word fear, when it comes to personal development, in the world 'challenge.' Challenge is much more appropriate in the context of personal development as it represents exactly what we face: starting a new job, staring a business, beginning a relationship, going into new situations which are not life threatening, rather they are challenges, and they are only challenges as we have not done them before. ~ Steve Aitchison, Change Your Thoughts
8. But I still have fears myself. I still get apprehensive before getting up to talk to a group of people and I still get a tad nervous before doing interviews, especially TV and radio. The thing is however, even though I get nervous I still do it. Otherwise I'd feel like I was letting myself down and missing out on opportunities. And that is the key to not necessarily beating fear, because I think that's impossible, but managing it and not allowing it to beat you. ~ Tim Brownson, A Daring Adventure
9. Some of my most potent opportunities have come from situations where I was challenged enough to have to do something. I was forced to face my fears and to change, which opened a door to an opportunity I'd never dreamed possible. My fear catapulted me to a whole new level of life experience as it urged me to open the door, look outside the box, and come up with some alternatives that were new and exciting. Yet, if you stop struggling and calm down, the answer on how to stay afloat may just appear before you. 
It is harder for such an answer to come, if your mind is on "how not to drown" rather than "how do I survive". You conquer the fear by framing your mind in the positive. Let go of the fear and tell yourself "I can and I shall." ~ Evelyn Lim, Abundance Tapestry
 10. This year I'm making only one resolution: to let go of fear. There is so much I have wanted to do and not done. There is so much I have wanted to be and not become. This year I will do. This year I will be. Don't waste any more time with fear. Silence those voices telling you what you cannot be. As Liz Taylor said, "So much to do, so little done, such things to be…" ~ Dani, Positively Present
11. Life is about skydiving every single day. Taking good risks that make your heart race and set your mind on fire. It's only when we define what truly scares us that we can make the most out of our fear, take the plunge, and enjoy the heart-pounding ups and downs. Embrace those good fears and go make something happen. ~ Kristin Glenn and Shannon Whitehead, Revolution Apparel
12. The fear of rejection never goes away. You get used to it, learn to accept it, and manage it better. You just have to get the first one out of the way. I still feel anxious when I see a beautiful woman, but I don't let it stop me from meeting her. Instead, I use those nerves to my advantage and keep the interaction fresh. ~ Thomas Edwards Jr. The Professional Wingman
13. Love is what we were born with. Fear is what we learned here. ~ Marianne Williamson, Marianne
14. Fear has to be acknowledged. We have to realize our fear and reconcile ourselves with fear. We should look at how we move, how we talk, how we conduct ourselves, how we chew our nails, how we sometimes put our hands in our pockets uselessly. Then we will find something out about how fear is expressed in the form of restlessness.  ~ Chögyam Trungpa, Shambhalah
15. I call it fear. And in doing so, I find it easier to stop running from it through busyness, self-cruelty, and what I call shadow comforts (things we do that only pretend to nourish us like playing online solitaire, snacking mindlessly, shopping for things you don't need—it's not the thing itself you are doing but how it makes you feel). These make the fear stronger—and make me believe whatever story I'm telling myself, like "I can't stand to feel this way," or "Disaster is just around the corner." Naming my feeling as fear allowed me to realize it was a feeling, not a truth. Fear cannot define me or run my life. ~ Jennifer Louden, Jennifer Louden
16.  One of the challenges of moving through fear is identification. After awhile, you identify with the problem for so long that you don't know who you are without it. So, now instead of trying to navigate through try to imagine who you would be without the problem and be that. Allow a loving world hat is beyond this fear to fill your mind and heart. Imagine being free and then be it. This is the bridge home. ~ Derek O'Neil Life Changing Healing Center
17. Life is a lot more beautiful and vivid if it is determined by love and not by fear. I'm sure you can imagine that someone determined completely by love would be a kind of saint. In contrast, most of us ordinary human beings are determined by both forces, love and fear. However, in my experience, even a tiny shift towards love—and away from fear—can bring a lot more happiness. ~ Mary Jaksch, Good Life Zen
18. I handle my fears by using the worst case scenario practice.  Our fears tend to paralyze us when we let them run circles in our heads with all kinds of "what if's."  First, I sit down and write out all my fears which helps to shine a light on them.  Some of them disappear at this step as my objective mind immediately sees how silly the fear is.  For the ones that remain, I ask myself, "What if that really happened?" 
I write out the thing I fear as if I'm experiencing it.  I don't catch myself or try to save myself from the situation.  Instead, I make it all as bad as it can possibly get.  That way I flush out all the fears that could arise later.  Once I see myself at absolute rock bottom, I create a way out.  I write out everything I would do to turn everything around. By living out the fears and knowing that I'm bigger than they are, they tend to disappear.  I feel much calmer after this process. ~ Paige Burkes, Simple Mindfulness
19. I believe in accepting fear, not in resisting it. So I confided my doubts to teammates, peers, funders, and mentors. Many of them related to my story – I was excited to learn how many entrepreneurs felt the same way. We weren't burned out or giving up. Our passions had simply changed, and we had to give ourselves permission to accept that. ~ Melissa Richer,  Melissa Richer
20. Fear lies. It just makes stuff up. The thing is, whatever fear is saying to you: It will seem true. It will seem true that you aren't ready to give the presentation. To put up the art show. To launch the jewelry line. the best we can do is remember: "The things fear and my inner critic say are false' and to discern: could this just be fear talking? ~ Tara Mohr, Tara Mohr
21. Some of my most potent opportunities have come from situations where I was challenged enough to have to do something. I was forced to face my fears and to change, which opened a door to an opportunity I'd never dreamed possible. My fear catapulted me to a whole new level of life experience as it urged me to open the door, look outside the box, and come up with some alternatives that were new and exciting. ~ Jeff Nickles, My Super Charged Life
22. Joyfear. It turns out that the birth of each of my kids was filled with Joyfear. And it turns out every single defining moment in my life has been filled with Joyfear, with a mixture of intense joy and intense fear into one ball of powerful emotions that both lift me up and make me see things clearly when I hadn't before. ~Leo Babauta, Zen Habits
23. I overcome fear by asking myself what's the worst that could happen. In my mind I go through the various scenarios and invariably I discover that it's not as bad as I might have imagined to start with! I also look back at those times in my life when I experienced such fear and then look at what actually happened. It's never, ever turned out as bad as I feared. I now identify the actual fear.
Sometimes it's no more than fear of the unknown and getting out of my comfort zone. Other times, it may even be fear of failure – or most interestingly, fear of success. Indeed, I now use such fear of failure as a challenge to actually get out of my comfort zone and push myself that much harder. It's simple – think big, be bold and make it happen! ~ Arvind Devalia, Make It Happen
24. I used to think we should aim to crush our fears and eradicate them for good. I was determined that was the way to deal with fear or the thoughts of fear that plaque our lives in the most frustrating ways. If we can crush the fear, we should be ready to move on. We can just step over it, as we would over a rock or a branch, on our way to our destination. 
Then I learned that fears never really take leave; they are a part of who we are, no matter how brave or courageous we become in life. Instead of the severe approach of crushing a fear, now I feel that the best way to manage those fears is just that: manage them. They will never completely go away and yet we can learn to manage them, to quiet them so that they don't get in our way, and to put them in the background. When we do this, we live fearlessly in the presence of fear. ~ Farnoosh Brock, Prolific Living
25. The key, for me, is not to learn how get rid of fear, but to work with it, and maybe even use it. I understand that every time I do something new, I'm going to be afraid. That's just a fact. But I don't have to let it stop me. I'm just wigging out because I'm out of my comfort zone. But that fear is only present the very first time I do something. After that, my comfort level rises sharply. 

The more often we show ourselves that we can overcome fear (because usually the fear itself is scarier than what we're actually afraid of), it gets easier to do so again and again. I do my best to relax, but in the end, the thing that helps me the most is knowing that the fear is temporary and that once I've gotten through it one time, I'll have a cool new activity to enjoy. ~ Melody Fletcher, Deliberate Receiving
                                                                                  
26. What to do with fear? Be willing to accept it. Be willing to feel it and ultimately to forgive it as you stay true to the beautiful Love of your own true character. Fear is transformed when you and I let this mysterious, supposedly hostile entity be blessed and set free in our Love.  ~ Christopher Foster, The Happy Seeker 

27. The truth is, your Ego is just another voice inside your head. You need to view it as a trusted advisor who wants you to think about the risks involved before you do anything unconventional. It's prudent to listen to that voice, but you're by no means obligated to obey it. In fact, challenging it on a regular basis is probably one of the best things you can do. ~ Jen Gresham, Everyday Bright 

28. (Bonus) When I was younger fear would hit like a blow to the stomach. My mind raced with dozens of fearful scenarios that only increased my anxiety. What changed how I handled my fears was attending the Science of Mind church and studying affirmative prayer. I learned that "fear was the opposite of faith" and that by releasing my fears to the power in the Universe that is greater than I am, I no longer have to worry and fret.  

All I have to do is let go of the fear and remain alert and open to the solution, which is sure to appear in a totally different way than I expect! Now I acknowledge my fears but, allow them to pass right through me with trust and faith in a greater power that a solution will come at the right time. ~ Angela Artemis, Powered by Inutition 
I'm a guest on Zen Habits today! 
    Please Share Your Thoughts Below!
Please join The Bold Life for free and receive my free ebook, How to Be Bold. Please share this post with a Tweet and a Like.
TAKE YOUR FEAR AND SHOVE IT!
This course will show you how to face and
erase fear in any difficult situation you face.
Go beyond doubt, excuses and worries Positively anticpate your future
Find meaning, happiness and success
Click

here

to learn more!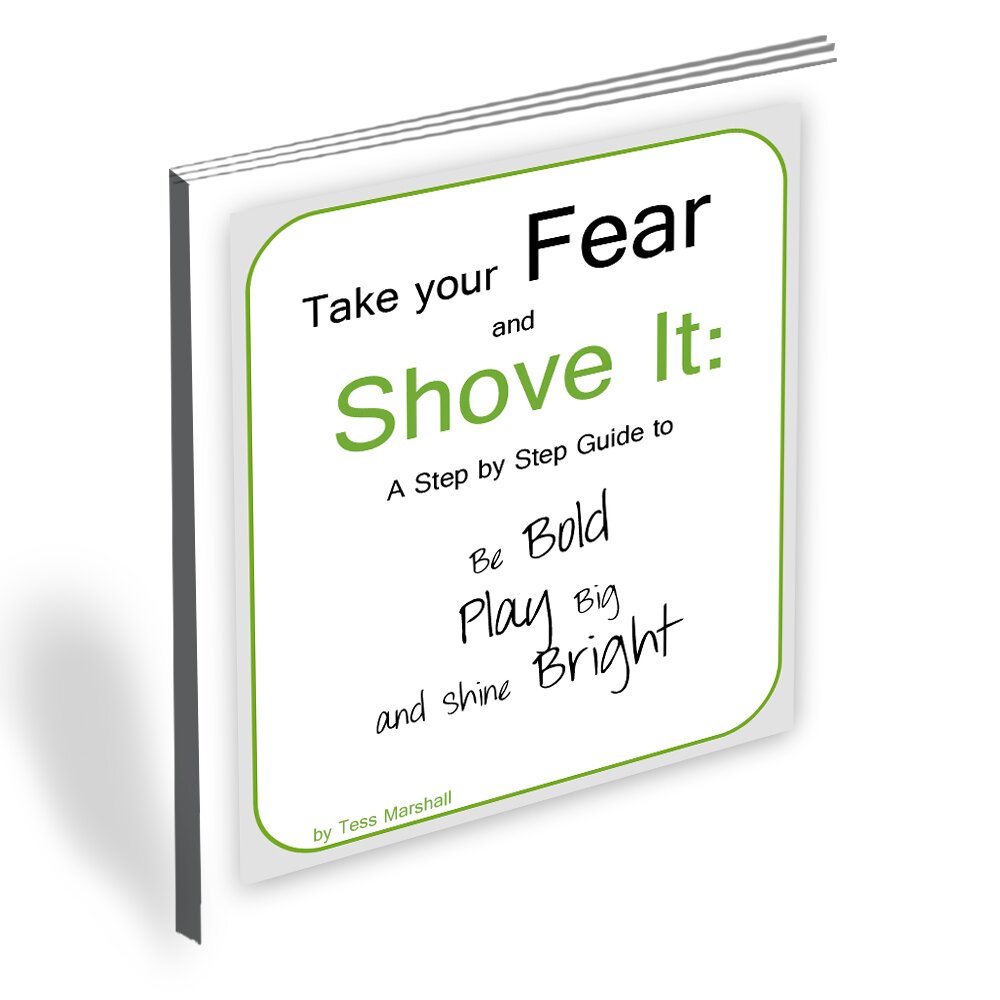 Related Posts