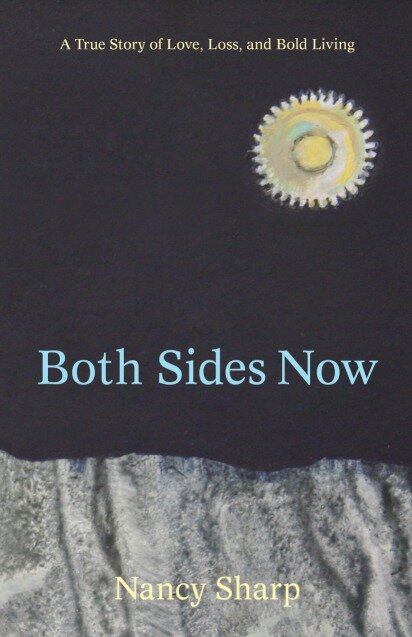 Interview with Nancy Sharp, author and keynote speaker.
Both Sides Now is a true story about giving birth to twins and learning the same day that her husband's cancer had returned. Sometimes life really is everything at once. Seeking the healing solace of the Rocky Mountains and a fresh start, Nancy packs up her five-year-old twins and moves to Denver, never imagining that she would find love in the pages of a magazine.
Her unforgettable story is a gift for those looking to lift themselves from the embers of loss and adversity through bold living.
Nancy, Can you describe was it was like to learn that your husband Brett's cancer had returned, after 18 months in remission, on the very day you gave birth to premature twins?
It was surreal: like having summited a mountain only to be pushed off the cliff.
You conceived of the twins through in-vitro fertilization with sperm Brett had banked before he started chemotherapy. When you made the decision to conceive, did any part of you acknowledge that you might be raising these children on your own?
Yes and no. We wanted so badly to have a family, which for us, represented the future. It was against this backdrop that I said yes to having children. Which is not to say that I ever felt calm. I had major anxiety over the possibility of Brett's cancer recurring, something my therapist and psychologist friend attributed to post-traumatic stress.
Why—and what gave you the courage—to move away from your support system in NYC to Denver with 5 year-old twins?
I was turning forty, a birthday that weighed heavily on me since nearly my entire thirties were spent caregiving and mourning. "If not now when?" This is the question that came to me and propelled me forward.
I chose Denver because my college roommate and her family lived here, and every time Brett and I visited them (in better years), we felt an innate sense of belonging. After the tempest in NYC, I found real solace in looking to the mountains.
After your move, you read about your current husband Steve Saunders—a widowed news anchor with two children—in an article about Denver's most eligible bachelors. The first time you sent him an email, he did not respond. Why did you email him again?
I suppose that I felt like being tenacious. After all, I had just recast my life in another part of the country! And then I got to thinking that Steve might not have received the first e-mail, or that he was inundated by other admirers such that he never saw my note. I had nothing to lose so I simply resent the note.
While your specific story is about moving on from the death of your husband, your book is inspirational and applicable to anyone who wants to make life changes. Why?
Life is full of obstacles, most of which we can neither anticipate nor control. Processing such experiences are one thing, but staying in stasis is another. Human beings have the ability to redefine negative life events. Once we learn to see beyond that which limits us, we are capable of moving our lives in a bolder direction.
You say B.O.L.D. Living™—an acronym for how you approach life—stands for Beauty, Opportunity, Liveliness, and Daring. What does it mean in a nutshell?
Bold Living requires the courage to move beyond our fears and past experiences. To dream and act and live and seize every precious moment, hard or beautiful as they might be.
Breaking the acronym apart, you talk about how B—Beauty—has many faces. And that surprisingly there was incredible beauty surrounding Brett's death. How so?
Never would I have planned that a crowd of seventeen people, a good many of them uninvited, would fill his hospice room on the day he died. Like a chorus of angels they huddled together and sang, "let go, let go, let go," until their voices drowned out the last of his labored breath. Grace and heat and beauty and life and death all at once.
O stands for Opportunity. "You must create opportunities for yourself. Don't wait for life to happen. Make life happen!" What are some ways people can do that?
We can take thirty minutes to dream. Are we being held back in some way by not pursuing this dream, simple or far-fetched as it might be? Before I settled on Denver, I thought about moving to Italy. While a transcontinental move with young twins would have been inconceivable, it sure was fun to picture myself strolling the piazzas of Rome with my children. Thirty minutes is a manageable period. What simple steps might we take within this time frame to expand our vision?
L is for Liveliness, as in "Be alive for today. Make the past a vivid part of your present." What does that mean?
Everything that happens to us in life is just part of the fabric of today. It's not possible to rewrite the past, and yet we can find gentle acceptance in recognizing that the past is merely a part of today's story, but not the whole story.
You write that D stands for Daring. What if someone is scared to take a risk? What is the first step?
We've all made brave decisions over the course of our lives, even if we don't think of them in such terms. Find strength from those decisions and actions and know that we are gifted with the ability to step forward at any moment. Think bold. Be bold. Live bold.
Nancy's book Both Sides Now is available at Amazon.com. It's one of those rare books that you can't put down. You want to read it again as soon as you're finished!
The publisher and author have offered to giveaway two books to The Bold Life readers. If you'd like a chance to win, share this review on Facebook and Twitter and leave a comment below stating that you've shared.
1/2 OFF Courage Coaching for Business and Life all month long!
When my calendar is full you'll be put on a wait list. Sign up now!
You aren't here to do what has been done before. You're here to live the dream and do the work you came to do, in the way that you came to do it. The time is now to go beyond fear, stand in your strength and own your power and bravery. Click on image below for more information!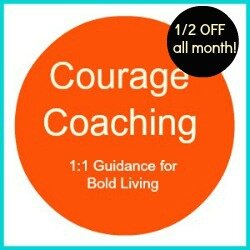 Let's talks soon! Tess Marshall