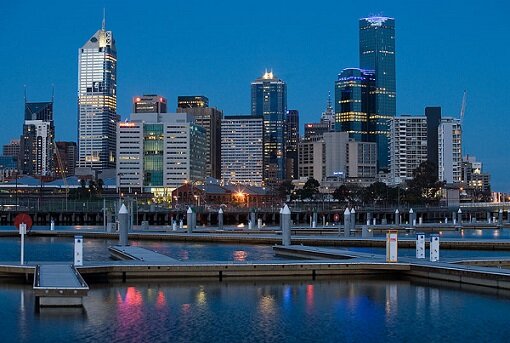 Guest post by my lovely friend Anne-Sophie Reinhart.
Back in December of 2011, my husband and I went on a 3-week trip to Australia and Bali. It was an incredible experience from the day we landed in Sydney until the day our plane took off from Ngurah Rai International Airport.
During our stopover in Melbourne we stumbled into this crazy thing called The Edge.

What is The Edge, you ask?
Well, The Edge is a glass cube that projects 3 meters out from one of the skyscrapers, Skydeck 88, of Melbourne. When you're in the cube, you're almost 300 meters above the ground and you feel like there's no security around you whatsoever.
Being out there on the glass was thrilling and terrifying at the same time, especially since we're both scared of heights.
I have no idea what possessed us to go ahead and do it.
Maybe we wanted to proof something to ourselves? Maybe we wanted to show the other one that we're fearless? Were we being brave or just totally out of our minds?
I'm not sure, but we looked our fear in the eye and just went for it.
And the reward was beyond words. Seeing Melbourne from this perspective was incredible. I'll never regret shoving my fear aside and literally going all the way to the edge to experiencing something so truly unforgettable.


Have you ever just let go of your fears and gone all the way? Or have you always played it safe?


For the longest time, I was a believer of walking the path of security. I thought that life was supposed to be a boring stream of schooldays, followed by a crucially hard university life, then a never-ending misery of workdays. I thought that I would face a future of saving up for my retirement fund in order to finally be able to live and enjoy my life at 67.
So, I went through high school going through the motions; I was constantly bored and frustrated, dreading every day. But I endured and exceled, *knowing* that the grades I earned during my high school years would determine my future success.
Once it was time to attend university, I had no idea what I wanted to do. Deep down, I knew that I didn't want a life of conformity. I wanted to travel, learn even more languages, be creative, dive into graphic design, have adventures, be the master of my own time and yes, live a life on the edge.


But since all that wasn't an option to my limited and fearful mind, I eventually gave in and enrolled for some classes. I hopped from one major to the next: theology, medicine, Media and English Literature, Informatics, Politics. With each semester, I grew more anxious, more frustrated and eventually, I got so sick that I had to drop out to admit myself into in-patient treatment for my anorexia.
By the time I left that hospital, I had a choice to make: would I go back to university, to being a slave to society or would I finally live the life I truly wanted to live?


For months, I wrestled with myself (and my family).
By giving up university, I would simultaneously give up all chances of having a career and a successful life. By not getting a degree, I would surely never be respected by my family. By choosing a different path, I would ultimately always be the odd one out. No matter what I'd do in life, my salary would never be as high as it would have been had I finished my studies. And what if, after all the struggles, I would eventually find joy in knowing that I have a degree to fall back on?
I was terrified, but the urge to live a meaningful life was bigger than the destructive beliefs I had soaked up during my childhood. I didn't want to work in just another job for just another corporation, dreading every workday in order to receive a salary.
I wanted to follow my own path and walk on the edge, always pushing myself forward in order to be the best me and do the best work I could possibly do. I wanted to build my own company, design my own life and change the world in my unique way.
And so, I went ahead and did what my heart needed me to do: I exmatriculated. My family wasn't happy, I was scared, but my heart sang with joy.
Now, two years later, I know that dropping out of university was the harder choice because finding ways to earn money by staying true to your passions and your inner voice never is easy. However, I also know that doing what your heart tells you to do, being bold and just going for your dream is certainly a path that leads to a fulfilling life. And, quite frankly, it is a path that is much more FUN.
I went to the edge. I acknowledged my fears and acted anyway and I'm forever grateful.
Anne-Sophie Reinhardt is an anorexia survivor, body image expert, self-love advocate and the owner of aMINDmedia. She empowers you to achieve a healthier and more successful life by returning to your true purpose and values.