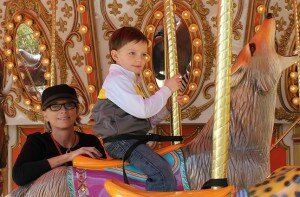 "I know it is wet and the sun is not sunny, but we can have lots of good fun that is funny." Dr. Seuss
The world is our playground. Young children know this. They don't have to be reminded to let go or lighten up. They love to be silly, laugh loud and monkey around.
Would you like to be more child like? Would you be willing to work less and play more? How would your life be different if you increased your capacity for curiosity, wonder and fun?
Most adults tend to take life too seriously. We put too much focus on work, achievement and success. Consequently, our minds are filled with unnecessary worry, fear and stress. Our lives are unbalanced.
It doesn't have to be this way. Fun isn't an activity to be saved for weekends, special people and occasions.
Fun is an attitude. Fun is an option. Fun is a decision. If life has become routine for you, if your days lack laughter and joy, it's time to increase your delight, joy. Life can be light and easy. It's never too late to change.
How To Be More Child Like
1. Be present. Children live in the moment. They aren't concerned with the pain of the past or fear of the future. Forget about the economy, abandon crazy deadlines or unsolvable problems. Be content with life now.
2. Give yourself a permission slip to visit the zoo, an amusement park or a country fair. Note the fur on the animals, the bright colors of balloons and the charge of excitement that fills the air.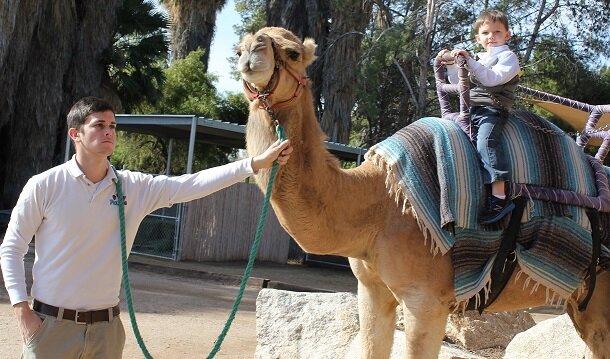 3. Create. Imagine. Invent. Draw. Paint. Get messy. Build. Bake. Write. Plant. Share. Repeat.
4. Accept your imperfections. Kids find joy in their missing teeth. They love to show you their pudgy bellies. They don't notice if their hair is cut too short.
5. Smile and laugh more often. Think about the noise level on a playground. It's loud and joyful. It's one of the most beautiful sounds in the world. Smile at everyone you pass by today. Laugh loud and laugh often.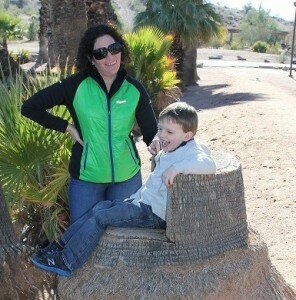 6. Spend time in nature. Disengage from electronics. Engage your senses. Sweat. Get dirty. Climb a tree or a mountain. Sleep under the stars. Gain a new perspective.
7. Take a risk. Children love to run faster, swing higher and wear mismatched clothes. They love to push the limits.
Be more fearless. Go where you fear to go. Take a chance. Try something new.
8. Play. Play board games. Play in a park. Play with the neighbors. Join a team. Don't quit until you're exhausted or it's dark outside.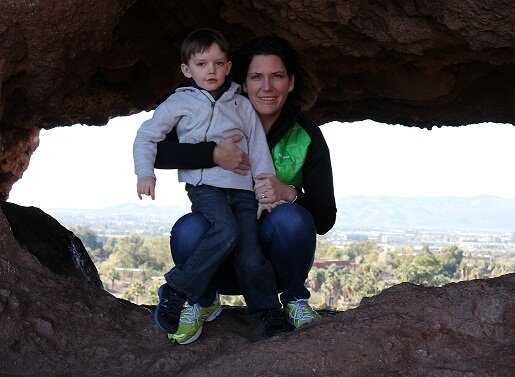 9. Wonder. Wonder how many licks it takes to finish an ice cream cone. Wonder what it's like to camp at the bottom of the Grand Canyon. Wonder what the world will be like in 10 years.
10. Feed a giraffe. Stop taking life so seriously. Work less. Fill your calendar with at least one play date a week. Don't let tough times get you down. Henri asked the zoo keeper, "Why are their tongues so long?" Answer, "Giraffes don't have arms, they need long tongues to eat their food."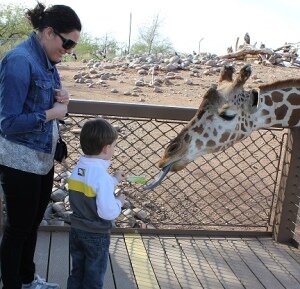 11. Turn up the tunes. Sing along. When my grandson was three he knew every word to Taylor Swift's song, "We Are Never Getting Back Together." My daughter loves to sing in the car. He sings along.
12. Nap. After you tire yourself out…give yourself short breaks. Relax. Breathe. Sleep. Enjoy.
13. Reward yourself. Celebrate what you get right. Kids love treats. Reward yourself. Allow yourself pleasure. Enjoy it!
Stop making excuses. Stop working so hard. Begin to be more childlike. Start now. If you live near the Phoenix area and have time to play, let me know:) Remember. Fun is an attitude. Fun is an option. Fun is a decision.
Are you willing to incorporate more fun into your life? Share a play date you will commit to this week.