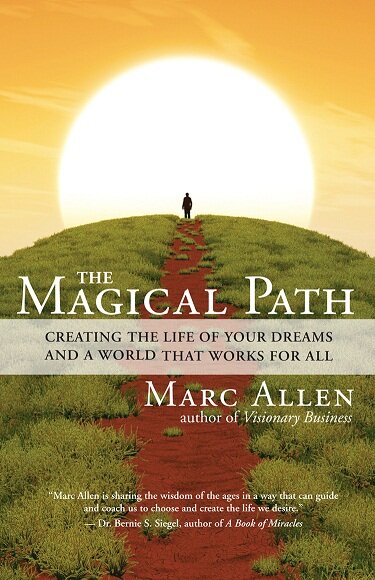 Marc Allen's new book, "The Magical Path" is loaded with simple but powerful life changing tools and techniques that will effortlessly and magically guide you to success and fulfillment. The book can be read page by page in order, or opened at random. Take action with any part of this book and you'll begin to unleash the magic and greatness in your life and in our world.
About the Author
Marc Allen, author of The Magical Path, is an internationally renowned seminar leader, entrepreneur, author, and composer. He co-founded New World Library in 1977 and has guided the company from a small start-up to its current position as a major player in the independent publishing world. 
Included in the book are stories of success and guidance about money, career, love, and relationships. It contains some of the best guided meditations, prayers, mantras, and reflections on the power of words, dreams and intentions. 
Allen writes in the books introduction, "It is the intention of this course to help develop a peaceful army of visionaries, artists, entrepreneurs, business people, teachers, and leaders who are transforming not only their lives but the whole world as well, creating a world that works for all, in an easy and relaxed, healthy and positive way, in its own perfect time, for the highest good of all."
The Contents
A Note to Readers
Introduction: A Magical Path
1. Dream, Imagine, Create –  The Power of the Worlds Within Us
2. Affirming the Dream – The Power of the Spoken Word
3. Realizing the Dream – The Power of the Written Word
4. Magic in a Nutshell – The Art of Healing
5. The Prayer of Protection
6. Time and Money and he Core Belief Process
7. Prayer and Mantra Throughout the Day
8. Magical Relationships
9. You Are the Tree of Life
10. Omnipotence and Eternity
11.The Mystical and Spiritual Side of Success
12. Creating a World That Works for All
Appendix: Magical Passages
What You Will Learn
How to get out of your own way.
How to stay connected to your inner spirit.
How to live life the way it was meant to be.
How to choose and create the life you desire with ease
How to practice tried and true happiness techniques
How to end your struggle with life and live in the deep creative flow and so much more!
My Favorite Bits of Wisdom…
On Living Your Dreams
It begins with an act of courage. Most people lead unsatisfactory lives because they don't dare to dream of an expansive, fulfilled, creative life. Most of us are filled with fears, and our fears and anxieties overwhelm our vulnerable little dreams.
This moment is all we have, and we can, in this moment, create some seriously effective magic, if we wish – if we dare to dream.
On the Power of Words
An affirmation, a mantra, a prayer, programs your limitless subconscious mind. It can affect every are of your life, including every relationship you have. "Every day, in every way, the light and life within me are working miracles in my life and in the world."
On Intimate and Family Relationships
Imagine wonderful partnerships with those we love, where we support each other completely and love each other deeply, every moment of our lives.
Take a good, honest look at your intimate and family relationships. Are they successful? Pleasurable? Generally happy and fulfilling? Is there respect for everyone? That's the basic key to successful relationships: respect. 
What is the purpose of a family? To protect and support each one of us, to be in partnership together, to encourage each other to be happy and healthy, and to help us all fulfill our highest dreams.
On Your Dreams
Our thought has to become focused on a single, powerful idea. Keep coming back to your focused thought. Your focus creates your reality.
The greater our dreams, the more doubts and fear arise.  In order to create something, our emotions have to become focused as well as our thought.
And the greatest emotion – the emotion that is the most powerful in its ability to focus our thoughts and dreams – is the emotion of love.
Focus on your dreams with love, and your dreams will soon become manifest. Before long, you will be living in a world that was only an insubstantial dream a few  years before.
A World That Works for All
Let's dream of a world where everyone is respected and granted the basic human rights of life, liberty, and the pursuit of happiness. Let's dream of a world where everyone is housed and fed and educated; let's dream of a world where we are encouraged to dream to live the life of our dreams.
We all have a Great Work ahead of us: the work of healing ourselves and our planet, creating a global self-sustaining system that supports life for all, for generations after generations, and helps everyone move up the pyramid of human consciousness into the realms of higher education and self-actualization.
I'm all for that Marc! Count me in!
You can order The Magical Path at New World Library and Amazon today.
Leave a comment below for a chance to win a copy of The Magical Path by Marc Allen
The winners of 10 Steps to Finding Your Happy Place by Galen Pearl are: Tonya and Pamela.
Are you ready to commit to your dreams?

You can go beyond what you think is possible! The time is now to increase your confidence and blaze a new trail. If you are ready to do great things then book your free 20-minute consult with me and let's talk about your personal plan for greatness! Click on my coaching page.