In my past newsletter I shared that I was working on a new ecourse about how to turn your fear into excitement and live a bold life. Recently I've decided to take a big fat creative break. This will not only delay my new course, it will make it all the more amazing!
Meanwhile my dear friend, Jodi Chapman, has created an fantastic, interactive course on getting in touch with yourself a at a soul level and "coming back to life."
It's so freakin' cool that I decided to sign up and take it myself! How's that for putting my break to good use?
In the interest of full disclosure, this is a product recommendation. And I'm an affiliate, which means that if you buy through my link, I'll make a few bucks. However, I would not recommend it to you if I didn't believe in it, 110% myself. I treasure the relationships I have with each of you and I would never suggest anything that
I hadn't thoroughly reviewed myself,
I didn't't totally LOVE and Approve of and
I didn't't totally believe would be good for you.

And like I said, I signed up to take it myself!



The following is an interview with the awesome Jodi Chapman, on "Coming Back to Life."


Jody, please introduce yourself to our readers.
I am an inspirational writer. (I still pinch myself when I write that because it's such a dream come true.) I am definitely evidence that our lives can change drastically once we make our minds up and begin to leap toward our dreams.
I write the blog Soul Speak. I am the author of the upcoming book, Coming Back to Life: How An Unlikely Friend Helped Me Reclaim My True Spirit, which is what my new e-course is based on.
What inspired you to create the Coming Back to Life course?
I was given a helping hand when I needed it so desperately. This course is my way of offering my own hand to anyone else who is stuck and needing to wake up to their own life.
Just two years ago, I was in a very different place. I definitely wasn't't awake. I was feeling lost and numb and completely disconnected from my soul and from all of life. Like so many of us, I was living my life on auto-pilot.
I was alive in the sense that my body was functioning – my heart was beating, and I was getting up each day and going to work, but I wasn't REALLY living. I was just going through the motions – sleepwalking through life – and I wasn't even aware of it.
I have lived most of my life feeling afraid and stepping back rather than leaping when I was called to take a chance. Also, I had spent several years in survival mode – struggling to get by financially. These pains and fears and struggles piled up on top of each other.
Two years ago, all of the struggles in my life came to a head – my husband and I had to move under very stressful and surprising circumstances. We were grieving and trying to put our life back together at the same time. I didn't know how I was going to keep going.
That's when the helping hand came. My loved one who had just died began communicating with me from the other side. He was my childhood sweetheart, and we hadn't spoken in almost 20 years. I was definitely not open to this sort of thing at all, so it took an entire year of him sending me signs and me asking for more signs before we finally could get to work.
Once we did, my entire world opened up. He helped me see that being here on Earth is such a beautiful gift – a gift that we have chosen to be a part of. He helped me wake up and step back into my life again.
Everything changed – all because I now saw things through a different lens. I now know that my time here is precious, and I can choose to come back to life. We all can.
I was given this beautiful gift, and I didn't want to keep it all to myself. I want to be the helping hand for anyone who wanted to start living again and wasn't sure how to do it.
Can you tell us about the Coming Back to Life course? Who is it for?
The Coming Back to Life ecourse begins on 10/1 and lasts for 6 weeks. It's a set of concrete tools, and a loving support system all wrapped up into one heartfelt course!
This course is for those of us who have ever felt disconnected from life – from our soul. It's for those of us who have felt our light dimming. It's for those of us who know that there is more to life than simply getting through the day.
It's for those of us who are ready – truly ready – to start living fully.
What does the course include?
♥ Over 150 pages of love – including weekly lessons + soulful activities. This is where you get to reconnect with your soul and discover who you are deep down at your wisest, most loving core.
♥ Heartfelt Videos. This course contains over 30 soulful videos! Each week includes at least one video from me sharing that week's message, one from an inspirational soul sharing their story, and one designed to teach, inspire, and offer concrete tools that you can apply to your own life.
♥ Guided Meditations. Each week contains a guided meditation that is specific to that week's message. They are grounding and calming, and I find them to be so helpful.
♥ Beautiful offerings from over 35 soulful friends who are also on this journey of self discovery. These friends have been on a similar journey and are brave enough to share their experiences with you through video, audio, artwork, or writing – they all serve the same purpose: to help lift you up and see that you are not alone. We have all experienced the darkness, and we have all opened up to the light.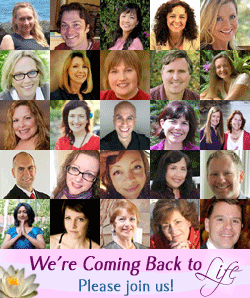 ♥ A private Facebook community. In this community, we can all join to support each other in our journeys, ask questions, and share our experiences. This community will be available to you even after the course ends.
♥ Weekly chat sessions. This will be a space where we can go deeper into the material, truly support each other at the soul level, and really create a tribe filled with love and nurturing energy. I will commit to spending at least one hour each week there to talk in real time with you!
♥ My guidance/story. Throughout my life, I have found that I like to have things modeled for me – it helps me retain what I'm learning if I can see how someone else implements it in their own life. With that in mind, each week includes my own experiences and what I have learned along the way.
♥ Soul Art. I have designed printable posters to go with each week's message. Perfect for hanging up around your sacred space and filling your soul with love each time you see it!
♥ Surprises. Who does't love surprises? I have a few fun things up my sleeve that I'All be sprinkling throughout the course – gifts of love that I can't wait to share with you!
♥ Bonus gifts. When you register for this course, you'All received instant access to amazing bonus gifts!
When you register, you'All immediately have access to the private Facebook Group, where we are already getting to know each other!
I would be thrilled if you joined us. Isn't it time you woke up and embraced your life again? Isnt't it time we all did? This amazing course begins on 10/1 – I hope you'll choose to come back to life!