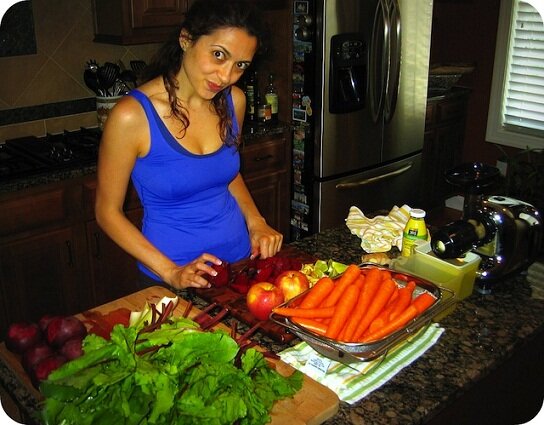 Today my interview is with Farnoosh Brock from Prolific Living.
Introduce yourself and briefly tell my readers about Prolific Living.
Hello Tess and the lovely readers here at The Bold Life. I am so honored to be invited here. So in a nutshell, exactly a year ago, I left a long-standing lucrative corporate career after 12 years to dedicate myself fully to blogging, and that little blog is now a company and a thriving business, Prolific Living Inc.

I started simply by sharing  my self-improvement journey and my yearning for doing something meaningful in my life and I have now created programs and systems and books to teach and inspire and help others live life on their own terms.
You are one of the most passionate, enthusiastic, and energetic bloggers that I know. How has this attitude and style of life benefitted you?
That's a huge compliment, Tess, thank you so so much! This attitude has been a work in progress, believe me, I was not born this way and neither was I always this way. It started out with slow shifts in mindset and thought patterns and the impact of those was so huge in my own state of being and happiness that I kept playing with them and exploring further.

Now, it has completely changed my entire perspective on life, on happiness and on what I really want. It has also shown me that the best and most rewarding way to put this attitude to work is to show others how to create it in their own life.
I'm very interested in your green juicing clinic. I bought a new juicer and can't wait to begin using some of your recipes. My fear is juicing will become a chore. How do I prevent this?
Great question and my entire theme for the 21-Day Green Juicing Intensive Clinic is to make green juicing FUN. If a habit or a routine in your life is not fun, why bother?

If it becomes a chore, it will soon be forgotten and not done. Well, I have specific daily lessons on how to address this in the clinic in detail but to put it briefly, I would say that you have to create systems and processes – yes, even for juicing – that work for you, and are FUN to do.

This is simple stuff like the routines of getting your produce – don't think of it as just going grocery shopping, think of it as going on an adventure to get your ingredients for another exciting green juice and always try new recipes and new vegetables and fruits – there is no end in those combinations!
Also, look at the way you organize and store your fruits, vegetables and even juices in your fridge – does it look enticing and appetizing and so good that by just thinking about it, you want to run out and juice? I do!
I'll give you an example. I LOVE these tight-lid Italian glass containers that I finally splurged and bought on Amazon. I used to store my left-over juice – for a short period, say 24 hours or less – in cheap plastic containers and they would get so grungy and stained and also not keep my juice fresh by letting air in.

So I decided to buy these gorgeous glass containers and make my juices look so delicious and so beautiful when I open the fridge that I can't wait to make them the next time around just so I use the containers again. So find ways to make it FUN and you can do the same!
What has been one of your greatest fears either personally or professionally?
Fears!! This is your favorite topic, and one of mine too, Tess. Well, it has evolved for me. I used to fear not making enough money in my business and then I changed my attitude and my approach and the money started to come in.

I used to worry that I sound silly and "out there" with what I am doing when my old peers and colleagues and friends see it, and then I decided to not care about that because I am happy now that I am finally being true to myself.
I think right now, my greatest fear is that I will be so wildly successful that I won't be able to handle it, and I think that many of us – whether we realize it or not – fear massive success even more than failure. But I worry less and less about that one since my husband assured me that he will make sure I stay put and grounded and not do anything that is not my true self even when I am at the height of success.

Plus, I think it's good to live with a little bit of fear. It keeps the adrenalin high and the momentum going strong and so long as we strike a balance to where we don't let fear cripple us into inaction and so long as we keep moving forward, a little fear goes a long way and can be good for you!
What are your most effective tools or resources that help you embrace fear and navigate through it?
Confidence. Tapping into my deep self-confidence – something that I believe all of us already have and just need to awaken – and believing in myself with a conviction so strong that nothing can dissuade me. And constantly remembering that I need to do this, I have to travel this path, I need to fulfill this destiny or it will eat away at me for the rest of my life, so I push through the fear because the weight of regret from not doing it would be too great to bear.
I know you're a prolific reader. What is on your Kindle or nightstand?
Right now, I am reading Michael Port's "Book Yourself Solid", because his values and belief system in terms of growing your coaching business with integrity really resonates with me and I am also reading "The Barefoot Executive" by Carrie Wilkerson on my Kindle. She is a firecracker!

And I am still hoping to finish "The Lord of the Rings" – 100 more pages to go, but it went on a hiatus the minute I left New Zealand, which was the only perfect setting for reading that masterpiece.

I just finished reading Louise Hay's "You Can Heal Your Life" a few weeks ago, I am a third of the way through "The Autobiography of a Yogi" which was a book that Steve Jobs apparently read every single year and I've wanted to read for a long time, and I am also planning on picking up Eckart Tolle's "The Power of Now". That's it for now, Tess!!!
You know, I keep telling myself that I should really just focus on growing my business and only read books that help me with that but I've realized that ALL books help me with growing myself and my business.

Spirituality and good health and the right mindset is just as important as the tactics of establishing a successful coaching program. This even goes for (good!) fiction!

I am taking a holistic approach to becoming the savviest business person I can become by paying attention to every aspect of my life, and it is working out brilliantly so far, so I recommend you spice up your reading. It can benefit you in unexpected ways.
Besides, to all bloggers and writers out there, if you are not reading, you are missing out on some of the best writing and creativity that can flow out of you from reading, so pick up a BOOK and start reading now.
Bio below:
Farnoosh Brock left a 12-year career at a Fortune 100 company for her pursuits in writing, coaching, blogging and building her company Prolific Living Inc. She talks about smart habits for rich living with a focus on helping people awaken their inner confidence and live life on their own terms.
Please share your thoughts below!
Are you ready to commit to your dreams?

You can go beyond what you think is possible! The time is now to increase your confidence and blaze a new trail. If you are ready to do great things then book your free 20-minute consult with me and let's talk about your personal plan for greatness! Click on my coaching page.