Today's interview is with Jonathan Fields, author of Uncertainty: Turning Fear and Doubt into Fuel for Brilliance.
THE GIVEAWAY
To win a FREE autographed copy
Leave a comment today. (You must be a subscriber to win-it's free to join the list!) and/or
Tweet: RT @TheBoldLife Giveaway and Interview: Uncertainty by Jonathan Fields http://tinyurl.com/7meba9n
You have until Novemember 18th to enter.
THE INTERVIEW
For those our readers who don't know you can share a bit about yourself and your new book?
I'm a dad, husband, entrepreneur and author who's curious about the world, especially what makes people tick.
My new book, Uncertainty, is about what uncertainty does to us, how it fuels some people to do great work and cripples others with fear and anxiety and, if you're in the later camp (waves hand high in the air), what you can do about it. It's also about how to live with far greater ease in a world where disruption is the new black.
What is one thing we can do in order to take action in the face of uncertainty?
Shut up and act. Sounds counterintuitive, but the fear and anxiety that often ride along with the need to decide and act in the face of uncertainty are anticipatory emotions, meaning they're about how you think you'll feel if you do (or do not do) something in the future.
Once you've actually done it and you're in the future, you cannot feel the fear and anxiety anymore because there's nothing left to anticipate. You've either succeeded or failed, but at least you have real data to work with instead of demoralizing, baseless self-loathing.
So, instead of playing out what might happen if you do something, get out of your head, figure out the smallest meaningful action you can take…and take it. You may succeed wildly or you may still fail, but at least you're no longer sitting there spinning yourself into a cage of "might-driven" fear, anxiety and doubt.
What is the biggest fear you've overcome recently and how did you reframe it?
That's hard for me to answer. I live in a state of near-constant evolution and often push myself into a place of amplified uncertainty in the quest to do better and better work. So, it's hard for me to isolate a single event, because it's more of an eternally undulating and expanding fabric of uncertainty and opportunity.
Why is our environment a critical factor in success?
The environment in which you create–the physical setting, geography, people, culture, support, mission–can either strongly support or subvert any quest to create great art, business and life. BUT, it's also important not to use the lack of an optimal environment as an excuse for inaction and indecision.
Some of the most powerful creations, ideas and solutions come out of the most dire environments and circumstances. So, environment matters, but the mental overlay you bring to your environment is far more determinative of your success.
What's the best advice you have for someone who wants to quit their job in our uncertain times?
Don't listen to me or anyone else. Your circumstance is individual. I don't know you. I don't know your skills, experiences, needs, desires, aspirations, responsibilities, pain-points, support structures, relationships, outlook, emotional ability to handle the quest, baggage, triumphs, proof or history. Nobody but you does. So reach out to those who know you and your situation well and whose insights you trust, but in the end, they're not you. You are you.
Own that, do the work, get as objective as possible by seeking as much data as possible, equip yourself with the skills, strategies and practices to handle the process of change before you decide, accept that you will never have all the answers, then decide based on what you truly believe is best.
And, if you're at a point where you're experiencing psychological and emotional affects that rise to the level of clinical symptoms, by all means, talk to a professional, someone qualified to help you. Don't rely on a book, speaker, author, blogger or any other shmo (a/k/a "me." lol) to do right by you.
Do you still have a list of "the cool things" you want to do in your life time? If so what's on it?
I don't. I want to be present in the lives of my daughter and wife and do meaningful things in the world with great people. Where that takes me is anyone's guess. It's…uncertain. And also keeps me maximally open to serendipity and opportunity. Because that's where the good stuff in life happens.
If you could have 60 seconds to give the world a message what would it be?
Be real. Love unconditionally. Be kind. Risk circumstance, not people.
AWESOME VIDEO
Please join The Bold Life for free and receive my free guide, Peace, Love, and Connection. Please share this post with a Tweet and a Like.
Related Posts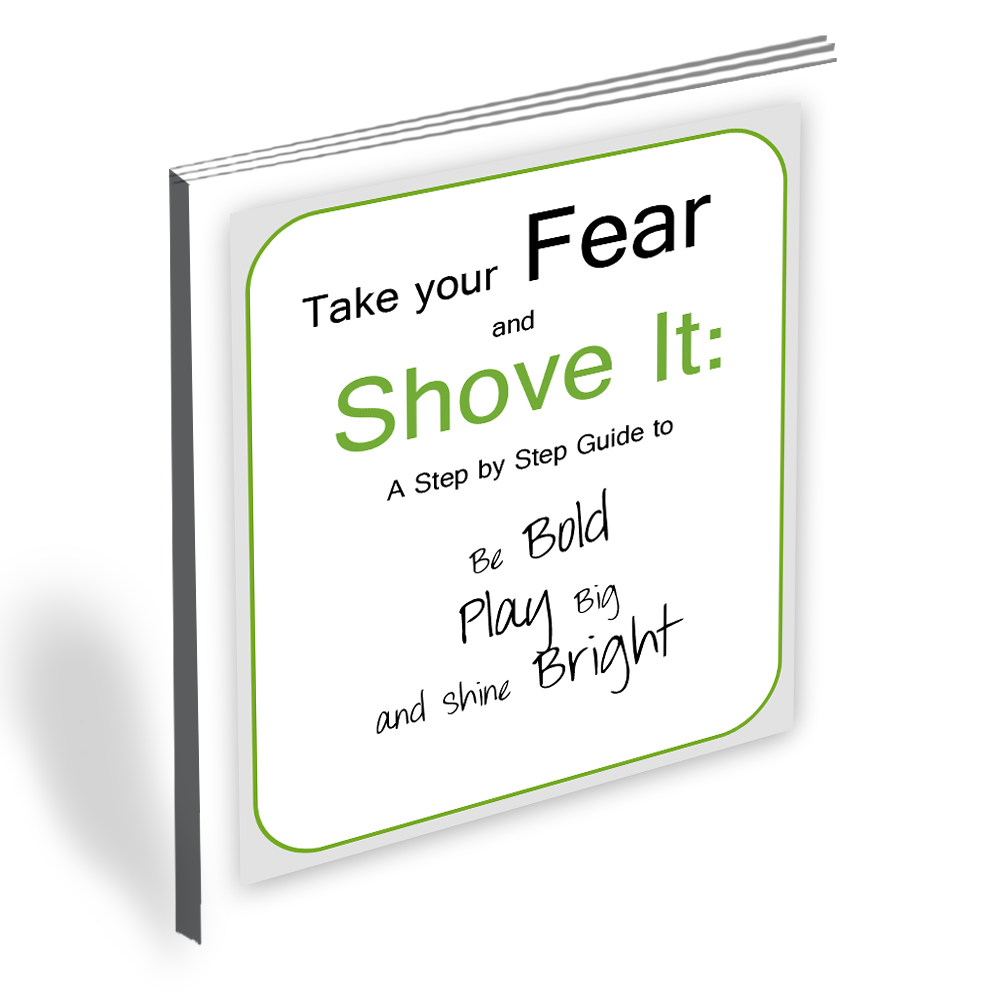 Take Your Fear and Shove It!
A Step-by-Step Course
Be Bold, Play Big, Shine Bright

Rise above fear and open yourself to infinite opportunities!
Join the pre-launch waiting list
by
entering your email below.