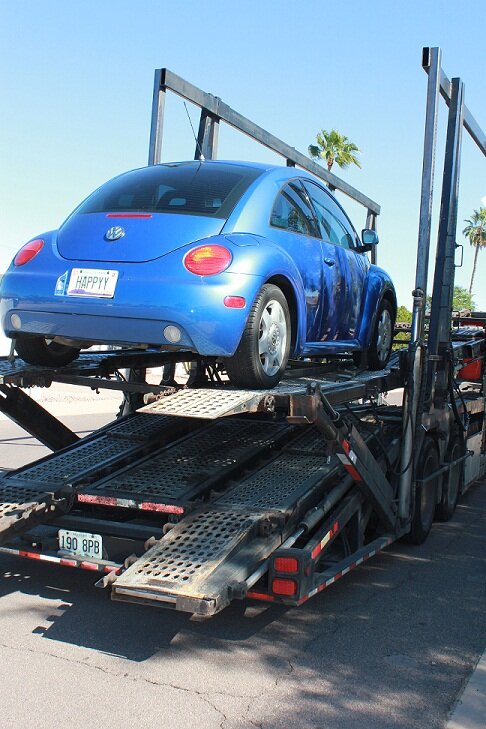 I've been ranting lately about how much I love reading Zen Habits, Rowdy Kittens, and Be More With Less. I've always been a semi-simple person and the lifestyles of these bloggers appeal to me.
Don't get me wrong, I'll never have a tiny house like Tammy, I'll always own more clothing than Leo, and I'll never be as pure a minimalist as Courtney. Never! Some of what works for them doesn't work for me or my primary relationship.
But some things do!
For the last four years, I've used my car less and less. I decided about a year ago that when my 12 year old VW, Beetle, dies I won't purchase another car. Ever.
Since moving to the city I don't need one.
When I need transportation, I can use hub's car. I can ride the trolley, the Light Rail or get a bike.
However, the car keeps running smoothly. There isn't a thing wrong with it. I don't see it dying anytime soon, especially since I rarely drive it.
Two weeks ago, Daughter No.1 called from Michigan and talked about the difficulties they were having finding a used car for my granddaughter, Mackenzie. Most of the sellers they contacted, falsely advertised that their cars were in excellent condition.
The following day, I told hubs that I wanted to give Mackenzie my car. We only had to figure out how to get it back to Michigan. They would pay the cost. Within twenty four hours, we were in contact with a car transporter that was very reasonable.
Last Thursday, when the truck came to load the car, I was very emotional. I thought about all of the fun that I had with my friends and family traveling in "Happyy." I felt grateful. I also felt blessed that I had the opportunity to help Mackenzie with transportation to her new job.
I no longer have the expense of the car or insurance. I no longer need gasoline, periodic tune-ups, new tires or a car wash. There is one less car on the road. Simplifying is good. Bon Voyage!
How do you feel about simplifying your life? Please share!