Do you know that amazing feeling when you fall in love with a blog you feel so blessed to discover? That's how I felt when I found Tara's Wise Living Blog. Because I wanted to share that feeling with everyone I immediately asked her if I could interview her for The Bold Life. If you want to watch a star being born I strongly suggest you sign up for her RSS feed, follow Tara on Twitter. I can guarantee the opportunity will be life changing if you allow it. 
Tara, can you tell us a little about yourself and how you came to blogging.
 
I'm a lover of writing, creativity, and personal growth.
 
I think that once our basic needs are met, the quality of our lives depends on the quality of our inner lives.
 
My work—writing, teaching, coaching–is about sharing tools for "wise living" – which just means managing our fears and mental chatter, learning how to hear our own truths, and steering our lives with as little suffering as possible.
 
Only in the past year did I make this my full-time career. I wanted to write (and specifically to write a book) but staring at the empty page in my living room telling myself "start the manuscript today" did not kick-start my creativity, as you might imagine! My friend Laura suggested blogging, and from day one, blogging got the words flowing, because of its speed and interactive quality: I could write for an hour, call something "done" and share it. That was a magical creative catalyst for me. It's now turned into a beloved part of my work and life.  
The Bold Life: If you aren't satisfied with your life this is a good time to do a personal internal inventory. It's easy to allow our blogging stats, comments or sales (external) determine our mood or even self-worth. During those times remember the external says nothing about our worth at all.

How did you get so wise at such a young age?
 
First of all, thank you! I had an unusual upbringing. My mom was very interested in psychology and spirituality and integrated that into her parenting. I grew up analyzing my dreams every morning and talking about spirit and unconscious motivations and the ego, all from a very young age. I've been working with this stuff, reading about it, since about age ten.
The Bold Life: What a mom! I'm grateful Tara is so willing to share her gift with the blogging world (and beyond)!
Tell us about "The Great Love" you have for everyone.
 
The Great Love is non-selective, all encompassing love for all creation. It is a force of love that we can open to, or we can remain cut off from.
 
I was inspired to write about The Great Love after I had a poignant experience writing my bio for my blog. I wanted to conclude the bio with, "My heart is brimming full of love for you."
 
In that moment, I felt my love for everyone on the planet, whether I or not I knew them. My mind battled between the longing to say that and the superego voice that said, "you cannot tell strangers on the Internet that you love them!"
 
I included the line. I started owning my love for everyone in lots of different ways. I had been shy about it for many years, because its considered naïve or odd in our culture. 
 
That essay is probably the piece of my writing I love most of anything I've written. I thought of it as the more non-mainstream side of my writing. Then this delightful thing happened and it was picked up on USA Today.com—busting the little story I had made up mainstream vs. not!
The Bold Life: If you haven't felt you own love for everyone on the planet I in my opinion a good practice to help get you there would be to learn the ancient healing technique  Ho'oponopono with Dr. Hew Len.
 
Your writing is very creative…what or who inspires your creativity.
 
The blank page is my inspiration. Sitting down and just starting (even when I don't want to) is what makes the difference for me in generating creativity.
 
I recently went to a poetry workshop. The teachers had us write a poem in five minutes. Terrifying, but people produced amazing material. Then we wrote poems in three minutes. More amazing material.
 
This is the big secret! We complain about our lack of time to write/create/reflect, but the truth is, with structure and a little space, creations and insights happen, because there is so much waiting to be born from us. 
 
I don't mean to make it sound easy. I lost my creativity for about ten years. I lost it in competitive, prestigious academic environments where a writing workshop was about who was "good" and who could best imitate T.S. Eliot. I also lost my creative self because of a vicious inner critic who gnawed away at the writer in me and chased her underground.
 
I got writing and creativity back because the pain of being blocked got so great. I had to figure out how to manage my inner critic so she didn't get in my way. I did, and I now often work with coaching clients on that.
 
I could talk about this forever because I love creativity, and I don't want what happened to me to happen to others. I'm very interested in how we can nurture creativity within ourselves, and how we create institutions that do that.
The Bold Life: What is waiting to be born in you? The next time you feel blocked I'd encourage you to sit with this question in silence. Write down in a journal everything that comes up for you. 
What used to block me was competition. When I found a blog I loved my ego would convince me to compare my writing and feel like I wasn't good enough. Now when I find a blog I love, I celebrate by sharing people like Tara and her wisdom with my readers. In truth there is no competition. 
 
What do you mean "compassion" is a form of wisdom?
 
I believe that compassion is the natural expression of wisdom. I believe that people who hurt are hurting, and the sane response is love, psychological help and tools that heal.
 
In the face of things that scare us, can harm us, we can choose fear or compassion. Fear perpetuates the cycle of harm; compassion can end it.
 
When someone commits an act of violence, for example, today our society points the finger, calls that person "bad" and prescribes a punishment. We should be calling that person sick not bad, and prescribe treatment.
 
And, on the internal level, when we have compassion for ourselves about our own limitations and flaws, we work with them more effectively. Compassion creates the space for us to see what's true.
The Bold Life: When we can have passion for ourselves we can have compassion for others. Who needs your compassion today?
 
You mentioned public speaking, what topics do you speak about and to whom?
 
There are few things that are more fun for me than public speaking and leading group programs. I focus on topics core to my writing and coaching: Being You, The Art of Simplification, Leaving the B+ Life, Quieting the Inner Critic, Everyday Joy.
 
I believe in the power of spaces. Often what we need is the right space, tone, and questions to unearth the gifts within. Workshops are spaces for remembering who we are and what matters most. They are spaces for the heart to speak its truth. I love gently facilitating a space where people can connect to the truth-knowing parts of themselves.
 
I do more formal programs in organizations and more informal things in homes, and have offered an email-based course as well….if you have an interest, by all means email me. And my newsletter always lists upcoming group programs. 
The Bold Life: With the help Tara offers there isn't a reason in the world to become stagnant or stuck. The best thing we can do is fill our own body, mind and soul with the best so we can then offer it to offers. When is the last time you treated or blessed yourself with a retreat or workshop?
 
 What brings you everyday joy?
 
Engaging in the creative process…the amazing, "this idea/piece of writing didn't exist before, and now it does" fact of creating. Listening to loud music with a great beat while walking through the city. Art. Rich conversations with my husband. Connecting with readers. Laughing with old friends. Approaching life with curiosity, feeling myself growing, paying attention.
 
Why would I want to hire you as a coach? How would you benefit me?
 
I believe that if you are on this planet, you have a glorious self to express and a particular contribution to make. Coaching with me is a way to remember and unearth the most powerful you, and figure out how he or she can come to greater expression in the world.
 
Often that work happens through the prism of a particular life issue: navigating transition, improving health, designing the next phase of our lives, etc. Those are the issues people come to coaching with. Often its just, life is not feeling so great, I've lost my way, I've lost myself, and I want the vitality and color and purpose and joy back.
 
I have an MBA from Stanford and worked in the nonprofit sector for several years before transitioning into coaching, so I also work with some professionals on leadership and professional issues.
The Bold Life: The more joy we allow ourselves to experience the more joy we have to share to others. Take action today if you lack joy, boldness or color in your world.
 
You've mentioned we have a habit of projecting perfection onto others. Where does that come from?  How does one stop?
 
We all grapple with a great deal of fear: fear of failure, rejection. We do all kinds of things to keep ourselves safe in the comfort zone.
 
Our minds do all kinds of things to keep us there, including the comparing thing. If so and so is smarter than me, now I have a good reason to not go start a business like she did. If all the other people fit in and I don't, I have a reason to keep quiet at our gatherings and not really share myself. It's a way of staying safe.
 
Stopping this habit comes from noticing when we are projecting perfection onto others, and observing those thoughts rather than identifying with them.
 
I've also found it powerful to read about incredible people's struggles with their inner critics. For example, in The Creative Habit, Twyla Tharp, arguably the most successful American choreographer, explains that every time she begins a dance piece she's quite certain this will be the end of her career and the people will literally laugh her off the stage. Examples like these make it quite clear to me that our inner critic chatter has no connection to reality.
The Bold Life: I mentioned above how I used to compare my blog to others. I didn't realize it at the time but I was projecting perfection when I felt that way. I've never heard it labeled that way and it Tara's word got to me on a deeper level.
 
Where do you see yourself in 5 years?
 
Two published books on the market. A moving connection with a circle of readers. Sharing my message through many different media – video, online classes, retreats. Welcoming beloved friends to my home, walking them down the path of a bright, loosely tended garden.
The Bold Life: Yes, we're witnessing an Internet Star being born. I'm over-joyed to be sharing in her wisdom and process. Thank you Tara!
More Tara Connections…www.mohrcoaching.com, ww.wiselivingblog.com,   
Please leave a message for Tara below!
Please join The Bold Life for free and receive my free guide, Peace, Love, and Connection. Please share this post with a Tweet and a Like.
Related Posts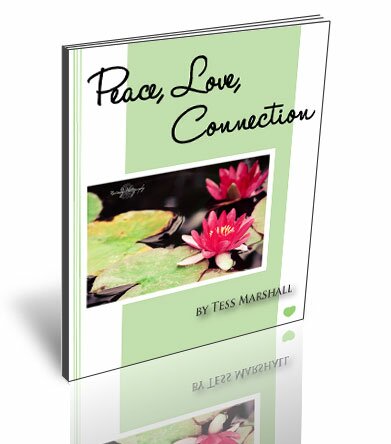 Sign Up & Receive Instant Access to
Your FREE Gift:
Peace, Love, & Connection

Learn how to successfully cultivate these three qualities in your life.
The flow of inspirational gems will spark tenderness and joy within your mind, heart, and soul.
You'll also receive fantastic tips, discounts, blog posts, give-always & more!