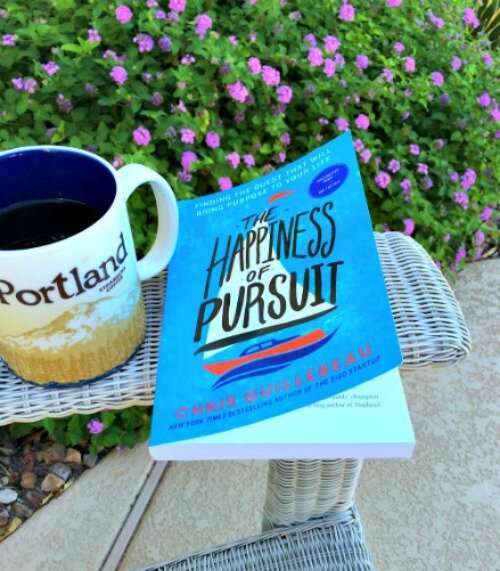 Chris Guillebeau's life is anything but routine! In 2002, he set out on a quest to visit every country in the world by age thirty-five, and he succeeded.
In his latest book, The Happiness of Pursuit, Chris guides and ignites an inner fire in readers to undertake their own quest as a way of finding purpose and adding meaning to their lives.
"Courage comes through achievement, but also through the attempt. As I worked my way through country after country, regrouping at one of the many stops along the way that felt like second homes, I become more optimistic about my chances of success. In the final year of the journey, I felt unstoppable. I can really do this! I realized this and the realization gave me strength and endurance."
He shares his own story and stories of people far and wide who are abandoning their conventional lives and pursuing quests that involve walking, sailing and biking across countries and continents.
"At meetups and coffee shops on five continents, I sought out people who were undertaking quests and heard their stories. Through a series of interviews and surveys, I pestered them about why they chose to focus on a specific goal for an extended period of time. What did they learn, and how were they changed along the way?"
A woman decides to hunt for and see as many bird species as possible in her lifetime. A fifty-four year old man runs three hundred marathons in more than one hundred countries. Someone walked every block (121,000) in New York City.
A young mother with a culinary degree and a love for travel decides to cook an entire meal from a different country everyday in her kitchen. It took her four years to cook and share the recipes from around the world, but she did it!
An independent learner decided to tackle the four-year MIT computer science curriculum in just one year, publishing his test scores along the way. His quest was about oriented around learning and achievement.
These people are taking adventure to the extreme and are living a life of no regrets.
"Embracing new things often requires us to embrace our fears, however trivial they may seem. You deal with fear not by pretending it doesn't exist, but by refusing to give it decision making authority. When you venture to new lands for the first time, it is a big deal."
A quest is defined as a clear goal, a real challenge, and a set of milestones along the way. The freedom that an unconventional life and quest offers is thrilling and addictive.
Chris suggests that we ask ourselves difficult questions: Do I really want to keep my job? Am I in the right relationship? If I were free to do anything, what would I be doing? One year from now, what do I want to have accomplished?
One thing is certain, by the end of a quest, you'll be a completely different person.
Chris's advice for the world changers and risk takers who want to plan their quest is this:
Believe in your dream. Find others who believe in your dream. Get beyond rejection. Don't fear failure. Get comfortable with risk. Create structure. Keep a timeline. Connect your skills and interest with a challenge. Know the cost. Don't wait. Just begin. Track your journey.
Since reading The Happiness of Pursuit, I have identified a quest of my own.
Many of my readers know that I married my boyfriend at 17 and at twenty-two was a mother to four daughters. I'm still married to their father!
Raising our family was quite the quest. We didn't travel very much and we didn't have much freedom. Everything went into raising the girls.
That didn't stop us from dreaming and planning that one day we'd have more flexibility to fulfill our travel desires.
We decided when we were very young that, once the girls were out of the house, we'd leave the gray, cold and snowy weather of Michigan and move to the Southwest where the sun shines more than 300 days per year.
Seven years ago we finally did it. We sold nearly everything we owned including our cottage, home and my husband's business. We moved and fulfilled our dream.
One of our daughters works for Southwest airlines and we travel more now than we ever did.
We have visited some new places, but we mostly go back to visit our daughters and their families. Up to this point, our connection with them has always trumped new places and adventures.
I've attended Chris Guillebeau's World Domination Summit twice. I've been enthralled by all the dreams, travels and adventures these young change-makers embrace.
Because I married so young, I missed the years of freedom between high school and adulthood. I believe that's what makes an adventuresome, quest-filled lifestyle so enticing.
Things are different in my life now. My business is online and I work from home. I'm not tied to too many responsibilities. I also have a husband who supports and understands my zest for unconventional living (although he wants no part of it!).
This year I missed the World Domination Summit. Never again!
That's why I was thrilled when I was invited to review Chris's new book. The day it arrived, I began reading it out loud to Hubs. I couldn't stop. 30 minutes into it, he was helping me brainstorm my own quest.
My personal quest!
My quest involves visiting every city that Southwest Airlines flies into. I will investigate who of my online friends lives in those cities and ask if I can stay with them during my visit. While there, I will find out-of-the-way places to eat, visit, hike and run.
I will also do acts of kindness or service in each city. When I leave, each place will be a little different because of my visit.
A Big Commitment!
Currently, there are eighty-nine cities in the United States that Southwest flies into. They also fly to San Juan, Puerto Rico. In the Caribbean, they fly into Nassau/Paradise Island, Punta Cana, Aruba and Montego Bay. In Mexico the go to Mexico City, Cancun and Cabo San Lucas.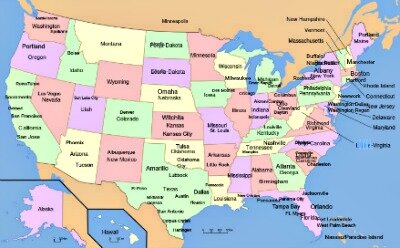 I will give myself up to four years to finish my quest. I will blog about my journey on The Bold Life.
If you want to shake things up in your life and live with no regrets, The Happiness of Pursuit is a must read! I dare you to be bold, find a challenging quest and simply begin. Join me as we live our adventures, pursue our hearts' desires, and shake things up in our mostly quiet and routine lives!
"There's an adventure waiting for you, too. Real-life adventure isn't only about traveling the world (although many of this book's stories do involve travel) nor is a quest always about leaving home (although it often involves breaking out of a comfort zone)."
In The Happiness of Pursuit, you'll discover dozens of awe-inspiring stories. You'll meet many amazing people and most are everyday people doing phenomenal things!
_______________________________________________________________________________________________
My e-courses are available at over 70% off! You don't have to spend a ton of money to get beyond your fear. Grab one and begin now!
My best work is my course, 30 Days of Bold: Feeling Excited And Ready. Check it out. Today is the best time to begin something new!
____________________________________________________________________
About the Author
Chris Guillebeau is an entrepreneur, traveler, and New York Times bestselling author. Recently, he completed his quest to visit every country in the world before the age of 35. Host of the World Domination Summit, an international gathering of creative people, Chris is focused on encouraging individual quests while also "giving back." His main website, ChrisGuillebeau.com, is visited by more than 500,000 people per month.