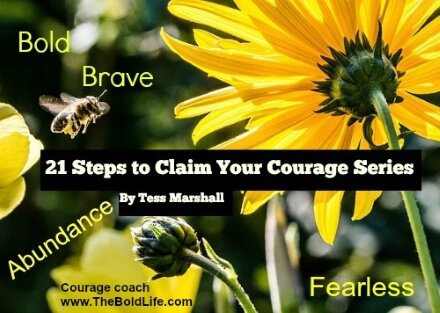 This course is no longer available.
However…
___________________________________________________________________
My e-courses are available at over 70% off! You don't have to spend a ton of money to get beyond your fear. Grab one and begin now!
My best work is my course, 30 Days of Bold: Feeling Excited And Ready. Check it out. Today is the best time to begin something new!
___________________________________________________________________
Are you scared to do your own thing? Scared to ask for what you want? Scared of rejection, failure or success? Scared of the opinions of others? Scared of change?
If so, it's time to claim your courage and grow your comfort zone!
Everyone is afraid, but not everyone allows fear to hold them back from their greatness, brilliance and dreams. Fear is the only major limitation that stops you from being the amazing person you already are, and doing the awesome things you want to do.
With the 21-Steps to Claim Your Courage Series you'll learn how to go beyond fear, unlock the power of courage and achieve outstanding success. And it's my gift to you! Free.
Goodbye procrastination, anxiety and playing it safe. Hello confidence, courage, liberation and freedom!
21-Steps to Claim Your Courage Series will show you how to:
Build a courageous mindset

Gain greater clarity and confidence

Conquer your fear of failure, as well as success

Change what you need to change

Confidently risk, act and fail forward

Challenge what's possible with a mind free from doubt

Live boldly in the pursuit of your best life
I share with you powerful stories, exercises, homework, insights and tools that will give you the courage to speak up, stand out, claim your brilliance and take dream-building risks to seize the opportunities all around you.
You'll learn techniques for eliminating negative barriers and letting go of negative thoughts and patterns that prevent you from attaining your goals. You'll live the life you want to live!
All of this is brought to you in 21 small chunks over several weeks. The steps enable you to transform "what could have been" into "what will be."
Don't allow your fear and insecurities to block your creativity and courage. Own your power. Take a stand for greatness!
Make a contribution and a difference. Take this journey with me toward a future that inspires, and discover all that life has to offer! Claim your courage. Sign up below. I promise you won't regret it.
"But what if this doesn't work? What if I completely and miserably fail? What if no one appreciates what I do and I waste years of my life trying to do it?"
If you don't try, you'll never know.
Your first Claim Your Courage Step will appear in your inbox a few minutes after signing up!