You're invited to join…
Membership Is Over 50% Off!
The Bold and Courageous Ultimate Mastermind Inner Circle
I'm on a mission to help others build their courage muscles, live a bold life and make their dreams a reality!
Are you considering a new direction for your personal or professional life?

Are you tired of procrastination and the inability to take consistent action?

Are bad habits and distractions keeping you from success?

Do you need a place of security and support where you can be yourself?

Are you ready to access a deeper expression of yourself?

Do you want even greater possibilities for yourself?
… and to claim your magic, power and genius?
Then the Bold & Courageous Ultimate Mastermind Inner Circle Is For You!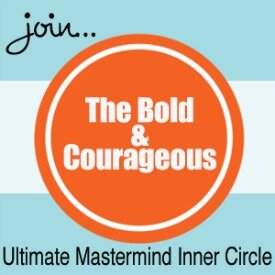 What Does It Offer?
The Bold & Courageous Group offers a safe, nurturing, empowering and confidential environment which will prepare you to achieve a greater level of success in less time by working together in harmony with others on the same path.
In the Bold & Courageous Group you'll find like-minded participants who challenge each other to create and accomplish goals, brainstorm ideas, sharpen their personal and business skills, grow through failure, celebrate success and support each other with authentic connection, compassion and respect.
Our main focus is the brainstorming, accountability, feedback, advice and support we give to each other. When everyone participates the group holds the opportunity to build courage; take on tough challenges; overcome insecurity, self-doubt, inaction and fear; and make dreams a reality in a safe place where new friendships are born!
Here's what else you'll get!
Time, attention, wisdom, guidance and support from myself and the other members

I keep the groups small to guarantee 1:1 conversations, focus, rich and deep dialogue and the transformative energy of the circle

A place to be seen and heard and to see and hear others; a place to grow

Peer accountability and a network of backing in a confidential setting
A sense of community and connection with colleagues who want you to succeed (this alone is priceless)

Monthly 90–minute Bold & Courageous Mastermind sessions via Skype

The Bold & Courageous Inner Circle is an investment in your personal and professional future growth. I lead the group but everyone commits and participates.

Each person has the opportunity to share their dreams, needs and progress and to ask for the support, answers, ideas, strategies and brainstorming they need from other group members.

You belong, learn and grow as you meet regularly with other successful people.
You'll get one monthly video to help you avoid common pitfalls such as paralyzing fear, constant doubt and hovering insecurity which keep you from progressing and living the life you desire.

You'll gain direction as well as insights and tips on overcoming procrastination and self-sabotage; uprooting limiting beliefs; letting go of lack and becoming more prosperous in every area.
Our private Facebook Group for check-ins, support and more
A place to

nurture your creative whims and desires,

celebrate success and grow to new heights

A place where everyone shares resources and connections that will help lead to the amazing, passionate and flourishing life of your dreams
A Bold & Courageous Life Questionnaire to help you discover your passion, gain clarity, insight, focus and overcome your doubt and fear for making your dreams come true and achieving success as you define it.
Access to An Accountability Buddy (every member has the option to request one). You can have a five-minute or 15-minute check-in by phone or email every week between the monthly meetings.
Monthly Goal Setting & Action steps Each month you'll plan where you're going and how you'll get there. You'll get clear on what your three most important things are on your to-do list and come up with the necessary action steps. You can go at your own pace and still accelerate your growth with the group support.

Member Only Discounts All Bold & Courageous Inner Circle members get 50% off any of my services or products!
Who Should Join?
If you have the desire to walk the edge and go places that promise rich rewards
If you want to move from a cushy and comfortable life to one filled with adventure, meaning and excitement
If you want to overcome the fear of change in a supportive and creative environment
If you are ready to unleash your best self, unique gifts and talents to those who are ready for them
If you have the desire and inspiration to make your life extraordinary
If you are ready to commit, get clear, take action, move forward and accomplish your goals
If you are ready to stand in your strength and own your power and boldness
If you are motivated to grow, to share, to show up and to contribute to the group
If you are ready to create uncommon and radical results with the ultimate level of commitment, accountability and community
Who Won't Like It?
People who have a bad attitude, who want to complain, remain a victim or stay stuck in the same destructive stories and beliefs. People who don't want to collaborate, brainstorm and support others.
How Does It Work?
The groups will meet via Skype once a month and I will host the group. I know what it's like to be overwhelmed, stuck, underappreciated, unsure of myself and unsure of how to move forward.
I've been where you are and I understand what it's like to be paralyzed by fear. In the past, I made mistakes, I spent my time freaked out, playing small, denying and hiding from fear.
I sunk into depression and I hated my life. One day when I couldn't stand the pain, craziness or drama any longer… I reached out for help.
I hired a therapist, attended a support group, found a mentor, hired a coach and joined a mastermind group. I put into practice what I learned. Little by little I turned my life around.
The pay-off of my post-fear life…
I started my first successful business at age 22! I've only spent two years of my career working for other people. I worked as a successful therapist in private practice, a coach, an author, a professional speaker and a successful blogger. I've facilitated women's groups, groups in prison, groups for those afflicted with AIDS and mastermind groups!
Countless clients have put their confidence and trust in my abilities and changed their lives. I achieved things in my life that I never would have thought possible. And I can help you do the same!
I'm sharing with you not only my wisdom and support…I'm sharing my resources and connections! Want to stop fear from running rampant in your life and get on with your goals and dreams?
Now You Can!
It's my turn to give back. I want to help you bring your gifts and talents to the world and to make a successful living doing it. It's never too late to dissolve your fear and discover your inner bold!
Begin today, with one small step in the right direction, and the people and tools to make new choices that support you in transcending your current level of courage and success.
What I Want For You…
I want you to clear the slate and open the curtains to your amazing future. I want you to leave your old doubtful, worried and anxious self and story behind and choose a new adventure.
You are the author, you hold the pen and the opportunity to create a new chapter, one that's entirely your own.
I want you to be brave – to have the courage to do what you love and to feel that you are powerful beyond belief.
I want you to be surrounded by people who see you, who will help you live out your highest potential when you lose sight of it. I want you to know that we are in this together.
I want you to know that you are astoundingly brilliant. I want you to be free to do what it is you have come here to do.
I want you to feel the love and support of a group while you do it.
I want you to believe that you can trust life to bring you what you need, that you can relax more, enjoy the ride and be happy to be alive. So don't wait another second!
What Is Your Investment?
It's an act of courage to sign up. If you're not ready today…when will you be? We live in a time where everything is possible and anything can happen. Undo the limits on your life.
Take a chance. Everyone who joins The Bold & Courageous Inner Circle will sign a confidentiality agreement.
Imagine your life one year from now. If it's the same as it is today, are you alright with that? What do you have to lose?
The time is now to be bold, claim your courage and make your dreams come true!
There are three different payment options and they are all on sale this month!
Plan #1: Monthly Membership
The Monthly Membership is just $29 (regular$37)! Your membership will automatically renew at this price and you can leave the group at anytime.
Click below to sign up for this plan: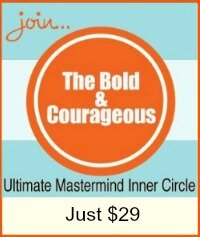 Plan #2: 6-Month Membership
The price for a 6-month membership is just $147 (regular $297)! It includes everything stated above, plus you get one FREE 60-minute, 1- on-1 Courage Coaching Session (valued at $150) with me via Skype.
Click below to sign up for this plan: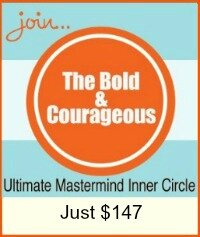 Plan #3: 12-Month Membership
Imagine how your life will change with a 12-month commitment!The price for a 12-month membership is just $249 (regularly $499)! It includes everything stated above, plus you get two FREE 60-minute, 1:1Courage Coaching Sessions (valued at $300) with me via Skype.
Imagine where your life will be in one year with a 12-month commitment! Imagine the connections and resources you'll gain, the friends you'll make and the results you'll see. Remember "Boldness has genius, power and magic in it!"
If you're ready to take 100% responsibility for your personal and professional life

If you're ready to make a 100% commitment to yourself and the group

If you're ready to spend the next 12 months implementing new ways to think about taking risks and reaching your goals.
Click below to sign up for this plan
: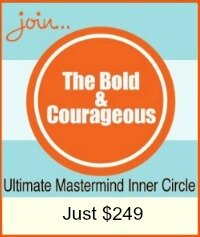 I'm so excited for you to join this dynamic community and make your dreams of a successful online business a reality!
As soon as you join, I'll send you your questionnaire and if you choose the 6-or 12-Month option we'll set up your 1:1 Courage Coaching session!
If you are ready to get started there's a community waiting for you. We'd love to support you! So join today and you'll also get on this months calls! Let's spiral upward together! Tess Marshall