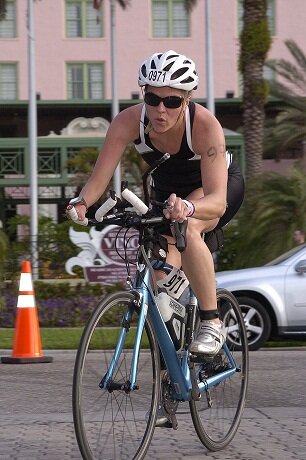 The difficult is that which can be done immediately;
the impossible that which takes a little longer.
~ George Santayna
My fearless daughter, Kristy, is living her dream in spite of being physically challenged. Born without a right hand, she learned quickly how to do the difficult things; holding on to a swing, tying her shoes, and riding her bike.
In school, she was determined to keep up with the other kids. She wanted to play sports like her three sisters. We witnessed her do the impossible things. She was a pitcher on her softball team in sixth grade, in ninth grade she defied her soccer coach and played for four years, and in twelfth grade she scored 21 points in a basketball game.
Kristy taught us all about being bold and dreaming big.
Today, she participates in marathons and triathlons and works at New Balance.
Read on for tips that I learned from my daughter on how to live a bold and fearless life.
Resilience. When Kristy was in kindergarten a bully knocked her down, jumped on her, and broke her leg. She bounced back and carried on. A high school soccer coach said it was impossible for her to play soccer. She tried out anyway. Kristy went on to play for two years at the University of Chicago as well.
Patience. It may take you twice as long as someone else to do something. It's no reason to give up. Kristy used to show up at basketball practice 15 minutes early and stay 15 minutes after everyone else left in order to get extra time with the coach. It added up over the years. She also played basketball for two years in college.
Persevere. I watched as Kristy discovered how to persevere through difficulties, obstacles, and opposition with commitment, hard work, and determination. Even as her stub chafed and bled, she would carry on. She doesn't tolerate quitting or excuses.
Support. Kristy knew we had her back. She made it a point to connect with us when it was emotionally painful. Some kids teased her and others were mean. Some adults, today, continue to pull back and refuse to shake her stub during an introduction. It's one thing to have support, it takes a wise person to use it.
Love life. Kristy lives with enthusiasm, passion, and a zest for life. Her energy is contagious. She currently volunteers for Back On My Feet, a nonprofit organization that is dedicated to creating independence and self-sufficiency within the homeless and other underserved populations by first engaging them in running as a means to build confidence, strength, and self-esteem.
Don't allow fear, doubt, or worry to hold you back. You can overcome anything in your way. If you need support, I'm here for you. I believe in you.
Who inspires or amazes you? What have the people in your life taught you about being bold?