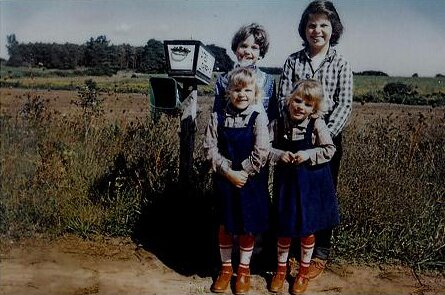 The Lucky Girls
In 1972 I was 17, married, pregnant, and a senior in high school. I graduated that June with the rest of my class. My daughter was born that August and two years later her sister was born.
In 1976, at 22, I gave birth to twin girls. We also built and moved into our first home.
In 1981, when the twins went to kindergarden, I enrolled in Grand Valley State University part time. I finished my bachelors degree nine years later.
When the girls were in high school, I earned  my masters degree at Western Michigan University.
All four girls attended college. Today, they are all employed.
We are the lucky ones. We have our education, health, homes, cars, computers, cell phones and more. I'm beyond grateful.
It's time to help the unlucky girls. It's time to share, love, and help others grow.
The Unlucky Girls
Approximately one-quarter of girls in developing countries, are not in school. Out of the world's 130 million out-of-school youth, 70 percent are girls.
One girl in seven in developing countries marries before age 15.
38 percent marry before age 18.
One-quarter to one-half of girls in developing countries become mothers before age 18; 14 million girls aged 15 to 19 give birth in developing countries each year.
75 percent of 15-to 24-year-olds living with HIV in Africa are female, up from 62 percent in 2001.
Today, more than 600 million girls live in the developing world. Approximately one-quarter of girls in developing countries are not in school.
Every girl deserves a chance to go to school. Educated girls can prevent poverty. Watch the video below. and visit the website Girl Effect
If you'd like to join us and write your own article on The Girl Effect click here.
Please join The Bold Life for free and receive my free guide, Peace, Love, and Connection. Please share this post with a Tweet and a Like.
Related Posts