My Friday 'Hit List' of interesting bloggers will be posted again next Friday. Today we have a guest:
 Anastasiya Goers from Balance In Me.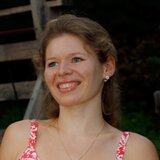 "I am just a regular girl who is health conscious and who is trying to convey her own experiences of living a busy life while staying in great shape both physically and mentally." ~Anastasiya Goers
Are you ready to give up your life (all your possessions, your house, car etc.) and move to a tiny house somewhere in the middle of nowhere? OK, I am not asking you to do that. Don't worry. But a lot of people think that living with less means just that (or something similar.)

While there is a lot of talk about living with less very few people actually do that or even understand the true meaning of this life principle. They think that living with less only means cutting back on their expenses. Maybe it means decluttering their house. And at the most it means cutting back on some tasks and commitments.

There is a little bit of truth in each of those statements, however it is not the true meaning of living with less.

Living with less means adopting a new mindset and striving for a meaningful living.

The truth is that stuff and money never give us true joy, happiness and satisfaction that we want in life. Yes, they help us live comfortably and have small pleasures every once in a while. However, did you ever remember being happy about buying a new dress (car, kitchen appliance etc.) for more than a week or two?

Now think about an event with your loved ones (the birth of your child, a lovely picnic with your friends or family, or maybe a quiet day spent alone in a beautiful place.) I bet you smiled when you thought about those memories and a warm feeling rolled from your stomach and through the rest of your body.

I grew up in Ukraine – a country in the Eastern Europe that most people in the first world would consider a third world country. Only a little over 2 years ago I moved to the US and experienced all the benefits of living in the kingdom of capitalism. Yes, I like the fact that I can find great deals on clothes that I like and that I can afford to update my closet entirely every season (though I don't do that.)
I love the availability of healthy foods 24 hours a day. I love cheap prices on electronics and cars (on average, Ukrainian prices for those things are at least double and Ukrainian salaries are almost one tenth of an average American salary.)

One of my most memorable vacations before I met my husband was a 10-day camping trip. I was lucky to go on that trip with several friends and make several new ones. I spent the nights in a small tent, ate mostly canned food, had no access to a warm shower (the water we had was from a mountain creek that was about 55 F (13 C) all year round), used an outhouse and spent my days climbing mountains no matter what the weather was. It was so much fun! (By the way, the cost of this "pleasure" was minimal – about $90 for the entire trip.)

Growing up in Ukraine really taught me how to live with less and experience real joys of life instead of all the material goods of a modern society.

You do not have to move to a different (primarily third world) country to learn the practical benefits of living with less (frankly speaking, those are more survival tips than just benefits.) You can do it right here, right now (you can be sitting in the office, in your comfy chair or even passing some time at the airport.)

Living with Less is definitely the main concept of simplicity in life. It means:
appreciating what you already have;

knowing what truly makes you happy;

knowing how your actions affect your environment (planet and people);

knowing who you are and what your values are;

cutting through the false benefits of a consumer society;

finding clarity in life and (finally)

living in your own balance.
If you are looking for more practical benefits of living with less then let me give you a few more examples:
The less you have the more you will use what you own.

The less you acquire the more you will use what you already have.

The less you have the more efficient you are – less time spent searching for things (according to one study, on average a person spends 55 minutes searching for things in their own home.)

The less you have the more energy you will have for things that really matter in your life (instead of constantly cleaning, scrubbing and putting away things.)

The less cluttering activities you have during your day (watching TV, mindless social media chatter, and constant e-mail checks) the more you can focus on really important tasks.

The less you have the more you can focus on your priorities and not the tasks of dealing with the junk in your life.

The less you have the easier it will be to find your true life balance (less things to juggle on your plate, less commitments and less tasks to worry about.)
How do you feel about living with less now? What is the true meaning of living with less for you? Please share your thoughts in the comments?
Anastasiya writes about practical life balance on her blog Balance In Me. She is passionate about helping people find their balance in different areas of life: work, family, health, lifestyle, spirituality and others.

Download her free Simplify Your Life with Balance Workbook to bring even more balance and simplicity into your life.
* Adrienne and I had a talk sittin' around the campfire at Experience Life Fully. Please stop by and roast a marshmallow or two!
Photo credits 

 photo credit: Brainedge
Please join The Bold Life for free and receive my free guide, Peace, Love, and Connection. Please share this post with a Tweet and a Like.
Related Posts