I thought I'd inspire you today with 3 authors and quotes that have touched my soul.
The following quotes are by – Elizabeth Gilbert Eat, Pray, Love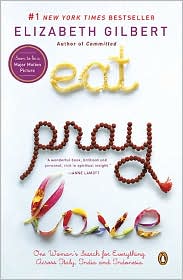 "I met an old lady once, almost a hundred years old, and she told me, 'There are only two questions that human beings have ever fought over, all through history. How much do you love me? And Who's in charge?"
"Someone has to write all those stories: why not me?"
"You have to participate relentlessly in the manifestation of your own blessings."
"Imagine that the universe is a great spinning engine. You want to stay near the core of the thing – right in the hub of the wheel – not out at the edges where all the wild whirling takes place, where you can get frayed and crazy. The hub of calmness – that's your heart. That's where God lives within you. So stop looking for answers in the world. Just keep coming back to that center and you'll always find peace."
"To be fully seen by somebody, then, and be loved anyhow – this is a human offering that can border on miraculous."
"To travel is worth any cost or sacrifice."
"You need to learn how to select your thoughts just the same way you select your clothes every day. This is a power you can cultivate. If you want to control things in your life so bad, work on the mind. That's the only thing you should be trying to control."
"And what will I be able to do tomorrow that I cannot yet do today?"
"The great Sufi poet and philosopher Rumi once advised his students to write down the three things they most wanted in life. If any item on the list clashes with any other item, Rumi warned, you are destined for unhappiness. Better to live a life of single-pointed focus, he taught. But what about the benefits of living harmoniously among extremes? What if you could somehow create an expansive enough life that you could synchronize seemingly incongruous opposites into a world view that excludes nothing?"
"So tonight I reach for my journal again. This is the first time I've done this since I came to Italy. What I write in my journal is that I am weak and full of fear. I explain that Depression and Loneliness have shown up, and I'm scared they will never leave. I say that I don't want to take the drugs anymore, but I'm frightened I will have to. I am terrified that I will never really pull my life together.
In response, somewhere from within me, rises a now-familiar presence, offering me all the certainties I have always wished another person would say to me when I was troubled. This is what I find myself writing on the page:
I'm here. I love you. I don't care if you need to stay up crying all night long. I will stay with you. If you need the medication again, go ahead and take it—I will love you through that, as well. If you don't need the medication, I will love you, too. There's nothing you can ever do to lose my love. I will protect you until you die, and after your death I will still protect you. I am stronger than Depression and Braver than Loneliness and nothing will ever exhaust me."
"When the karma of a relationship is done, only love remains. It's safe. Let go."
~~~~~~~~~~~~~~~~~~~~~~~~~~~~~~~~~~~~~~~~~
Anne Lamott, Bird by Bird: Some Instructions on Writing and Life
"For some of us, books are as important as almost anything else on earth. What a miracle it is that out of these small, flat, rigid squares of paper unfolds world after world after world, worlds that sing to you, comfort and quiet or excite you. Books help us understand who we are and how we are to behave. They show us what community and friendship mean; they show us how to live and die."
"Writing and reading decrease our sense of isolation. They deepen and widen and expand our sense of life: they feed the soul. When writers make us shake our heads with the exactness of their prose and their truths, and even make us laugh about ourselves or life, our buoyancy is restored. We are given a shot at dancing with, or at least clapping along with, the absurdity of life, instead of being squashed by it over and over again. It's like singing on a boat during a terrible storm at sea. You can't stop the raging storm, but singing can change the hearts and spirits of the people who are together on that ship."
"It's good to do uncomfortable things. It's weight training for life."
"Almost all good writing begins with terrible first efforts. You need to start somewhere."
"Becoming a writer is about becoming conscious. When you're conscious and writing from a place of insight and simplicity and real caring about the truth, you have the ability to throw the lights on for your reader. He or she will recognize his or her life and truth in what you say, in the pictures you have painted, and this decreases the terrible sense of isolation that we have all had too much of."
"This is our goal as writers, I think; to help others have this sense of–please forgive me–wonder, of seeing things anew, things that can catch us off guard, that break in on our small, bordered worlds. When this happens, everything feels more spacious. Try walking around with a child who's going, "Wow, wow! Look at that dirty dog! Look at that burned-down house! Look at that red sky!" And the child points and you look, and you see, and you start going, "Wow! Look at that huge crazy hedge! Look at that teeny little baby! Look at the scary dark cloud!" I think this is how we are supposed to be in the world–present and in awe."
~~~~~~~~~~~~~~~~~~~~~~~~~~~~~~~~~~~~~~~~~~
Quotes by Julie Cameron author of "The Artists Way."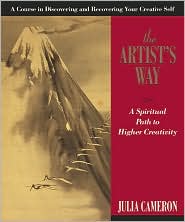 "The creative process is a process of surrender, not control."
"Mystery is at the heart of creativity. That, and surprise."
"I have learned, as a rule of thumb, never to ask whether you can do something. Say, instead, that you are doing it. Then fasten your seat belt. The most remarkable things follow."
"Art is not about thinking something up. It is the opposite – getting something down."
"Creativity – like human life itself – begins in darkness."
"Perfectionism is not a quest for the best. It is a pursuit of the worst in ourselves, the part that tells us that nothing we do will ever be good enough – that we should try again."
"Life is a creative endeavor. It is active, not passive. We are the yeast that leavens our lives into rich, fully baked loaves. When we experience our lives as flat and lackluster, it is our consciousness that is at fault. We hold the inner key that turns our lives from thankless to fruitful. That key is "Blessing."
"Growth is an erratic forward movement: two steps forward, one step back. Remember that and be very gentle with yourself."
Today I'm a guest at Jean Saraurer's blog, Virgin Blogger Notes, 14 Tips On For Turning Bloggers Into Friends.
What books and authors have you enjoyed this summer?