"Dance of All Dances"
"All true artists, whether they know it or not, create from a place of no-mind, from inner stillness."                                                               - Eckhart Tolle
Last month I visited the Georgia O'Keefe Museum for the fourth time. There is a photograph of O'Keefe (in her nineties) on the back of a motorcycle driven by a young man, Juan Hamilton. 
When I see this photo I tell myself, "That's how I want to age…having fun, fearing nothing…to the very end."
Art inspires me. It moves me to create something new in my own world. Today, my wish is to inspire you as well.
Today's interview 
Meet artist, Marylou Falstreau. Her art rocks! For me her paintings are fun, joyful and happy. When I came across Marylou's website I couldn't resist featuring her on The Bold Life!
Marylou describes her art work as, 'lively, spiritual, humorous, multi-layered, free, generous, complex, gentle and light hearted.'
I believe these very words describe Marylou as well!
Marylou has generously offered to give her book, "It's the Stories You Tell That Color Your Life,"  to the person who leaves the  most inspiring comment.
1.What inspires you to paint? How do you stay motivated? 
My inspiration comes from every thing in my life, it's not limited! People and relationships, nature, a growing spiritual awareness,all enable me to see the connection between living things, and everything is living!
The Bold Life: The next time we're stuck in a  rut, I believe we can reflect on our own relationships, nature and spiritual awareness in order to create something fresh, new and inspiring!
I never seem to have a lack of motivation. If I don't feel like painting I trust that as a sign to wait until inspiration appears. It also helps that I have several events out in the future that I must work towards. I think the most challenging aspect of what I do is to live a balanced life filled with creation but time to regenerate as well.
The Bold Life:  How different would our blogs be if we waited…trusted…until inspiration appeared rather than feeling like we have to stick to a blogging schedule?
2. You call your paintings "Free of Struggle Full of Joy," can you tell us about that?  
Sure, I only paint what I love, in a style that comes naturally to me. I don't paint realistically or in perspective because I'm not good at it. I paint in a way that is pleasing to me. That doesn't mean that there aren't challenges or problems to solve, but my goal is to have the final image look as if I was having a good time.
The Bold Life: It's easy to get caught up in what the 'gurus' are doing on their blogs. The question of the day is, "What comes natural to you?" Be inspired by successful bloggers but don't lose you in the process. Can you be full of joy in your own blogging process?
3. What has art taught you about life? 
It has taught me to keep going and to never give up. It has taught me (and is teaching me) to be unapologetic for what I have to offer to the world. It has taught me that there is a place for every interpretation, every style, every ONE. 
The Bold Life: Marylou's attitude is one of gratitude and abundance. Her authenticity comes through her art and invites us to live our own truth.
4.What advice would you give to people who don't think they are creative? 
I would say that you have been a powerful creator your whole life! You make creative choices when you dress in the morning, when you decorate your living space, when you choose a car that you like. Take that ability and direct it towards creating a drawing, painting or sculpture. During this process, take your eyes off other creators and follow your own heart. If you are interested enough, you will practice until see your creative self emerging. 
The Bold Life: What does following my own heart look like today? How can I share this with my readers?
5. What is the boldest thing you've done this year? 
I took a nap, when I felt there was no time for it! 
The Bold Life: I believe our best work comes from when we're rested. It's impossible to be in the flow when I feel anxious or rushed. What a wise example for the rest of us.
6. Tell me about the book, "It's The Stories You Tell that Color Your Life." How did it come about? 
Basically the book is a surprising collaboration between my husband, Alan and I, a collaboration we never expected in our wildest dreams!  It is a lovely, inspirational book that will help you become aware of the stories you tell and more importantly, how they affect your life.
"In a time when newscasters, friends and family tell stories that scare you, this book will help you tell stories of understanding, healing and joy." Crazy Ole Man 
6. You believe that there is a kindred spirit in the world in the form of a person who is meant to have a particular piece of your art. Do you try to imagine who that is when you paint the piece?
I used to try to imagine the person who might buy my paintings but I have been surprised more often than not. For example, sometimes a man will fall in love with a piece when in my mind it was intended for a woman. This is where miracles happen!

The Bold Life: Like our blogging community we were meant to find each other, to relate, share and create together. I think it's a miracle that out of the millions of blogs in the world we are drawn to one another's.
7. What would you do if you were 10 times bolder? 
I am already pretty bold-every day. I am stepping out in ways that surprise even me! Probably the biggest, boldest step I could take is to ask for help.  
Or maybe, I could move to Europe for several months, travel and paint with the locals. Now that would be a wonderfully, wild and bold move! 
The Bold Life: I invite everyone to ask for help this week. Please let me know if I can help you in anyway!
8.What do you know for sure? 
That there is no such thing as perfection from an earthly perspective? If you try to attain the illusion, you will be very, very, tired. 
The Bold Life: We often wait to make a video (me), write a book or create something new out of fear it won't be good enough. What would you do today if you could let go of perfection?
9. Is there anything else you would like us to know? 
Everything's going to be ok.   
Follow Marylou on Twitter or Facebook and visit her website to check out her art!
The Bold Life: If we really lived and breathed Marylou's message…how would our lives be different?
Please join The Bold Life for free and receive my free guide, Peace, Love, and Connection. Please share this post with a Tweet and a Like.
TAKE YOUR FEAR AND SHOVE IT!
This course will show you how to face and
erase fear in any difficult situation you face.
Go beyond doubt, excuses and worries Positively anticpate your future
Find meaning, happiness and success
Click here to learn more!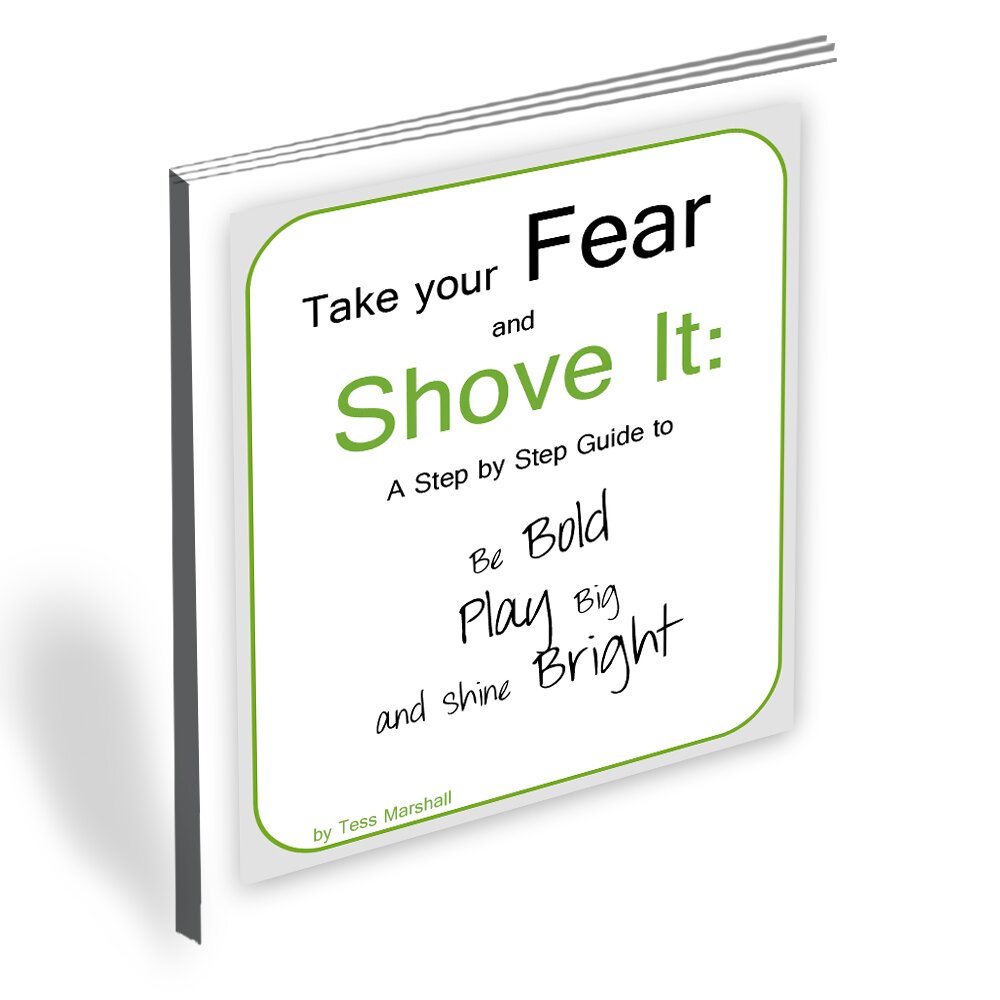 Related Posts