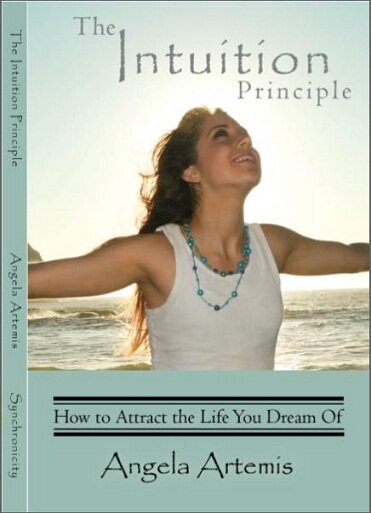 Interview with Angela Artemis, an intuition coach, from Powered by Intuition on her new book, The Intuition Principle. Enjoy!
I love your new book The Intuition Principle, can you define intuition for us and how can we best detect it?
Intuition is defined as information that spontaneously appears in our awareness without any conscious effort on our part. Intuitive information comes into our awareness as a result of our brain searching all of our memory banks. Once it finds the answer it brings it up to our awareness very quickly which is why intuition often feels like an "aha" moment.

To become aware of your intuition take notice of those "aha" moments.
Make time each day to get quiet. You can meditate or even go for long walk. When you are calm and quiet you will notice "insights" coming to you. This is your intuition – intuition is your own inner wisdom and guidance. The more you create the intention to hear it the more frequently you will.
What are the best ways to develop our intuition?
The best way to develop your intuition is to "listen."
Create the intention that you wish to hear this inner guidance. In order to hear it you will need a relatively calm mind. Intuition is often a "whisper" that passes through the mind very quickly. This is why I'm such an advocate of meditation.
Learning to calm the mind and slow down the constant internal chatter allows you to hear your intuition more readily. As I stated earlier you can even take walks if you find that calming. Many people hear their intuitive voice when they are gardening, washing dishes, driving or taking a shower.

Intuition is a very natural process.


It is very subtle so don't expect to hear and booming voice directing you to do this or that or to see a burning bush. Your intuition is your internal voice. If you can recall a time when you did something and at the moment you did it your heard a little voice inside saying, "I shouldn't have done that!" You heard your intuition.
I love the first sentence of your book, "When you live an intuitively inspired life the world will come to you." That's exciting stuff! Tell us more about that.
When you follow your intuition you make wiser decisions according to who you really are at your core and what is truly right for you, rather than decisions based on what others think you should do or what society dictates. Listening to your intuition puts you in touch with the "authentic" you.
For example, when you feel an aversion to doing something but, you do it anyway the aversion you feel is your inner guidance trying to communicate to you to examine your choice. When you follow your intuition and do the things that make you feel joyous, motivated and excited you live an "intuitively inspired life."
You feel "inspired" to do the things you do – and it is that joy and inspiration that brings "the world to you." When you are inspired and exude joy others will be drawn to your energy as will more opportunity for greater success in every area of your life. When you are "intuitively inspired" you become a dynamic and magnetic force in your own life!
How is prosperity and synchronicity related to intuition?
As I mentioned in my earlier answer about what it means to be living an "intuitively inspired" life, we are compelled to do the things that resonate with us at our core when we listen to our intuition. Doing the things that make our "heart sing" makes us feel joyous and this attitude is what makes you magnetic to others.
When you are dynamic and magnetic more opportunities to prosper arise in your life. Many of these opportunities will be synchronistic, meaning they will be "fortunate coincidences."
A synchronicity occurs when you run into someone out of the clear blue who has a solution you need, or an opportunity for you that is just the thing you need right now. Prosperity and synchronicity are related to intuition because following your intuition is what places you in the right place at the right time to be the recipient of synchronicity and ultimately prosperity.
What are some of the roadblocks to intuition and how can we overcome them?
The biggest roadblocks to intuition are being overly attached to an outcome and not trusting our intuition.
When you're overly attached to an outcome you won't hear your intuition. Your ego, which speaks much louder than your intuition, will drown out the subtle whisper of your intuitive voice. You also create a lot of inner tension when you're overly attached to a specific outcome.
Tension also blocks your intuition. You need to relax and detach from the outcome and be willing to hear something other than what you want. Take long walks in nature. Meditate. Repeat affirmations such as, "I' now let go and release this situation to a higher power to solve."
Slowly allow yourself to detach. Wait until you feel no emotional attachment about the outcome. When you reach that point of "surrendering" and being okay with whatever happens the answer will arise on its own.
Most people don't trust their intuition. They question whether they "made it up." In the beginning when you start to tune in and you hear the internal voice for the first few times you will feel as if you made it up. That's natural in the beginning. But, in order to trust this voice you have to get past that.
The only way to trust this voice is to have faith that you are correct by acting on the information you received. After you do this a few times with success you will begin to trust this inner voice.
With so many books to choose from, what makes yours the best, what makes your stand out?
If you are looking for a roadmap to finding your true purpose, passion and path in life then "The Intuition Principle" is for you. It is a guidebook for uncovering your authentic self by following your intuition. Learning to navigate your life by intuition is the most direct way to finding the joyous life you've always dreamed of living.
The Intuition Principle is different because it is a book about finding your true calling and then sharing your gifts with the world rather than just a book about developing your intuition.
The "principle" itself is what makes the book stand out. "The Intuition Principle is a concept that within you exists an innate technology, your intuition, capable of both guiding you to and attracting to you the life and happiness you have always dreamed of." P. 10 "The Intuition Principle."
Activating the intuition principle will not only lead you to opportunities but, will place you in the right place at the right time when they occur – in essence "bringing the world to you."
Angela Artemis, an intuition coach, is on a mission to teach readers around the world to "speak intuition" so that they unlock all the brilliant potential that resides within and start successfully living the life of their dreams now – not later. She blogs at www.PoweredbyIntuition.com and is an Amazon best-selling author. Her newest book is, "The Intuition Principle: How to Attract the Life you Dream Of," Readers are welcomed to download free bonus material here.
Angela is giving away two copies of her book. Please leave a comment below and you'll be included in the drawing to win.