"To get something you never had, you have to do something you never did." ~Unknown
Everyone is afraid. There are two kinds of fear, one that protects us from danger and the other is self-created and keeps us from your dreams.
We share common fears.
We feel we could be wrong and insist on being right.
We feel inadequate and fail to do what we love.
We feel unworthy and keep others at a distance.
We fear the future and stay stuck in the past.
We fear who we are and we fear who we can become.
If you feel dismay, uneasy or depressed you are afraid.
These fears are self-made. They keep us stuck, paralyzed, and anxious. They cause us to live in the pain of the past or the fear of the future.
To live fearlessly doesn't mean you live without it. To live fearlessly means that you take the action needed to dissolve your fear and participate fully in life.

What do you need to do in order to get what you don't have? Bold people know what to do with their fears.
The following steps will help you create fearless times and a happy future.
Examine your thoughts. Identify your irrational thoughts of chaos and pain. These thoughts turn into stories and perpetuate your fears. Use your power to create and believe in positive thoughts and stories. It can be that simple.
Surrender the outcome. It's easier to take action when you are willing to let go of the outcome. So what if it doesn't work out. So what if you fall flat on your face. So what if you fail. Make up your mind to take the first step, no matter what happens. Then take another step and another.
Sit with fear. Sit in silence and allow your fear to surface. Identify what you're afraid of and notice how your body responds. Begin to breathe through your fear. Deeply from your abdomen, breathe in for seven counts and pause. Let go by breathing out slowly for seven counts. Notice how your body responds to your breathing.
Replace fear with self-love. When you feel fearful, reassure yourself by repeating silently, "I am OK. I can do this. I will get through it no matter what." Accept what you are experiencing. Comfort yourself. Drop your judgment and self-rejection. Open your heart and be gentle with yourself.
Meditate. Sit comfortably in a chair with your feet on the ground, and your spine straight. Place your hands in your lap. Take a deep breathe in and release it. Focus on your breathe. Be with the feeling of fear and everything it brings up. Accept it. Allow it. You don't need to solve anything. Simply breathe through it and release it.
Let go of the past. Forgive yourself for you previous errors or mistakes. Nobody succeeds at everything they do. When you know better, you do better. Every failure is a step closer to success.
Let go of looking stupid or feeling silly. Put aside what people think of you. Put aside the fact that you might look or feel stupid. Are you going to let that stop you? Professional speakers are taught to keep going when they make a mistake, 95% of the audience never notice.
Accept change. Good and bad, unexpected events happen in our lives every day. Choose to look at change as a gift. Accept it. Learn from it. Be open for the purpose it serves. Learn to go with the flow. Learn to be grateful for change.
Focus on what you want. Spend your time wisely. Learn to say no to what takes you away from your dreams. Keep your eye on the prize. Don't give your valuable time to others. 
Try new things. Be open to experiencing new things. Do what you've never done before. Be the first one to say, "I'll go first. That's for me."
Life is like a banquet. Pull up your chair and participate.
Have positive expectations. Expect things to work out great. Expect things to go your way. Expect help from others. Expect the universe to support you. Expect others to say, "yes."
Seek support. Bold people seek support from mentors, teachers, coaches, family and friends. Talk to somebody that supports you. Pay it forward when you have the opportunity to help others. 
What is your biggest fear? How can you move through it?
Please join The Bold Life for free and receive my free guide, Peace, Love, and Connection. Please share this post with a Tweet and a Like.
Related Posts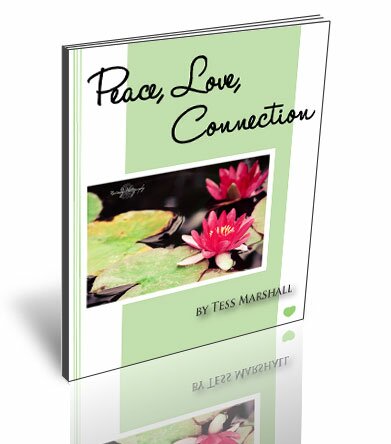 Sign Up & Receive Instant Access to
Your FREE Gift:
Peace, Love, & Connection

Learn how to successfully cultivate these three qualities in your life.
The flow of inspirational gems will spark tenderness and joy within your mind, heart, and soul.
You'll also receive fantastic tips, discounts, blog posts, give-always & more!