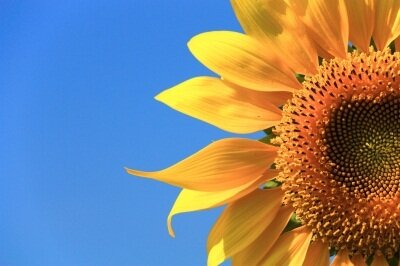 Everyone wants to live a good life.  I think it's a great idea. Not only is it possible, I think we can begin to create it now. For me, a good life is about integrity, values, service, and purpose. It's less to do with fancy belongings and material riches, although I do have a combination of both.  
Tammy Strobel from Rowdy Kittens is an amazing example of how to live the good life. She has given up all fancy belongings and material riches and she volunteers her time, talent, and a portion of her income to those who are in need. Some may think she's a bit extreme. Her lifestyle doesn't appeal to everyone. I admire the lifestyle Logan and Tammy have chosen.
Also, Leo Babauta has a new book, The Effortless Life, I purchased it Friday and I'll post an interview with Leo soon. I see Leo as the guy who continues to reign in those of us who try too hard and complicate life. If I put into practice 1/4 of what he advises, I would float through life!
Even though I'll never be as simple they are, I can learn from their lifestyles.
We can all begin to make both internal and external changes. My emphasis today is on the internal changes involved in living a good life.
Tips for Living the Good Life:
Let go of fearful imaginings.


Look for the best in people.

Seek for opportunities to be more loving.

Believe in someone who doesn't believe in himself.

Look for beauty in the ordinary.

Tell someone that you love them.

Create one good habit in the next 30 days.

Go out of your way to help somebody.

Read spiritual material.

Notice and appreciate synchronicity.

Admit when you are wrong.

Realize how important you are to someone.

Pray for an understanding heart.

Send blessings to everyone.

Celebrate an accomplishment.

Adopt honesty as a personal practice.

Ask someone for what you want or need.

Track your spending.

Walk through a bad mood.

Pay attention to what is holding you hostage.

Mindfully eat an apple.

Forgive yourself for something.

Appreciate your life as it is today.

Breathe through a fear.

Call someone and offer to make amends.

Commit to being polite and patient.

Get comfortable with speaking your truth.

Be kind.

Donate your time, talent, and money.

Send a hand written thank you note.

Ask for support, be willing to receive assistance.

Do something out of your comfort zone.

Go outside and play.

Plan a day trip with a friend.

Take an electronics free day.

Think, write, and speak gratitude and appreciation.

Visit someone who is lonely.

Spend time doing nothing.

Find ways to touch and allow others to be touched.

Establish a healthy diet, eat more green and less white.

Practice good posture.

Listen to your favorite music.

Set an intention to enjoy your day.

Listen to your intuition.

Do something that sparks your creativity.

Create a weekend retreat for yourself.

Keep an open mind about a situation.

Look for proof that the world is a generous place.

Have faith in yourself and in your purpose.

Support another person's dreams today.

Expect that others will always be there for you.

Give recognition to your friends.

Remember sometimes it's better to not get what you want.

Opt for happiness.

Put your energy in the here and now.

Choose to make the best of a difficult situation.

Change the story you tell yourself.

Give yourself a lot of room for growth.

Have faith that any difficulty you have can change in the blink of an eye.

Dare to turn your life around by heading in a new direction.


Enjoy your wonderful life.
What are your ideas about the good life? Please share with us below.