Minimalist, Courtney Carver, from Be More With Less is launching her new book today. I thought it was a perfect time for an interview. I've been inspired by her minimalist lifestyle ever since meeting her last fall in San Francisco.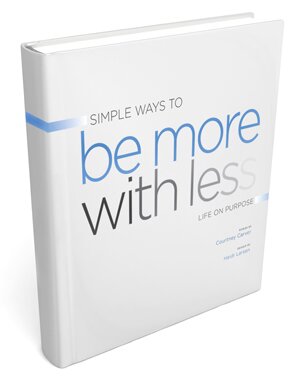 "My name is Courtney Carver and I am a 41 year old, aspiring minimalist. I am (so happily) married, and mom to a teenage daughter. I am a writer and photographer. I love yoga, creating simple meals and hiking and skiing in the Mountainwest. I also love to travel and have my sights on a future in Mexico, living simply, on the beach."
1. What is minimalism and how did you get interested in it?


There are different definitions for minimalism. For me, it is quite simply, clearing the clutter to identify what is really important. Clutter might be in the closet, on the calendar or even deeper than that…in your mind! 

I blog three times a week, share world changing art, and started a fashion project that may not be changing the world, but is changing closets around the world.

The Bold Life: Isn't that the truth. I do think when I clear my mind clutter I'm less likely to have it other places. Once we decide to live clutter free nothing is left except the meaningful.

2. You say you are an inspiring minimalist? What is the difference between where you are now and where you want to be? Fill in the gap for us.


I think I say aspiring minimalist. I'm still learning about what I can live without. A year ago, I thought I needed cable TV, now I know that I don't. A year ago, I thought I needed a closet full of clothes, and now, thanks to Project 333, I know I can dress with less. I am sure I will learn to live with less of other things as I move forward.

The Bold Life: LOL I think you should change it to inspirational minimalist! As you can see you've inspired me! If you're serious about living on the beach in Mexico I'm sure you will! If anyone can be that free it would by you, Courtney.

 3. I love the simplicity of your book. How did you come up with your format of including other authors?

Thanks, I worked with an amazing designer named Heidi Larsen. You can find her on Twitter.


When I started writing the book, I knew I wanted to include chapters from the people that have inspired me along my journey. Each of them have very specific strengths that I wanted to include.


I wasn't sure if they would all agree, but they did. Leo Babauta, Joshua Becker, Everett Bogue, Dan Goodwin, Jonathan Mead and Tammy Strobel all graciously agreed to participate.  

The Bold Life: You're bold Courtney. I like bold!

4. I love the idea of a distractionless walk. How did we get so far away from simple activities? If I take my new camera along on my walk will it become a distraction?


I think Simple activities were replaced by our need for more. We want to make more, spend more and have more, and you can't do that by taking a walk. I am a photographer myself, so understand how tempting it is to take a camera everywhere, but I recommend leaving it at home sometimes. See the day through your own eyes, instead of through a lens.  


The Bold Life: I can handle sometimes! I'll begin there;)

5. You state that living debt free is the most important thing to do when choosing to live with less. I agree! However we weren't debt free until our 4 girls college. Can you give our readers a few tips for getting out of debt ?

Getting debt free can be the hardest thing, but it is so rewarding! I used to honestly think I would always carry credit card debt and have a car payment. I thought it was just the way it was. We made our last car payment in July 2010, and it is so freeing to be able to make decisions without money being the primary factor.


There's a chapter in my book about how I became debt free and I think it will be helpful to readers struggling with debt. 


The Bold Life: That chapter certainly will help! I would add it's never too late to begin.

6. Do you have any final words of wisdom to share?


I'm still learning and hope I always am, but my advice today is get started on whatever you want to do. Don't wait for the perfect time, or until you are rich enough, thin enough or strong enough. Just start.

The Bold Life: I'd encourage everyone that wants to live more with less to read Courtney's blog!

If you want a jump start with her best advice along with the advice of five other experts, A Simple Guide to Be More With Less is the way to go. (affiliate) She's certainly influenced the big changes I've made in my life.
No related posts.