Did you ever taste a strawberry? Not just eat it, taste it?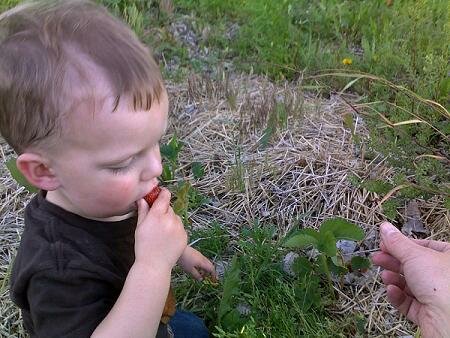 When we were kids one of the first jobs on the farm in summer was picking our 5 acres of strawberries. 
The wet dew on the leaves, the bees buzzing, the wild daisies dotting the landscape and the smell of the red berries ripening in the morning sun made living in the present moment simple and the work delightful. 
The first berry we popped in our mouth only seduced us into finding a bigger and sweeter one. When it was time to break for lunch we were never hungry!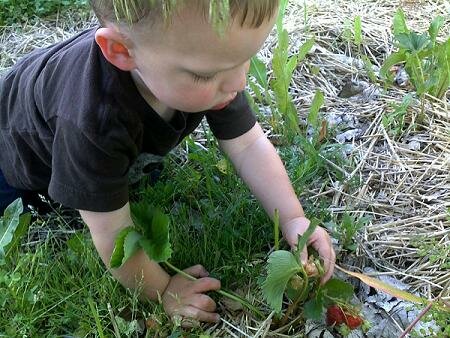 On my early morning run, while visiting daughter no. 2 a couple of weeks ago I spotted wild daisies growing along the path. 30 minutes after I finished exercising, Niki, little Henri and I found ourselves in the strawberry patch on a U-Pick farm nearby.
Henri eats fruit for breakfast daily. He was amazed to see natures berry bowl with sweetness hanging on the plants ripe for the picking. His own sweet hunt was on! He was grabbing green, orange and finally red ones.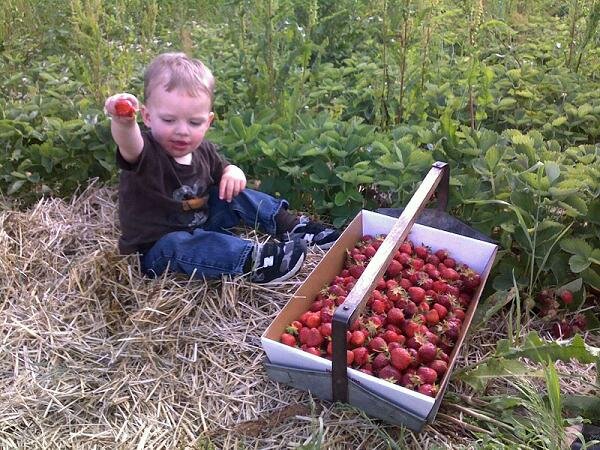 It was pure joy to see Henri experiencing fruit growing in the afternoon sun. Something many children or adults never know.
This summer instead of heading to the grocery store find a U-Pick farm and delight in the sights, sounds, taste and smell of summer.
Grandson no. 2 loves baseball. Love this next photo! My daughter sent this one from his game.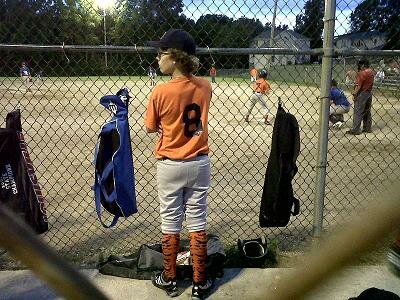 It ain't over till it's over. -Yogi Berra
My oldest grandchild turned 16 in April and now drives. She's getting her great grandmother's car 4th of July weekend.Remember when you were 16?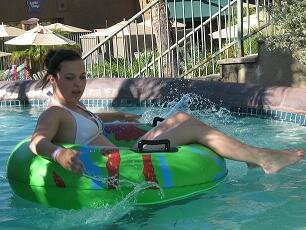 Mackenzie has spent her first two years of high school on the swim team. Last winter my daughter enrolled her in a life guard class with hopes of her getting a summer job at their community pool. 
Tuesday she had her first interview and is now a life guard. She is making nearly $8 an hour which I believe is nothing short of a miracle these days. 
Seventy-five percent of our planet is water – can you swim? ~Author Unknown
A few weeks ago Caroline from No Wordz Photography took some photos of me for my blog redesign. It was so much fun to meet another blogging buddy. Stay tuned for the unveiling…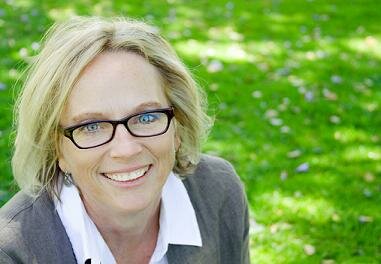 Caroline took this photo at a park near Manhattan Beach. Notice the tiny purple flowers on the grass in between the leaves!
In June, as many as a dozen species may burst their buds on a single day.  No man can heed all of these anniversaries; no man can ignore all of them.  ~Aldo Leopold
My friend Joy at Unfolding Your Path To Joy has written about summer today as well and invited others to do the same. Check it out…you'll love it.
Also I'm being interviewed at "From Bottom Up" by Hulbert Lee today. Please stop by and check out his amazing blog. Some of his interviews are nothing short of amazing!
Happy summer everyone!
Related posts:
Subscribe: Did you enjoy this article? Subscribe for free by RSS or e-mail and you'll always know when I publish something new.
Share this post    Stumbleupon  |  Digg  |  Del.icio.us  |