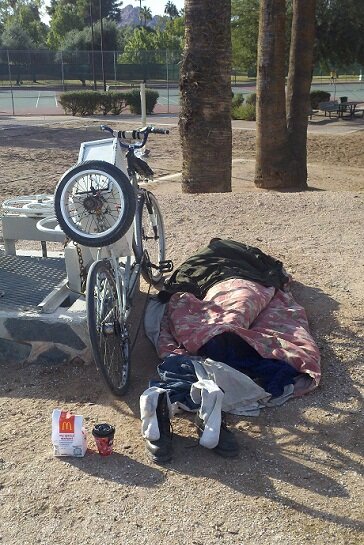 Saturday was a beautiful morning, the sky was smiling blue and the gentle breeze made the palm trees dance.
I went for a six mile run along the canal, my favorite trail, away from the cars, pollution, and sidewalks. Hubs came with me on his bike.
The trail is shared by many runners and as we pass each other I feel like a member of a healthy bunch.
Occasionally there is a homeless man that sleeps there. If I see him, I say a blessing and wish good things for him.
This time hubs and I decided that when we finished the run, we would pick up breakfast for him.
I grew up In the the Catholic church where offerings are made in gratitude for some favor that is granted. An offering is a way of giving back.

As a child I witnessed and joined my parents in making offerings. For our family it was a way of life. For example, we owned a produce farm. On Sundays we would take offerings of fruit and vegetables to the city and deliver them to needy families.
You don't need to belong to a church to make an offering. What is needed is a genuine heartfelt gratitude and appreciation for what you have. Offering becomes a way of life, a part of who you are.
Agapi Stassinopoulus, in her article for the Huffington Post, suggests offering is a way of empowering ourselves.
"In a world that is so used to trading, to exchange — I'll give you this and you give me that–we have lost one of the most precious free gifts, and means to empowerment, the gift of making an unprompted offering. This sort of offering is not a planned, wrapped gift, but a spontaneous offering, without a box, without a bow, and without the expectation of something in return."
We live in a world of fear, lack, and greed. It's easy to come across articles and conversations about "not having enough" or "how to get more." Seriously, who isn't worried? Who doesn't want to make sure their "supply" doesn't run out?

Many people are angry. Many people struggle to keep their basic needs. Many more have lost everything.
It's important to take a stand, take action, and do what you can to make your life and the world a better place for yourself and others.
Agapi suggests, "instead of dwelling on these disparities and become disconnected and withdrawn, what if we were to tap into an internal well of offering, and instantly strike a new source of wealth?
We also live in a world of abundance. What will you offer?
Your offering can be tangible. It doesn't have to be. You can offer kind words to someone who is beaten down, offer hope to those who have given up, offer help to those who are overwhelmed, offer a text to someone who is hurt, offer understanding to someone who is confused, offer a time to someone who is old.
When we moved to our new home we rented a truck and hired three men to help us.
It was 90 degrees on moving day. One of the men shared that he was 59 years old, he was slow and walked with a limp. I noticed that each of them wore old and worn out shoes, with little support.
Hubs and I immediately decided to help. Together we talked, laughed, and made a tough job seem like fun.
When the last box was lifted off the truck we had turned our movers into friends.
Before they left, I asked if they would give me their names, addresses and shoe sizes. I offered to get them each a new pair of shoes. They were thrilled and asked if they could hug us goodbye.
Look for opportunities to make offerings throughout your day. Again, It doesn't have to be material. Offer your peace, offer your compassion, offer your laughter, offer your friendship, offer your time, offer your talents, offer non-judgment, offer love.
You will be given countless opportunities everyday to make offerings. Seize them. You'll feel peaceful, rewarded, abundant and blessed.
In celebration and gratitude of all that you have, I invite you to make an offering today.

What offering have you given or received that has made a difference? Please share in the comments below.