I've returned home after my 3 week trip of visiting friends and family. I'm sooo far behind with reading all your blogs and I'm planning on catching up this weekend!
 Today I'm talkin' to my blogging' buddy Jannie Funster, a musician and "queen of fun and funny." Jannie is crazy, awesome and authentic. She has helped me become a better person and a better writer.
Jannie is a currently working on her 2nd CD!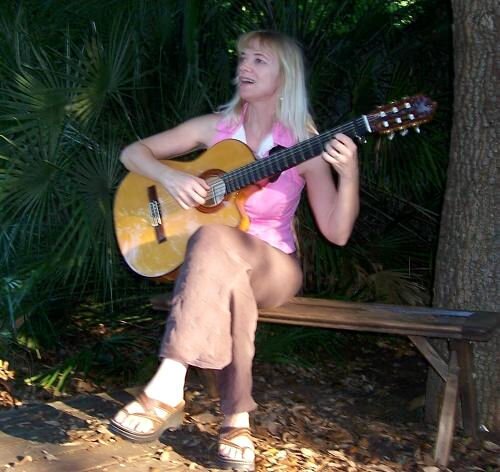 Jannie will have you laughin' out loud with her stories about her family, music, bra flingin' and doughnut eatin' contests, and a whole lot more!
 I laugh at her content, comments to her readers, and comments she leaves on other blogs! She has a cool "blue eye" avatar and I'm always scanning for it in the comment section on other blogs  because I'm not missing out on one flippin' laugh!
Jannie, whose music has influenced you the most?
Well, ahh, Gosh. (Chuckles. Sips hibiscus tea. Pets sleeping cat.)
Hmm. Who knows what strains of summer sunset sonnet and wild winter winds have traipsed through these fibers of my being? And the fibers of all songsters who have come before? And those yet to be born?
But (Chuckles more…) Let's say – who did I listen to a lot? I totally od'ed on the Rolling Stones from ages 16 to 18. In college I hung out at the top of the chestnut tree with Bob Dylan, Janis Joplin, Harry Chapin, Jin Croce, Meatloaf, ELO, and many other friends. Later I danced on oceans with Joni Mitchell, Leonard Cohen, Handel, Bach, U2 et al.  Too many influences to name probably. ? I hear the Beatles are good – I think I'll start listening to them next.
The Bold Life:

I love the oldies but goodies. The Beatles…yes I heard they were good as well. ! I was in fourth grade when I begged my mom to buy me bubble gum that came with Beatle trading cards! Darn I wish I would have kept those cards;)
When did you first realize you could sing?

I remember performing "Put Your Hand In The Hand" a capella in a church talent show when I was 8 or 9, and the next week friends at school kept asking me to sing it again and again.  So I did!  And I've kept on singing. But I did not have formal singing lessons until I was 34.
It's only been maybe in the past year I feel I can sing well. It's been a process, one I felt like giving up on many times when I'd play my home-recordings back, hear all the off notes – and cry.   But I persevered!  And here I am.
Whoo-hoo!!
The Bold Life:
It's been so much fun watching you progress. I so enjoyed the way you shared your journey of creating your first CD. I remember thinking "A Star Is Born." I even left that in a comment for you!
Who is your favorite comedian?
Cool question! My all-time fave is George Carlin, God rest his soul. The energy of Robin Williams in his stand-up is great too.  Oh – and Steven Wright! You know the "No matter what temperature a room is, it's still room temperature," Steven Wright?  I love quirky kooky comics.  The Monty Python guys are brilliant!!

The Bold Life:
I'm not sure who Steve Wright is…I better go find him on You Tube. Now that I think of it I've never looked for any comedian there. I'm so intense at times…
When did you first realize you were funny?

What?? Am I funny? Maybe sometimes, eh? I guess we all are in our own ways.  I do remember they called me "Jolly Jan" in junior high.
And now I'm officially Jannie "Funster." I lucked into that last name when I presented a funny-ish tune at a songwriting seminar a few years ago, and a week later I'd banded with 3 other fun-loving musicians into a comedic conspiracy of song, dubbing ourselves "The Funsters."

The Bold Life:
I always thought Funster was your last name (chuckling)! How lucky the others are to be in your band. Do you need anybody else? I can't sing but I can smile and look good!

What does a typical day look like for you?

Ahhh, coffee and chocolate cake around 6:30, followed by 11 buttock lifts on each side, 2.5 deep knee bends, then 3 leaping splits over the laundry hamper with a loud whoo- hoo on each.
Get The Child up and off to school.
Chase some squirrels around the woods.
Come home and dream up blog posts, songs and poems.
Skip outside and take pictures of clouds, sticks, and the occasional stray dog.
Eat a light lunch at the top of the live oak tree.
Retrieve The Child and spend Quality Time with her.
She takes piano, martial arts and gymnastics, so she keeps me hopping.
Although, at this writing she has just broken her arm (again) and will be off her regular schedule for the next 6 weeks or so. Poor sweet baby.
Mosey on home in the old Honda minivan.
Whip some nice preservative-free frozen dinners into the microwave.
Open a bag of pre-washed greens, and Newman's Own balsamic.
Pop the top off a Big Heineken – you know the 24 oz size.  Sometimes I can even drink it all.
Watch Meg Ryan movies with the hubs.
And drift towards the sleepy time hour, 10:00 lights out for me.

The Bold Life:

Jannie, that's what's so fun about your blog. You make me feel like I'm sitting in the tree with you, eating doughnuts and dreamin' about life. 
Where Do My Song Ideas Come From?
Another great question! Mostly from passing thoughts. Observations.  Needs. Wishes. Hopes. And from that mysterious locale — that je ne said quoi region of the heart I here and now dub "the wonderment of it all." 
I'm pickier now with the songs I bring to fruition.  A lot of those on my "I Need A Man" CD were for me, when I was exploring the recording process, learning to sing harmony – learning ALL really.  And nervous as heck throughout, but something inside me would not quit.
The next 12 songs I'll record will be for YOU — for the world, if that makes any sense.  Some of them are being written from the pure love of being alive. Others to comfort.  Others to heal. Others to bring a smile. You'll just have to hear them, as compared to my "I Need A Man" CD to know what I mean:) ? 
Well… that's about it out of this little funster for today, Tess.  Lunch in the live oak tree calls – hey the same tree beside me in this photo!  I planted it in our back deck in 1994.  I planted that fan palm too. Kelly took the picture a couple years ago, when she was 6.
THANKS so much for having me today.  I've already said this, but I'll say it again – I LOVE you and your blog!!
Over and out, Wonderful Tess. 
Over and out.
xoxox

The Bold Life:
Jannie thanks for being here with us today. I can't wait for your new CD! I know all your fans feel the same way.
The laughter and music you brings joy to us all and I'm sooooo grateful for your gift and your willingness to share it with the world.

Over and out Jannie Banannie! Tess xoxo
Be sure to sign up on her RSS feed for updates on Jannie's family, music, laughter and love. Follow Funster on Twitter as well!
Related posts:
Subscribe: Did you enjoy this article? Subscribe for free by RSS or e-mail and you'll always know when I publish something new.
Share this post    Stumbleupon  |  Digg  |  Del.icio.us  |