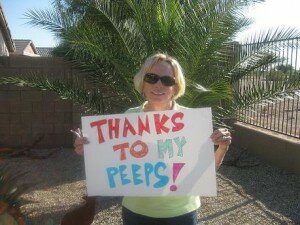 "At times our own light goes out and is rekindled by a spark from another person. Each of us has cause to think with deep gratitude of those who have lighted the flame within us."
                                                                            -unknown
I want to thank everyone who takes the time out of their busy schedule to read and comment on my blog. I'm blessed to have you in my life. You have brought me to my second year!
Many of you helped me along the way with technology, inspiration, tweets, links and motivation.
I wouldn't have reached this milestone without your help. I appreciate each and every one of you more than you know.
I invited everyone who commented on my birthday to help celebrate by leaving a link to a favorite post on their own blog. The following talented writers did just that.
I hope eveyone finds the time to visit these blogs and read the stories. They will make you laugh, cry, and smile. They will encourage you to shine your light a little brighter. I know because that's what reading these blogs have done for me.
If I can help anyone  in any way just let me know. You can reach me on my contact page or Twitter. 
Click on the link to find their favorite post!
Jay Schryer from Porsidan. The life and times of an eternal seeker.
Stephen from Simply Stehpen. The main hub of a network of sites. The focus here – green, simple living
Stacey from Stacey Shipman,M.Ed., is dedicated to bringing you back to your senses. As a wellness educator, speaker, writer and media host, she is passionate about to helping women live a happy, healthy and balanced lifestyle.
Jan from Awakened Living. A new community for women!
Jill from Mama of 6 shares her thoughts on her magical journey called life. Striving to live her truth and let her Spirit shine.
Ann-Marie from Wilma's Blog-This blog is part of WomenLikeMe, an online learning program which encourages women to embrace living life differently by questioning the status quo and becoming skilled to live into their greatness. It's where women connect, question, observe, learn and act. 
suZen from Erasing The Bored Uplifting and Creative Motivation for Living. 
Lance from Jungle of Life The link will take you Lance's other blog where he is raising  money for breast cancer research. 
Janice from Sharing The Journey Soul food and support for coaches, writers and homemakers.
Sara from Sara Healy A place to connect and share things on this journey called life.
Patti from Why Not Start Now? Adventures in meaning making.
Joy from Ethereal Joy. Humor, inspiration, encouragement from a single mom raising her children on a 40' sailboat named "Ethereal Joy"
 John from High Life 2 Be Personal Improvement for Life
Evita from Evolving Beings hopes to inspire and awaken you to achieve and live a life based on balance, fulfillment, unconditional love, joy, passion, accountability and peace with oneself and others. May the material you find here encourage you to grow consciously and spiritually, as you manifest the highest version of yourself.
Keith from Think For Money The Mind Is Where It All Begins.
Diantha from Life Potentials Expert on color and Feng Shui and so much more.
Davina from Shades of Crimson Forget everything you think you know about personal development.
Mary from Creative Endeavers Words of wisdom from the Dolly Mama.
Wilma from Wilmas Blog  is co-founder of WomenLikeMe, an online learning program which encourages women to embrace living life differently by questioning the status quo and becoming skilled to live into their greatness. It's where women connect, question, observe, learn and act.
Hayden from Through The Illusion to Boldly Go Where No One Has Gone Before.
Angela from You Think You Can Blog Living, Loving Laughing…Come with me. We'll laugh. We'll cry. We'll dance.
Mark from ToBeMe Join Mark on his spiritual journey and check out his book while you are there.
Julie from Julies World is passionate about holistic living, where a balance of nature, humanity, and spirit creates an inner garden sprinkled with happy joy. …where happiness permeates the ordinary moments of everyday life. …and deeply provocative philosophical thoughts lead her toward new discoveries, new answers to my favorite question: "Why?"
Jannie from Jannie Funster, blogs like there's no tomorrow (or today!) and sings songs. She flings her bra into tall trees on moonlit snowy nights. She whistles and skips most everywhere she goes. She fandangos in grocery aisles. She lives in Austin, TX with 1 husband, 1 daughter, 2 dogs, 1 cat and 5 fish.
Dani from Positively Present Living happily ever after now.
Peggy from Serendipity Smiles is out saving the world or helping others help themselves. She is dynamite, passionate and a joy to know.
Zeenat from Positivity Provocations  aims to heal the world one blog post at a time-Spreading Positivity, Motivations, Inspiration, Love & Happiness. Check out Zeenat's free online therapy!
Daphne from Daphne and Donald began their blog after facing unemployment. Here they chronicle their xperiences, struggles, and hopes for our life ahead.
Again, thank you for sharing your joy and for being in my life. I love you, I appreciate you and I bless you.
Thanks again!  Tess xoxo
Related posts:
Subscribe: Did you enjoy this article? Subscribe for free by RSS or e-mail and you'll always know when I publish something new.
Share this post    Stumbleupon  |  Digg  |  Del.icio.us  |