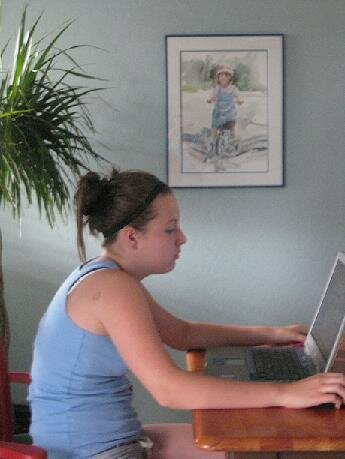 Most people who know me know I don't like to swim and I'm not crazy about the water. I witnessed my sister's boyfriend drown when I was 15 but that's not when I stopped swimming.
I don't like swimming like someone else may not like running. This dislike of mine was passed on to my daughter and then my grandchildren.
Each time my grandchildren, Mackenzie and AJ, would attempt to take swimming lessons it just didn't work out for them.
I would always find my grandchildren playing in the shallow end of the pool. I wanted them to learn how to swim. I thought my daughter should have pushed them more. She said one day "mom, you raised your children like you wanted. These are my kids and it's my turn to do it the way I believe is right." Point taken!
So I decided I'd have to look at it as: No big deal. Not my issue. No one asked for my opinion (although it was killing me on the inside;)
A couple of years ago, Kenzie's brithday party was held at the indoor pool. Later I asked about her party and she said, "I didn't have fun, all my friends were in the deep end of the pool. At least one of them could have stayed with me."
This was a turning point for Mackenzie. She made up her mind, she was going to learn how to swim, nothing was going to stop her. Her mom and dad were both working full time and were unable to take her back and forth to swim lessons that summer.
We were moving to Arizona that September and my husband and I were spending our summer packing, planning, and bringing closure to that period of our lives.
Because they lived three hours away, I decided with my daugher's permission to have Kenzie and AJ stay with us for two weeks. I signed them up for swimming lessons in the morning and art lessons in the afternoon. They called it "Nana's Bootcamp."
I couldn't leave Michigan (home of the Great Lakes) without them learning to swim. It just didn't make sense. The first day they discovered they were the oldest in the class at 13 and 10. Everyone else was five and under.
Mackenzie was eager to begin. She did everything required from the first moment on. AJ not so much. After the first week AJ was still refusing to put his face in the water.
At dinner they would tell "Pops" all about their day in the pool. One evening Roger said to Mackenzie, "Kenz you were ready. You were hungry to learn." She responded, "Pops I wasn't hungry I was starving!"
They weren't crazy about their art lessons which surprised me. I bargained with AJ, if he kept his head under water the second week they could skip the last two days of art. It was a done deal.
We had a wonderful two weeks and celebrated with dinner and ice cream at their favorite restaurant. They went home proud, tired and happy.
Flash forward one year later. My daughter decided Mackenzie needed more structure and discipline in her life. When you're a Freshman in high school, you need a place to belong. My daughter had her join the swim team.
She hated it. Swimming requires practicing 4 hours a day. Two days a week she had swim meets and wouldn't arrive home until 10pm. Practice on Saturdays, if there isn't a meet, and Sundays make-up practice for anyone who was absent.
Practice caused her to be overwhelmed, exhausted, in pain, and frightened not knowing what to expect at a meet. A mother of a senior swimmer warned my daughter she would hate it and cry every day for three weeks. Then it would end.
She cried for daily for three weeks. She begged for permission to quit. AJ called my daughter at work one day and asked, "Mom why are you making Kenz do this? I can't stand to see her cry. Can't she just quit." The answer…no!
What was amazing was to witness her transformation from swim classes with small children to participating on a high school swim!
It was amazing to see her deal with the anxiety the first time she was required to swim the 500 knowing if you stopped during an event you are disqualified.
At her swim banquet last year, she received her varsity letter! Not bad for a Freshman.
It was nothing short of a miracle in my opinion. She was amazed and very proud of her accomplishments and muscular body.
Flash Forward to three weeks ago. Ending her 2nd year of swimming, Mackenzie won 1st place in the 200 freestyle and 1st place in the backstroke at her district swim meet!
Last night Mackenzie and her parents attended her swim banquet. She was one of five swimmers to receive a scholar/swim award. She'll wear it proudly on the sleeve of her varsity jacket.
In December Mackenzie will take the training required to become a life guard. She wants to work at the pool this summer.
A seed was planted at that birthday party nearly three years ago. Mackenzie was not hungry for "success" but in her own words, "starving."
The photo was taken last July when Mackenzie visited. In the background is a watercolor my friend painted when she was four years old.
The lessons she's learned participating on the swim team are lessons for a life time. She has grown her wings and has learned to fly. It's been a beautiful thing to watch her transform.
What did participating in a high school sport teach you?
Is there something you've wanted to give up on lately?
Related posts:
Subscribe: Did you enjoy this article? Subscribe for free by RSS or e-mail and you'll always know when I publish something new.
Share this post Stumbleupon | Digg | Del.icio.us |