Today I have invited Wilma (on the right) from Wilma's Blog to be my guest. Wilma and her friend Ann Marie are co-bloggers and also have a program for women called "Women Like Me."
I love everything about them… their unique writing styles, their commitment to live in integrity, their stories (they tell on themselves all the time) and the fact they are Kiwi's from New Zealand!
This quote sums up in a couple of sentences…their mission: 
"So we say to all you conscious women out there, who stand shaking at the cliff edge… "YOU CAN DO IT!" and we're right there with you through this blog." Bridge the gap from knowing to doing; become a woman you are proud of."
Sounds good, doesn't it?
Wilma is writing today. I'll feature Ann Marie when she returns from her trip to Ireland.
________________________________________________________________________
Life had become duty, work and fearful.  I had the odd vague yearnings of my heart, stirred by books, movies, music and nature. But they were short lived and I had no way to nurture them.
Thus life was grinding on until that blessed day my heart spoke up.  It did on the day that my clever heart saw John.
My heart saw him at work on a yacht owned by David Lewis, a well known sailor close to 80 years old who completely followed his heart and I could see that John did too.
Little did I know that from then on things were set in motion that led to remarkable results. Soon John and I lived together and my heart started to strengthen and got heard. On that day I began my new dance.
To illustrate what an incredible powerhouse the heart is I share one of its many stories.
One day, not being together that long we were sitting in our home, when I said to John; "Wood is no comparison with this carpet, don't you think?"
Of course John thought the same and as a man of action suggested ripping up the carpet.
Well, on hearing this, the mind which then had not lost its pizzazz yet, went; "What! This is perfectly good carpet, get real! Think of the costs, no way I will let this happen!"
Ha, but the heart had an alley, John and before the mind knew it, the carpet was gone and parts of wooden floor were being revealed. Parts is right, because shock horror, the old part of the house had indeed beautiful floors but the later additions had not and were a mixture of wood and particle board.
But a man with a heart knows how to fix wooden floors so for several months we lived in a mess and funnily enough enjoyed every minute of it. We ended up with the most beautiful floors ever.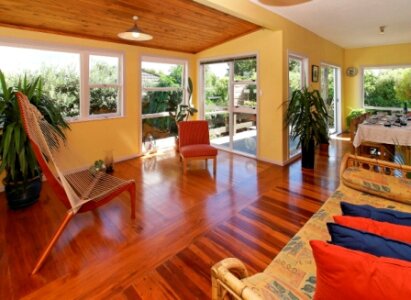 My heart sang every time when the sun was playing with the wood and my feet were dancing on the floor.

Having required a taste, the kitchen became the obvious next target for the heart.  "Oh no, I know what you are thinking" the mind protested feebly; "That kitchen is perfectly fine and good for another 5 years at least. You've gone crazy; stop it!"
But the heart and I had gotten bolder AND we knew we had John.
John keen to experiment with building a free standing kitchen for a possible boat design project – but that is another story – immediately responded; "Right, I am in, let's play!"
And it did literally feel like playing, working on this combined house and boat project the way we did.
We made prototypes, we endlessly tried and tested things and had the most glorious time experiencing this whole design and building process.
Instead of having a nightmare story to tell about renovating, we had great things to share and as a bonus I discovered my design talents. 

It was a blast to work in such harmony, building upon each other strengths and being so relaxed in the midst of chaos. We rocked.
And one day we had this most beautiful kitchen.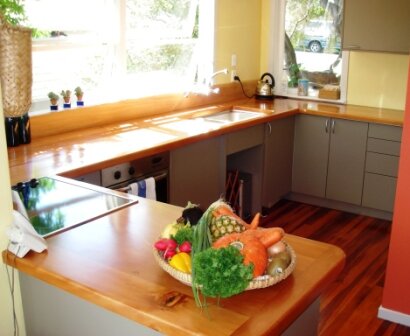 This time my heart sang because during cooking or baking I never ever ran out of space, thanks to its huge wooden spacious kitchen bench.
Life flowed calmly until next door two townhouses were being built. They took out most of our view of a nearby rain forest. On top of that John had run out of space to plant trees and shrubs.
My heart started to long for more nature. It dreamed of fruit trees, quiet surrounds and views of trees instead of town houses.
The timing was right too, we were building an online learning business so we could leave the city.
By now the mind had a measure of the heart and silently went; "Oh no, something is up, I can smell it. This kitchen, the floors, the garden, all this work AND money down the drain, I can see it coming. We are letting it go, right?"
Right was right. The house went on the market and we were moving to live in nature, a childhood dream coming true.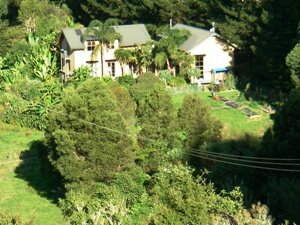 We were in.
As for our house! We found the best tenants ever, appreciating our lovely house.
So that is how an open heart and doing love in action can unleash a magical choreographed dance. 
And here we are, John and I, having an amazing  time in this Garden of Eden, growing veggies, fruit from our own orchard and ready for more adventures. What next?
When is the last time your heart danced?
When have you been in the flow due to putting your love in action ?
Please share your thoughts below!
Related posts:
Subscribe: Did you enjoy this article? Subscribe for free by RSS or e-mail and you'll always know when I publish something new.
Share this post    Stumbleupon  |  Digg  |  Del.icio.us  |