A couple of weeks ago I went back home for my father's funeral. It was wonderful to be with our large family: mom, brothers, sisters, aunts, uncles, cousins, nieces, nephews and friends.
All four of my daughters and their families were with us. A rare ocassion considering we live in various places, spread out across the United States.
We also spent time at our cottage in Northern Michigan. That's my husband, daughter and new grandson (in the stroller).
We enjoyed perfect summer weather and enjoyed strolling downtown, visiting the local ice cream shop and catching up on our lives.
Prosperity is often associated with money, yet it comes in many forms. Imagine my surprise when my daughter decided to quit teaching school and become a flight attendant. As parents we were immediate showered with free flights anywhere in the U.S.A., any time. Unexpected abundance!
I'm blessed to have a daughter working for South West. I fly often to visit my grandchildren and cherish the time I spend with them enjoying every second.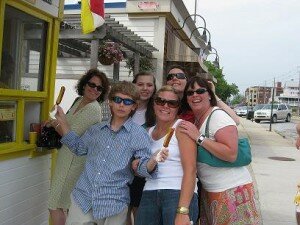 I do believe parenting is the most difficult job one can have. I once saw a poster that had a picture of a baby that read, "becoming pregnant is like grounding yourself for the next 18 years." Pretty clear, eh?
That was me! I became a mom at 18 and gave birth to all four girls by the age of 22.
I was not only grounded, I was a little crazy! And here they are years later, being and bringing blessings and prosperity to my husband and I…that just don't quit!
My 4 daughters, my grandson,, AJ front and center, and granddaughter Mackenzie 2nd from the left, in the back row.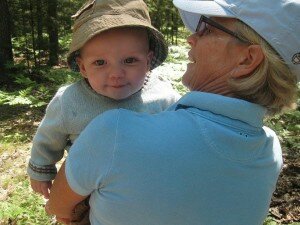 I encourage you to create time this summer to spend with your family and/or friends. Get away from your computer, Twitter and Facebook…make memories that last forever! You'll be happy you did…life is good!
Henri and I wearing our "Life is Good" hats.