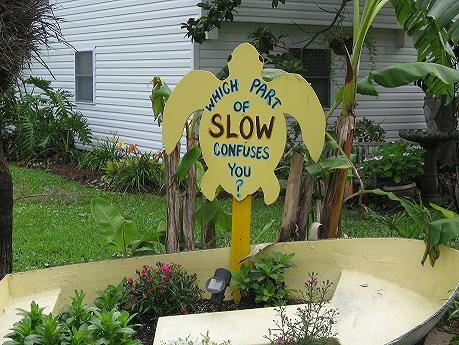 One tradition my husband and I have is to visit daughter Kristy in Georgia every Memorial Day Weekend. This year together we explored Tybee Island on Georgia's coast. A beautiful, colorful and laid back place, 18 miles east of  Savannah and where Savannah residents go to cool off.
Tybee Island beaches are important nesting areas for endangered sea turtles. They return to Tybee each year from May  to October 31.
I had to get out of the car and run through weeds to get this photo.
About 20 minutes later I wondered why me legs were itching and my husband said, "It couldn't be that you ran through grass and weeds to get that photo could it?"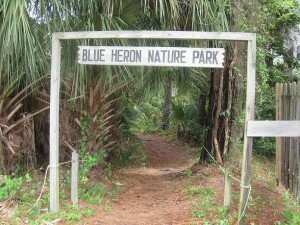 "The river is wide, the water fresh, and from the key of the town you can see its whole course to the sea, with the island of Tybee which forms the mouth of the river… The landscape is very agreeable."   -James Oglethorpe 1773
Being in nature brings out the best in people. There is no room for worries or troubles on this path way. If you are a nature love you will love exploring coastal salt marshes and beaches withnatural, protected dunes, and subtropical forests of live oak, pine and palm. 

I love grilling and we ate outside daily.  One evening we went out.
AJ's is where the locals go. A musician was playing his guitar and singing James Taylor songs.  Very close to the deck we saw five dolphins swimming.
The small barrier island boasts a wide, 3 mile long beach that's perfect for sunbathing and frolicking in the waves. 
We watched the tide come and go. It's easy to run and bike close to the water. Kristy and I rented a bicycle built for two but that photo is on her camera.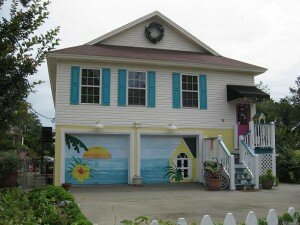 Tybee Island is a happy place filled with bright colors and bold and daring decorators who paint murals on their garages doors!
You can't not smile when you see the bright, bold colors used to paint, homes, restaurants and everything else in sight!
The weather was perfect everyday. We actually extended our stay to a week.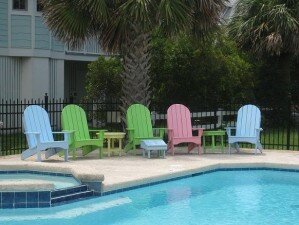 To say I was inspired by the colors is an understatement. Those that know me well know that I love to paint.
My home in Michigan had bright colors splashed throughout.
 Quaranteed happiness if you relax in one of these.   
 
We returned home with a glow and 10 days later I painted my 6 kitchen chairs.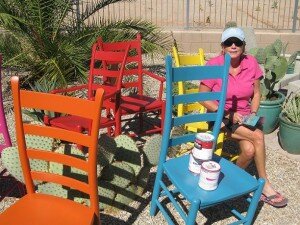 When you need to be inspired look at things you haven't seen before and do things you haven't done before.  Blogs that inspire me are Stacey's at www.CreateaBalance.com and Chania's at www.living-happiness.com
Where do you go and what to you do when you need a little inspiration?