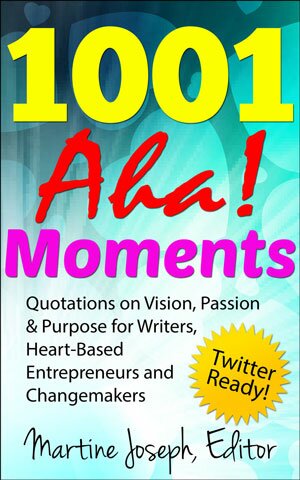 Today's interview is with my good friend Martine Joseph.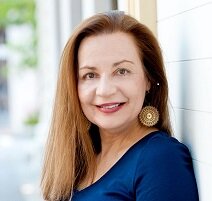 I'm Martine Joseph, I'm an inspirational writer, idea maven, teacher, author, speaker and the host of Thriving Minds Radio. Four years ago, when I stepped away from a business career where I felt very limited and  immersed myself in the work I'm passionate about, my life-time struggle with depression disappeared.
What is a thriving mind and why do we need one?
Thriving minds are happy, healthy and brilliant. When you practice healthy and empowered thinking, you:  
1.   See the world with Love.
2.   Let go of all blame and guilt.
3.   Inspire yourself and others.
4.   Dare to be brilliant.
When you see with Love, you see yourself and others as Loving. An important step here is to forgive. This releases you and others from guilt.
Our minds are powerful. We are all One ultimately. When we blame and judge others, we blame and judge ourselves. When we see the Love in others, we honor and affirm the Love in ourselves.
We can master our minds. We can think in ways that invite healing, love and fulfillment. I've found this approach remarkably effective. There are still challenges and lessons, but I move through them more easily.
Others give us opportunities to forgive, learn and grow. They can reflect to us our own fears and limited beliefs. That's why I encourage everyone not to dwell on upsets. We can learn from them and move on.
We are all teachers and learners to one another. By transforming our minds, we can change our lives.  
Who is 1001 Aha! Moments for?
This book is designed for you if . . .  
· You need inspiration, wisdom and healing;
· You're healing from low self-worth, depression and/or anxiety;
· You want to express and share brilliance and inspiration;
·  You love brilliant, compassionate quotes.
Each section corresponds to a thriving mind habit. For example, in Success, Prosperity & Gratitude, you'll find quotations on how to turn your mind and life around by practicing gratitude.
Why are we afraid to change the way we think?
We were trained to live in "survival mode" by dwelling on negative, painful experiences. This thinking stems from the primitive, limbic area of our brains.

Second, we were taught to listen to others complain. This habit deepens our belief in victimhood and struggle. Third, we were urged to fit in and not stand out.
All these habits contribute to low self-esteem, stress, anxiety and depression. When we follow our hearts and minds, we align with higher-order perceiving and thinking. We begin to think like masters.
Are we afraid of our own brilliance?
When we strive to fit in and not stand out, we may avoid jealousy and conflict temporarily. Yet suppressing who we are contributes to unhappiness and illness.
We are all gifted. Fearful people don't realize this. When we see with Love instead of fear, we can acknowledge and share our gifts. It takes courage to step out of the known, and to think in powerful, new ways. As more people do this, it's becoming easier.
We live in amazing times. More and more of us are daring to be authentic, creative and unique. Many of us are starting our own business or creative practice. We are not alone!
How can we learn to love ourselves?  
Affirm that you love yourself each day in the mirror. Read inspiring, empowering books and blogs. Meet like-minded people as you connect with coaches, groups and classes. Commit to yourself 100% by journaling, meditating or doing another practice 40 days in a row.
When we really know that we are Love, it becomes impossible to feel unloved or lacking in any way. We are One.
Martine Joseph is the editor of 1001 Aha! Moments and host of Thriving Minds Radio. Since her depression disappeared last year, Martine helps others to love themselves, align with healing, and share their brilliance. For Martine's FREE eBook, visit 1001 Aha! Moments. 
1/2 Off my Courage Coaching for the month of February! Click here to learn more. You may schedule your session(s) anytime during 2014!