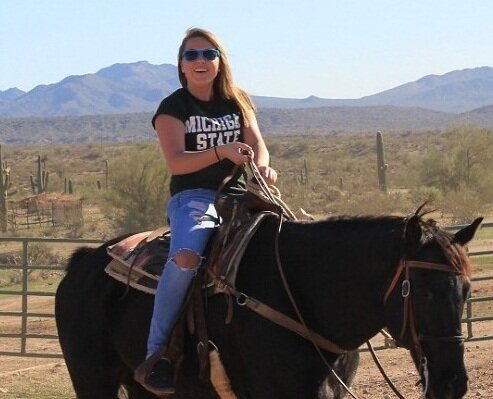 "Your way begins at the other side. Become the sky. Take gaze to the prison wall. Escape. Walk out like someone suddenly born into color. Do it now." ~ Rumi
My granddaughter turned 18 on Monday! In our last conversation, she shared with me that she's not sure she's ready to be an adult. She's unsure of her future.
She's not sure which college to attend. What if she chooses the wrong one? She's worried about a new roommate and other unknowns.
I assured her that her feelings are normal. It's impossible to be sure of the future.
I explained to her that there isn't a wrong choice. Each college has pros and cons. She'll do fine regardless of where she goes. I told her the roommate probably feels the same anxiety she does.
I reminded her of all that she has accomplished thus far in her short life. I reminded her of her positive past experiences and what a strong person she is. I reassured her of my love. I told her she could call me anytime.
I told her that most of us are afraid of change and new experiences.
Our ego convinces us to "expect the worst." Yet we all have the option to "expect the best!"
How would your life be different if you trained yourself to have positive expectations?
"Try a thing you haven't done three times. Once to get over the fear of doing it. Twice to learn how to do it. And a third to figure out whether you like it or not". ~ Virgil Thomson
Choose discovery and adventure. Look at what scares you from a different perspective. Life would be boring and routine if we didn't repeatedly stretch ourselves. Try something new. Do one scary thing today and another tomorrow.
"The first and great commandment is: Don't let them scare you." ~ Elmer Davis
Live well. There is nothing to fear. Create balance. Exercise and eat a healthy diet. It's good for your overall mood and spirit. When you create balance in your life you have less anxiety and more calm, less fear and more fun!
"Fortune favors the bold." ~ Virgil
Stop avoiding. Stop the busy work. Stop playing games. Stop mindless eating and shopping. Stop watching porn. Stop all the time-wasters and mind-numbers. Just stop! If you can't just stop, get help.
"I have accepted fear as a part of life – specifically the fear of change…. I have gone ahead despite the pounding in the heart that says: turn back." ~ Erica Jong
Prioritize. Make time for gratitude, silence, and creativity. These three things will immediately deflate your fear. Fear cannot survive the bright light of these activities. You will shine!
"A cheerful frame of mind, reinforced by relaxation… is the medicine that puts all ghosts of fear on the run." ~George Matthew Adams
Stop. Breathe. Relax. Let go of obstacles, resistance, and doubts. Become open to change, opportunity, solutions and answers. When you can go with the flow, inspiration arrives and magic happens. Allow. Breathe. Relax. Enjoy!
"Thinking will not overcome fear but action will." ~ W. Clement Stone Deal with gloom and doom. Stop the worrying, doubting, dreading, procrastinating, obsessing and stressing. These feed off of each other and intensify fear. Write in a journal. Go for a long walk. Do a little yoga. Change your environment. Just get up and get moving.
"I failed my way to success." ~ Thomas Edison
Get over it. Forgive yourself for not getting everything finished, for not being perfect, for not getting it right, for missing the deadline, or for changing your plan, again. You are OK, exactly as you are, at this moment in time. You are where you need to be. Forgive yourself. Make a plan and begin again.
"I am kind of paranoid in reverse. I suspect people of plotting to make me happy." ~ J.D. Salinger
Live the life you want to have. Live with the happiness you want to achieve. Don't attach your joy and happiness to the achievement of your goals. Don't wait until someday to embrace the attitude that your life is an amazing adventure-today, this is your time. Stand up and claim it!
What advice would you give to an 18 year who is about to enter college? Do you have positive expectations for your future?