These flowers and the scrabble pieces usually sit on my kitchen window. I set up different words and different letters to remind myself what's important to me.
I've been meaning to spend more time on Facebook and Twitter since the first of the year. It's not working. I've been playing with family and friends. My life is out of balance in a good way. The following photos help tell the story of why I'm failing with social media.
My oldest daughter and two grandchildren came to visit for 10 days! The sun rises and sets, the moon shines; the tides rise and fall, and we have only to sit back and enjoy!
Next horse back riding at sunset…
I hadn't been on a horse in 30 years…it's funny what I'll do for my grandchildren. I couldn't resist this photo, it's the farm girl in me. 
Life is good and I choose to say yes to it. I'm living it to the fullest!
Mac just turned 16 and I'm savoring our time together…soon she'll be on to driving, boyfriends and SAT'S. AJ is 13 and ready to cowboy up!
We went for four hours and the dessert was breath taking. It was a trip we'll always remember. After two hours we stopped at a
 restaurant to eat.
.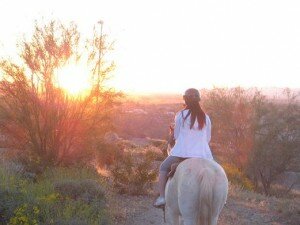 On the return trip It was dark and the only light came from the stars and the moon. I was amazed how the horses climbed the mountains through the rocks knowing exactly where to place their feet. I'm on the horse behind Mac taking these photos. My daughter was on the horse behind me. Hubs skipped the ride and drove to the restaurant to eat with us.
 There is an olive farm a few miles from us. They sell the most amazing olives, olive oil, bread, gourmet salads and gelatto. Prior to AZ I didn't know what an olive tree looked like!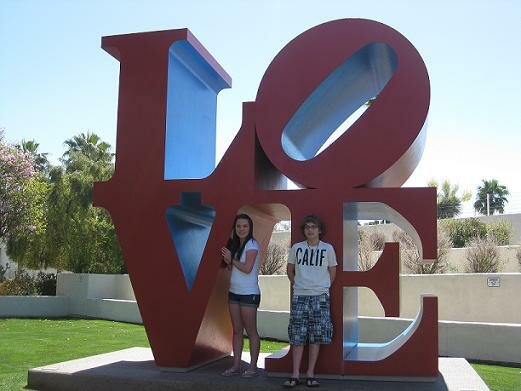 This famous sculpture is one of the most celebrated works within the art world. The sculpture is located at the Civic Center Mall, between the Scottsdale Center for the Arts and the Civic Center Library. It was conceived in a time when the United States was consumed by the Vietnam War, LOVE became a symbol for Peace. Many couples pose for engagement and wedding photos here.
Love, family, fun and a sunny day! Cherishing the simple pleasures my life brings to me.
Some how I have to find more time for social media!

How about you, where do you make time for everything blogging requires?
More photos to come next week taken with another daughter and grandson;) Isn't life grand?
Related posts:
Subscribe: Did you enjoy this article? Subscribe for free by RSS or e-mail and you'll always know when I publish something new.
Share this post    Stumbleupon  |  Digg  |  Del.icio.us  |