Warning! My blog will challenge you to be more, give more, live fearlessly, take more chances and show up in the world unstoppable, daring and bold.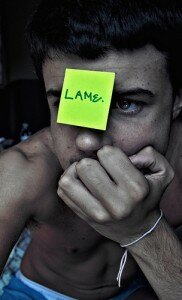 Photo By John Gray               
Our guest today is John Anyasor from HiLife2B. I find John and his blog refreshing. One of his goals is to help start an endless chain of helping people. (I think he already has!) We get back what we give in life and I'm happy to introduce John and help him with his other goal of becoming a professional blogger! 
To be labeled as one who is different, weird, not normal: in my eyes, it is a gift. To be underestimated, to be thought of as slow or dimwitted, foolish or ignorant, pathetic or even worthless: that is your greatest weapon.
When you're underestimated, you're forced to look within yourself to assess your true value and self worth.
Many a time, I've been labeled as the underdog - the one nobody should worry about. Berated for my weirdness, not because I had some sort of disease or mental illness… I just thought on another plane of consciousness.
Believe me, I tried to fit in with them. I would listen to their music, talk like them, walk like them. In a nutshell, I tried to BE them. But that wasn't me.
They'd say I wasn't cool enough. Cool? What does that even mean? When I'd ask them that, they'd just make fun of me even more. I was singled out as an outcast. I thought something was wrong with me. It never crossed my mind that something was wrong with them.
There are a lot more of them than there are of me, I thought. They must be right. What am I doing wrong. After a while, I resented them, all of them, for not accepting me. Even if I had come across someone I never knew before, I'd assume that they were just like my enemies. Popular and "normal".
With my hatred of them in full force, I closed myself off. I ate by myself. Worked by myself. I did everything by myself. Who are they? I thought. Why should I rack my brain to emulate them? All I need is myself. 
Many years I felt this way. I had this "me against the world" mindset. I began to believe that the rest of the world was like this. That if you were different, you'd be instantly alienated. A freak of society who'd no one would want to accept.
My eyes and mind were closed off to the light that would soon shine in my favor. I hadn't realized that I was the underdog. Nothing was expected from me; that would become my greatest weapon.
It should be understood that I didn't find this out on my own. You could say books had an influence. Teachers, mentors, family, they all had a part to play. They were the ones that opened my eyes. They showed me that I was not alone.
All this time I tried to reject who I was to fit in, when "who I was" was something that couldn't be changed. I should have embraced what made me different, what made me unique. Life is short; why waste it hating those who dislike me?
It was then that I decided to take pride in who I was. I soon discovered that I wasn't the only outcast. There were others, just like me. They were unique. The  popular kids looked all the same. These people looked completely different. I had to know who they were!
We talked. It's like we knew each other all along. For the first time, I felt happy. "You should have sat next to us in the first place", one of them said. "Why didn't you?"
"I don't know", I lied. "I haven't the faintest idea." Be bold enough to accept yourself. Because in the end, not everyone is.
John Anyasor is the creator of HiLife2B. There he gives advice on personal development, inspiration, and motivation. A second year undergrad, he seeks to one day break the cycle of entering the dreaded 9-5 to achieve the life he wants. Follow John on Twitter or sign up for his RSS feed.
Related posts:
Subscribe: Did you enjoy this article? Subscribe for free by RSS or e-mail and you'll always know when I publish something new.
Share this post    Stumbleupon  |  Digg  |  Del.icio.us  |   Twitter